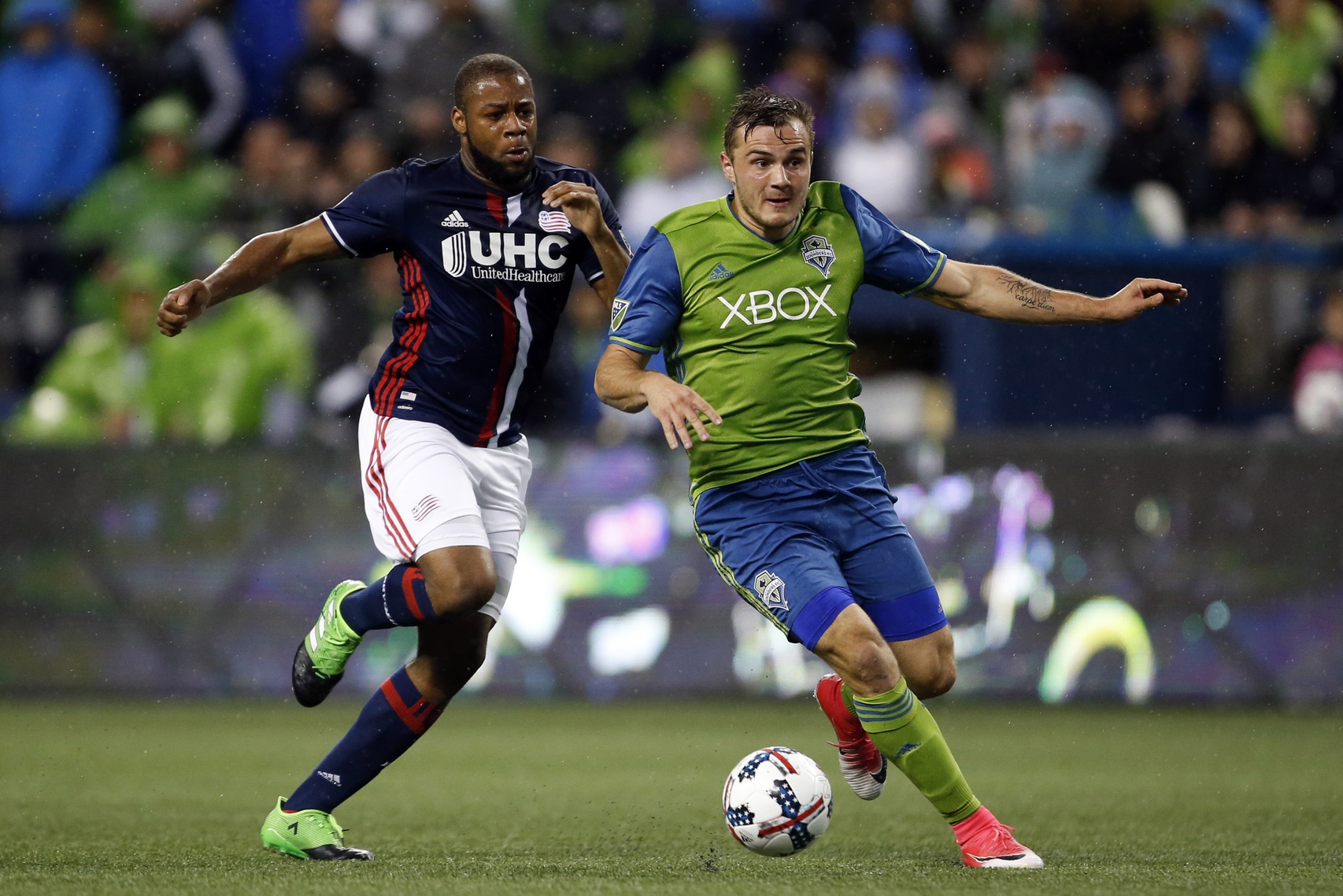 SEATTLE– On paper, Saturday night's match against the New England Revolution looked like a chance for the Seattle Sounders to build on last week's dominating 3-0 road win over the LA Galaxy.
The Revs missed the playoffs in 2016, managing only two road victories the entire year. They were off to a slow start this season as well, winless in four road matches and earning just two wins from eight games.
The Sounders, meanwhile, were coming home after three straight road matches. Counting last year's playoffs, they had not lost at CenturyLink Field in 13 straight games. They were also coming off one of the more complete wins in their nine-year history. Head coach Brian Schmetzer seemed to have solved the club's early-season scoring woes, moving Harry Shipp to the bench, pushing Jordan Morris to left midfield, and inserting Will Bruin as the lone forward in the Sounders 4-2-3-1 formation.
With Bruin occupying defenders in the penalty area, Morris, Clint Dempsey, and Nicolas Lodeiro found chance after chance to combine last weekend, shredding the Galaxy for a trio of goals before halftime. Continuing a theme from last season, Morris again looked more comfortable going at defenders with the ball at his feet than attempting to provide hold-up play or rubbing off back shoulders.
And for 15 minutes Saturday, everything seemed to go according to plan. Seattle controlled nearly 75 percent of the ball, completed nearly 90 percent of its passes, and generally seemed to be pushing and pulling New England's defense at will.
Then a routine Daigo Kobayashi shot from 35 yards skipped past goalkeeper Stefan Frei.
"I made a blunder," Frei said after the match. "I gifted them a goal. And as we know goals are vital in soccer. And they're even crazier when they're against the run of play. We were starting to really get into a groove and dominating possession and I gift them a goal. It's difficult. It obviously kind of throws our rhythm off and it's difficult for us to kind of find ourselves again. Error on my part, simple as that."
"We were controlling the match from early parts of the first half," added Schmetzer. "They were fortunate to get that first goal. It allowed them to tactically play a little bunker and counter game, which they did very well. But I thought we were on top of them from early in the first half."
The Sounders gave up a goal to Juan Agudelo just 10 minutes later, and went into the half trailing 2-0. If that scoreline sounds familiar, it should: it was the third time in just eight games the Sounders have trailed by the same score at halftime. They also trailed the Vancouver Whitecaps 2-0 in the second half on April 14. Their record in those four matches is now 0-2-2.
Frei addressed the team at halftime.
"At halftime I came in said, 'I (messed) up. Who wants to bail me out? Please step up.' And I think we did as a whole unit, and I'm thankful for that."
It would get worse before it got better, as the Sounders conceded a second goal to Agudelo early in the second half to fall down 3-0.
The Sounders, of course, roared back late to earn a historic draw. Lodeiro, Bruin, and Osvaldo Alonso scored three times in 12 minutes. Joevin Jones assisted twice. He is now tied for the league lead in assists with five, blossoming into the player they hoped he would be when they traded for him before the 2016 season.
It was the first time in club history the Sounders salvaged a result after trailing 3-0, and just the 10th time in league history any club has done so.
But the result was not just a matter of championship grit, or whatever you want to call the utter determination on display Saturday. It was also the result of a coach willing to make aggressive adjustments on the fly, and to keep his foot on the gas when others might back off.
Schmetzer brought on Henry Wingo for defender Jordy Delem in the 55th minute, essentially switching to a three-man backline 10 minutes into the second half. With the Sounders trailing 3-1 in the 84th minute, Schmetzer then brought on hulking center back Roman Torres at forward, often leaving center back Gustav Svensson as the lone defender. And Schmetzer kept Torres at forward after the Sounders tied the match in the 87th minute.
"He was sent in," Schmetzer said of Torres, "to go up front and to get on the end of crosses and lofted balls in the box, and he did that. When we went 3-3, we kept him up front on purpose because I felt we could get another one."
There are times, the cliche goes, that a draw feels like a win. The Sounders, though, were not buying that Saturday night.
"No," said Schmetzer when asked if the result did in fact feel like a win. "No. I don't know how to elaborate on that because it was a draw. Yes, we came back. Yes, we can talk about the time we came back against Montreal (for a 2-2 draw). It gives the team spirit, life, whatever. But at home we've gotta do a better job of not going down by three goals. That's the sting, that's the hurt. That's the feeling of frustration. The only comment I would make is that the fight and the determination of that group of players is the mentality of champions. That what I would say. That's the positive. That's the only positive."
"We never want to give up three goals at home," said Frei. "It's not that we don't want to. We can't. We can't do that again. The character we showed to get back is amazing. That's the one positive to take from this. The fight, the spirit, the togetherness to try to bail your teammates out. It's a point, and who knows when that will come in handy. We saw last year that every point counts. There are some lessons to be learned from this game though."
Perhaps a championship mentality was not the only positive. It's easy to suggest a soccer team is unlucky when results aren't going its way. But the Sounders outshot the Revs 26-13 on Saturday night, controlled 75 percent of possession. They hit the frame at least three times, raising their season-long total to 10 in just eight matches. If they haven't been unlucky this season, they have been mere inches away from some very different results.