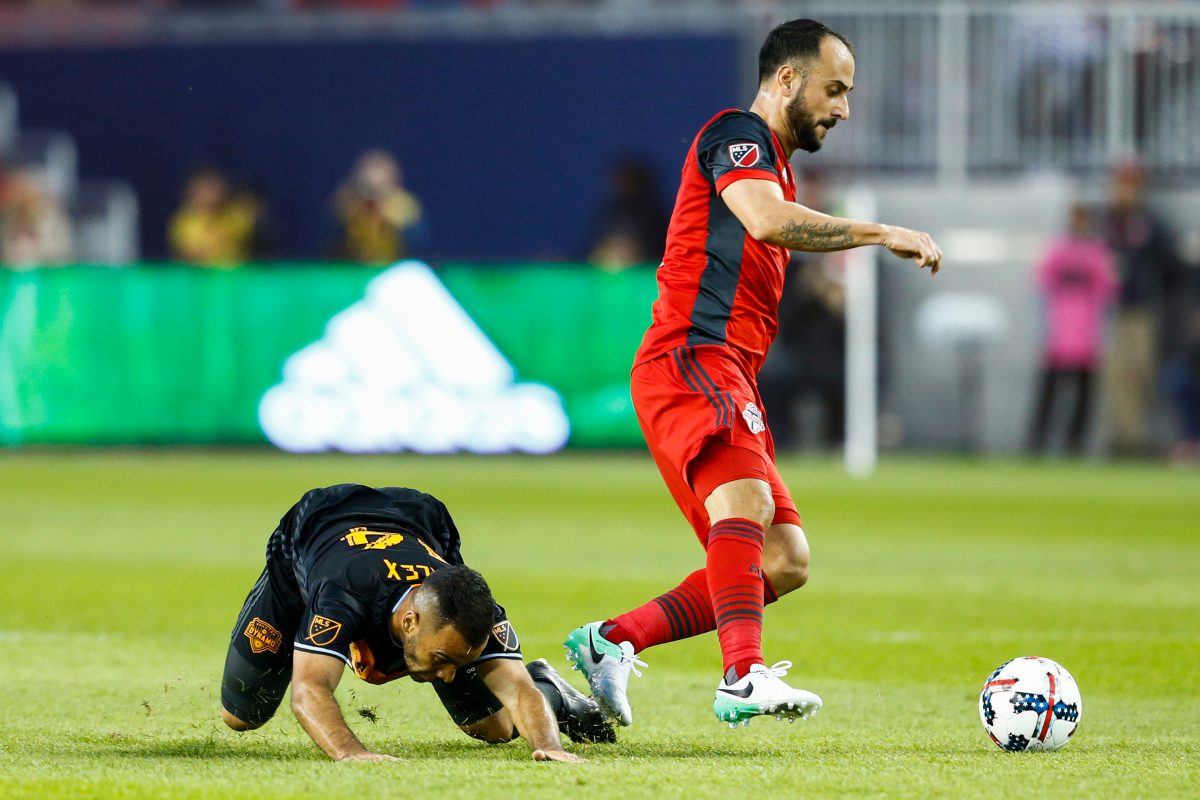 TORONTO — Games are often won and lost in the center of the field. The midfield battle is constantly referenced as a point of emphasis in the game, because controlling that area usually leads to a positive result.
This was the case for Toronto FC after its 2-0 win over the Houston Dynamo on Friday night. Jozy Altidore earned the man of the match honors with his brace and the defense received plaudits for its fourth clean sheet of the season, but one topic was continually referenced; The midfield and the tempo of play.
There was a common pattern for both of TFC's goals. Twenty passes were completed before the opener in the 16th minute. Altidore, Sebastian Giovinco and Raheem Edwards each took one touch before the American powered his second of the night past Joe Willis. Head coach Greg Vanney stressed on playing with a higher tempo after the victory over the Chicago Fire, and he repeated that sentiment on Friday.
"Whenever the ball moves, defenders have to move and we were doing a good job of doing that and then getting off of one side to the other side," said Vanney in his post-game press conference. "As defenders move, then holes open up, channels to get the goal open up. Something we've been talking about is finding the moments to be patient and to move teams around with our ball circulation and I thought we saw a lot of that in the first half. Obviously a great team goal comes off of that."
"I thought the ball moved quicker in a lot of moments tonight which is something that we've been really emphasizing," said captain Michael Bradley. "This idea that if the play requires you take two touches, take two touches. If it's three, take three. If you can play one touch, play one touch. Don't take extra touches, don't waste somebody else's time. Get the ball moving. Because obviously our ability to circulate the ball quickly and then find our important attacking guys on the other side of things is something that can really hurt teams."
However, there are bound to be some kinks to work out after eight games. TFC turned over the ball in their own third on a few occasions, which the Dynamo tried to use to their advantage. Fortunately for the Reds, Alberth Elis and Erick Torres failed to capitalize, but it nearly allowed Houston to halve the deficit.
"I thought a couple times in the first half, we lost momentum just with bad losses of possession in bad areas where too many turnovers that allowed them to kind of build a little momentum the other way," said Vanney. "That kind of carried into the second half. We were losing the ball a little bit too quickly in the second half, not allowing ourselves to really get into the other half of the field and set up some attacks and sustain some possession. We ended up, in the second half, playing very much in defend-and-transition type of game and trying to make them pay for the third goal with a few passes."
Nonetheless, it appears as if Toronto has a set style of play and other teams have tried to strategize against it. Juan David Cabezas, who started the game in the heart of midfield, often dropped into the backline to operate as a third centerback whenever TFC had possession. Eric Alexander and Oscar Boniek Garcia tried to close down the buildup play ahead of the Dynamo's defense, although it quickly unraveled after Altidore's first goal.
Dropping players deeper is a tactic many of TFC's opponents have utilized this season. Sporting Kansas City earned a clean sheet at BMO Field on March 31. Atlanta United managed to frustrate Toronto in the second half, especially after Yamil Asad was sent off.
"We've seen that in different moments already this year," said Bradley. "In the second half of the game against Atlanta, they dropped Larentowicz deeper, and he played kind of as an extra centerback. Obviously it's having guys on the field who can read things, who can understand things quickly, who can process everything that is going on. But ultimately, it goes back to just this idea that can we get the ball moving quicker? Can we force them to have to make decisions and to pull themselves around in ways that maybe they don't like to?"
Bradley, Marky Delgado and Victor Vazquez certainly made the Dynamo uncomfortable in the final third. Vazquez was especially smooth, using his vision to pick out Giovinco and Altidore in dangerous areas. TFC signed the midfielder to help break down the opposition with a killer pass, and it appears as if he is on the same wavelength as his teammates.
"Since we announced the signing of Victor, and if you want to go back farther, since two years ago when we started looking at him, that was his capability," said Vanney. "His vision, awareness of where things are around the field is second to none. Sometimes even in these transitions, before he even gets the ball, before you think anything is going to happen, he knows exactly where Sebastian and Jozy are. He's ripping one across the field into space to find those guys. He always knows where the pieces are, he always know where the opportunity to break lines and to get forward is. Obviously his technical ability is at such a high level that he can hit passes that not everybody can hit.
"That means that with good vision and good technical ability, good things come out of that."
Performances like those can also free up pressure on other players, especially Bradley. However, he believes it's simply easier on everyone else when the team buys into a similar philosophy.
"When you have a team that plays well together and the ball is moving quick and guys are able to play one and two-touch and move for each other defensively, move collectively to make things harder on the other team, then it means that the team plays well and it is easier for guys across the board to have good games and feel good in that. I think by and large through this first period in the season, I think we've played well, we have a lot to feel good about. Now it's about continuing to improve and I think all of the other stuff will continue to come with it."
There will be trying times during the campaign, but it seems as though Vanney and the players will continue to hammer on the same theme throughout the season no matter the result.