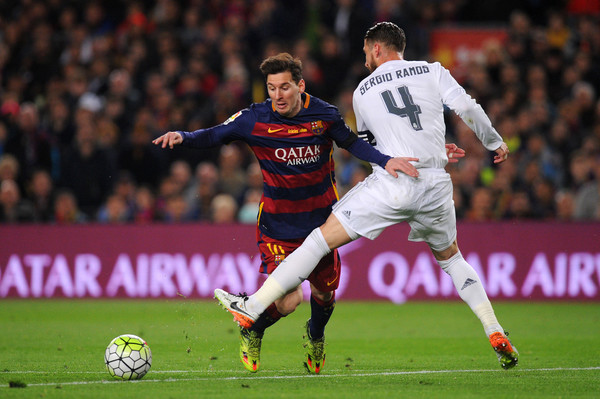 After Tuesday's triumphant Champions League quarterfinal victory against Bayern Munich, Real Madrid will remain on the center stage as they take on visiting Barcelona for El Clasico.
With only three points separating the Merengues and Barça from first place, title implications will be on the line at Santiago Bernabeu. Luis Enrique's El Clasico farewell comes at a time of hardship for the Catalan side, who exited Champions League play after falling to Italian giants Juventus. Wednesday's woes will have to be left behind for the Catalonians, as Zinedine Zidane's men find themselves in winning form.
In England, FA Cup play will resume in its semifinal stages. No better fitting venue for a London Derby than historic Wembley Stadium. Premier League's top two and London sides, Chelsea and Tottenham, will battle for a chance at a second match in London. While on the other side of the bracket, both North London's Arsenal and Pep Guardiola's Manchester City seek to tame disappointing seasons by winning the FA Cup.
Across the English Channel, AS Monaco will look to carry their Champions League flair as they travel to Décines-Charpieu to take on Ligue 1's fourth place Olympique Lyonnais. Champions League semifinalist and French league leaders, AS Monaco, are in a must-win scenario as only goals edges them past Paris Saint Germain who are second on the table.
Here's what the weekend action will look like:
FRIDAY
MLS
7:30 p.m. – MLS Live – Toronto vs. Chicago Fire
La Liga
3 p.m. – beIN Sports en Español/beIN SPORTS CONNECT – Sevilla vs. Granada
Bundesliga
2:30 p.m. – Fox Sports 2/Fox Deportes – Köln vs. Hoffenheim
Ligue 1
2:45 p.m. – beIN SPORTS CONNECT – Nancy vs. Olympique Marseille
Liga MX
10 p.m. – Azteca America – Tijuana vs. Toluca
Championship
2:45 p.m. – beIN SPORTS/beIn SPORTS CONNECT – Norwich City vs. Brighton & Hove Albion
Saturday
MLS
1 p.m. – MLS Live – Philadelphia Union vs. Montreal Impact
4 p.m. – Univision Deportes/UniMas/Facebook Live – Houston Dynamo vs. San Jose Earthquakes
4 p.m. – MLS Live – Portland Timbers vs. Vancouver Whitecaps
7:30 p.m. – MLS Live – New England vs. DC United
7:30 p.m. – MLS Live – New York Red Bulls vs. Columbus Crew
8 p.m. – MLS Live – Dallas vs. Sporting KC
9:30 p.m. – MLS Live – Real Salt Lake vs. Atlanta United
NASL
7 p.m. – beIN SPORTS/beIN SPORTS CONNECT – NY Cosmos vs. Jacksonville Armada
English Premier League
10 a.m. – NBC Sports Live/Premier League Extra – AFC Bournemouth vs. Middlesbrough
10 a.m. – NBC Sports Live/Premier League Extra – Hull City vs. Watford
10 a.m. – CNBC/NBC Sports Live – Swansea City vs. Stoke City
10 a.m. – NBCSN/NBC Sports Live – West Ham United vs. Everton
La Liga
7 a.m. – beIN SPORTS CONNECT – Malaga vs. Valencia
10:15 a.m. – beIN SPORTS en Español – Villareal vs. Leganes
12:30 p.m. – beIN SPORTS en Español – Osasuna vs. Sporting Gijon
2:45 p.m. – beIN SPORTS en Español – Espanyol vs. Atletico Madrid
Serie A
12 p.m. – beIN SPORTS CONNECT – Atalanta vs. Bologna
2:45 p.m. – beIN SPORTS/beIN SPORTS CONNECT – Fiorentina vs. Internazionale
Bundesliga
9:30 a.m. – Fox Sports 2/Fox Sports GO – Bayern Munchen vs. Mainz 05
9:30 a.m. – Fox Soccer 2GO – Hertha BSC vs. Wolfsburg
9:30 a.m. – Fox Soccer Plus – Hamburg SV vs. Darmstadt 98
9:30 a.m. – Fox Soccer 2GO – Ingolstadt vs. Werder Bremen
9:30 a.m. – Fox Soccer 2GO/Fox Deportes – Eintracht Frankfurt vs. Augsburg
12:30 p.m. – Fox Sports 2/Fox Sports 2GO – Borussia M'gladbach vs. Borussia Dortmund
Ligue 1
11 a.m. – beIN SPORTS/beIN SPORTS CONNECT – PSG vs. Montpellier
2 p.m. – beIN SPORTS CONNECT – Lorient vs. Mentz
2 p.m. – beIN SPORTS CONNECT – Bordeaux vs. Bastia
2 p.m. – beIN SPORTS CONNECT – Lille vs. Guingamp
2 p.m. – beIN SPORTS CONNECT – Dijon vs. Angers SCO
2 p.m. – beIN SPORTS CONNECT – Caen vs. Nantes
FA Cup
12:15 p.m. – Fox Deportes/Fox Soccer 2GO – Chelsea vs. Tottenham Hotspur
Liga MX
6 p.m. – Univision Deportes – Cruz Azul vs. Guadalajara
8 p.m. – Univision Deportes/Univision – Monterrey vs. Tigres UANL
8 p.m. – Azteca America – Atlas vs. Pachuca
8:06 p.m. – Galavision – Leon vs. Puebla
10 p.m. – ESPN Deportes/Univision Deportes – Necaxa vs. Morelia
Sunday
MLS
1:30 p.m. – Fox Sports 1/Fox Deportes/Fox Soccer 2GO – New York City vs. Orlando City
4 p.m. – ESPN/ESPN Deportes – LA Galaxy vs. Seattle Sounders
7 p.m. – MLS Live – Minnesota United vs. Colorado Rapids
English Premier League
9:15 a.m. – Telemundo/NBCSN – Burnley vs. Manchester United
11:30 a.m. – NBCSN/NBC Sports Live – Liverpool vs. Crystal Palace
La Liga
6 a.m. – beIN SPORTS CONNECT – Real Sociedad vs. Deportivo La Coruña
10:15 a.m. – beIN SPORTS en Español – Celta de Vigo vs. Real Betis
12:30 p.m. – beIN SPORTS CONNECT – Las Palmas vs. Deportivo Alaves
2:45 p.m. – beIN SPORTS/beIN SPORTS CONNECT – Real Madrid vs. Barcelona
Serie A
6:30 a.m. – beIN SPORTS CONNECT – Sassuolo vs. Napoli
9 a.m. – beIN SPORTS CONNECT – Udinese vs. Cagliari
9 a.m. – beIN SPORTS CONNECT – Sampdoria vs. Crotone
9 a.m. – beIN SPORTS/beIN SPORTS CONNECT – Milan vs. Empoli
9 a.m. – beIN SPORTS CONNECT – Lazio vs. Palermo
9 a.m. – beIN SPORTS CONNECT – Chievo vs. Torino
2:45 p.m. – beIN SPORTS CONNECT – Juventus vs. Genoa
Bundesliga
9:30 a.m. – Fox Sports 2/Fox Sports 2GO – Freiburg vs. Bayer Leverkusen
11:30 a.m. – Fox Sports/Fox Sports 2GO – Schalke 04 vs. RB Leipzig
Ligue 1
9 a.m. – beIN SPORTS CONNECT – Toulouse vs. Nice
11 a.m. – beIN SPORTS CONNECT – Saint-Etienne vs. Rennes
3:15 p.m. – beIN SPORTS CONNECT – Olympique Lyonnais vs. Monaco
FA Cup
10 a.m. – Fox Sports/Fox Deportes/ Fox Soccer 2GO – Arsenal vs. Machester City
Liga MX
1 p.m. – Univision Deportes/Univision – Pumas UNAM vs. Veracruz
8 p.m. – Univision Deportes/Facebook Live – Santos Laguna vs. America
CONCACAF U-17 World Cup Qualifying
11:30.m. – Univision Deportes/Facebook Live – USA vs. Jamaica