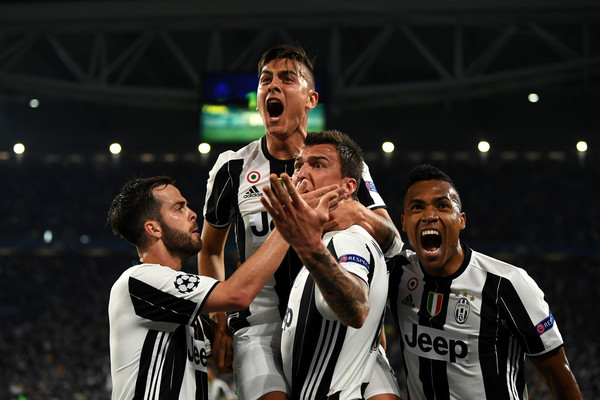 The opening match of the UEFA Champions League quarterfinal round on Tuesday saw a slew of talent on display at the Juventus Stadium in Turin. However, it was an Argentinian forward not named Lionel Messi that stole the show.
Juventus took a huge first step to booking their place into the semifinal round after a convincing 3-0 victory against Barcelona. Forward Paulo Dybala added a brace which propelled the hosts to a comfortable win at home.
Dybala opened the scoring after seven minutes as he curled home his third goal of the competition, after finding a nice pocket of space in the Barcelona box.
Andres Iniesta came close to leveling the score in the 21st-minute, but the midfielder saw his breakaway effort saved by Gianluigi Buffon. Dybala doubled the Juventus lead a minute later as his left-footed strike found the bottom-left corner.
Gonzalo Higuain saw a late first-half chance saved by Marc-Andre ter Stegen which kept the score at 2-0 going into halftime.
Higuain missed the chance to play in a wide-open Mario Mandzukic in the 54th-minute, and instead saw his straightforward effort saved by ter Stegen. Juve extended their lead to 3-0 as Giorgio Chiellini's header from a corner-kick deflected off the left post and in.
Leo Messi's 59th-minute header forced another save from Buffon, while Suarez's breakaway effort later in the half saw the Italian keeper push the effort wide.
At the final whistle, Massimiliano Allegri's men celebrated a huge first-leg victory which now see them only 90+ minutes away from a place in the semifinal round. Ter Stegen's five saves was the only bright spot for Luis Enrique's men who were frustrated for most of the match.
Buffon made four saves in the clean sheet, which now extends Juventus' Champions League shutout streak to 441 minutes.
The Serie A leaders now take a 3-0 aggregate into the March 19 second leg at the Camp Nou. Barcelona will try to make it consecutive second-leg comebacks at home, but face a much-sterner test against the Juventus backline.
DORTMUND, MONACO POSTPONED UNTIL WEDNESDAY
Borussia Dortmund's first-leg against A.S. Monaco was postponed on Tuesday and rescheduled for Wednesday at 12:45 P.M. (FOX SPORTS 2). Dortmund's team bus was the site of an explotion on their way to Signal Iduna Park, which saw defender Marc Bartra injured in the process.
Wednesday's action features two originally scheduled first-legs as Bayern Munich host Real Madrid (2:45 P.M. Fox Sports 1), while Leicester City travel to Atletico Madrid (2:45 P.M., Fox Sports 2).