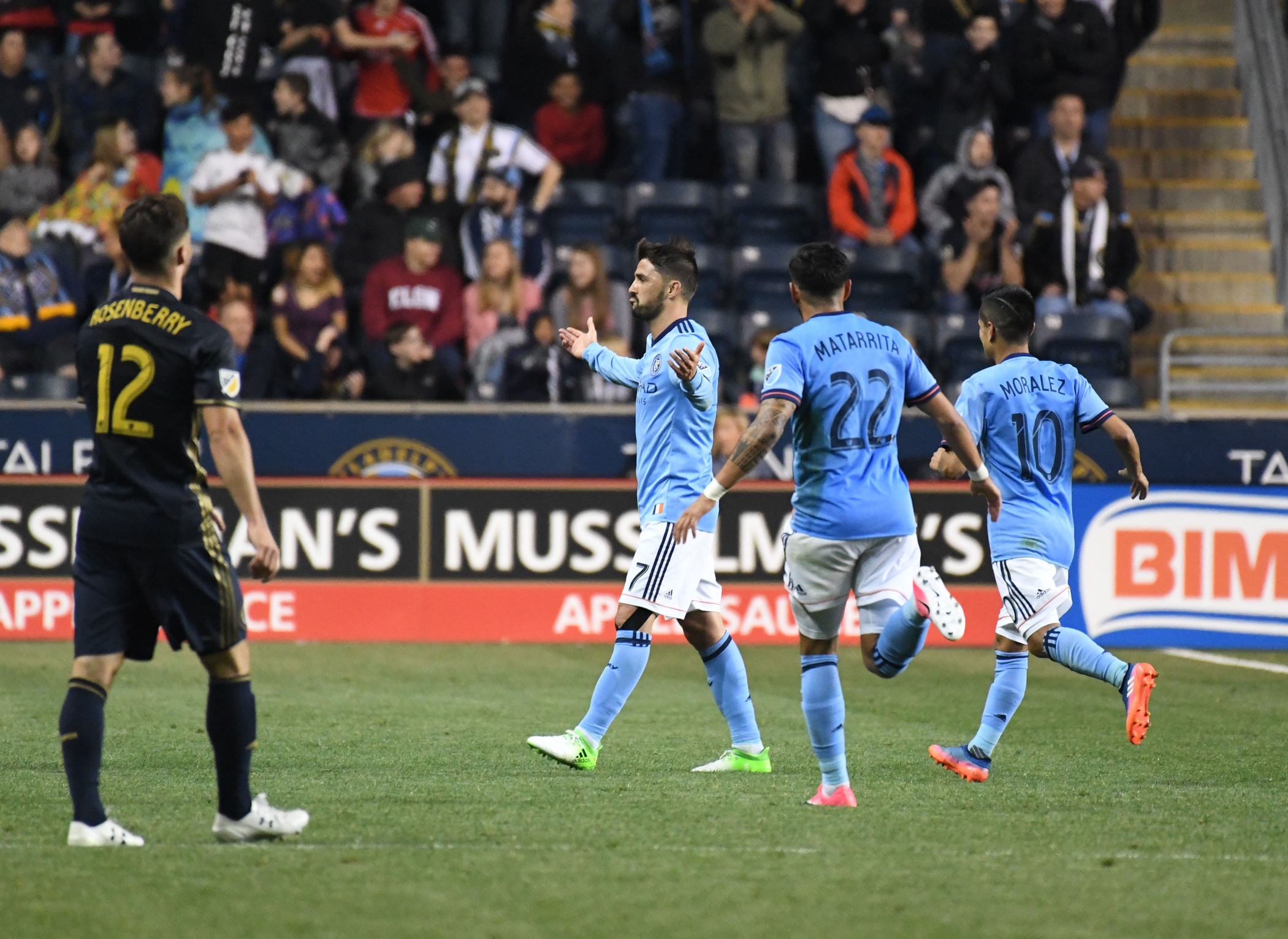 David Villa is no stranger to scoring magnificent goals. He's also familiar with attempting to chip Philadelphia Union goalkeeper Andre Blake.
In the last meeting between New York City FC and the Union on June 18, 2016 at Yankee Stadium, the Spanish legend barely missed a chance to score a stunning goal against the Jamaican goalkeeper.
On Friday night at Talen Energy Stadium, Villa delivered a piece of brilliance in the 90th minute to secure a 2-0 victory for NYCFC against an Eastern Conference foe.
"It was funny because I tried the last game against Philadelphia against this amazing keeper too," Villa said. "I put the ball against the crossbar. It was very difficult for me because it was a great shot. Today finally I got it."
Villa initially thought of sending the audacious attempt in at net after he caught a glimpse of an exhausted Jack Elliott scurrying back to defend. The forward wasn't sure where Blake was standing, but he had a decent idea of his positioning.
"I saw it was difficult for (Elliott) to run," Villa said. "I didn't see the keeper but I expected that he was out of the box. I tried to score and you try all the time and today was perfect." 
The 35-year-old, who has four goals in 2017, didn't know if the shot initially went in, but he once he realized he struck the back of the net, he raced over to the sideline to celebrate with his teammates, most of whom where in awe of the goal.
50 yards out. FIFTY.

Just a ridiculous goal from @Guaje7Villa 🙊 https://t.co/YZY6UFo1Lv

— Major League Soccer (@MLS) April 15, 2017
"First of all I didn't know," Villa said. "In the first moment if it was a goal or not from my point of view. Once I was 100 percent was sure, I didn't know what to do. I turned to my teammates and the bench." 
"I had a feeling [it was going in]," NYCFC midfielder Jack Harrision said. "I looked at it and we all stood up on the bench. He's just incredible."
"There's no words," NYCFC goalkeeper Sean Johnson said. "You're not gonna see that. He's a special player. You can pull things like that out of a bag. That's a once-in-a-long-time goal."
The goal capped off a solid night on the road for NYCFC, who stumbled at RFK Stadium a week ago in a 2-1 defeat to D.C. United.
"It was really good because we didn't play well in D.C.," Villa said. "Today we had a challenge to show we made a mistake in D.C. and we recovered from it in Philadelphia. More than the three points, what's important is the attitude of the team from the start.
"We controlled the game, we created more chances, we defender very well. We defended set pieces very well against a very good team on set pieces and finally we scored two goals. We are very happy from today." 
Winning on the road is something NYCFC need to get used to in the near future if they are to remain near the top of the Eastern Conference standings. Five of their next seven matches are on the road, including a four-game trip that takes them to Dallas, Salt Lake, Orlando and Atlanta. If Friday night is any indication of what may come in the future, City should find some success on their travels before settling in at home.