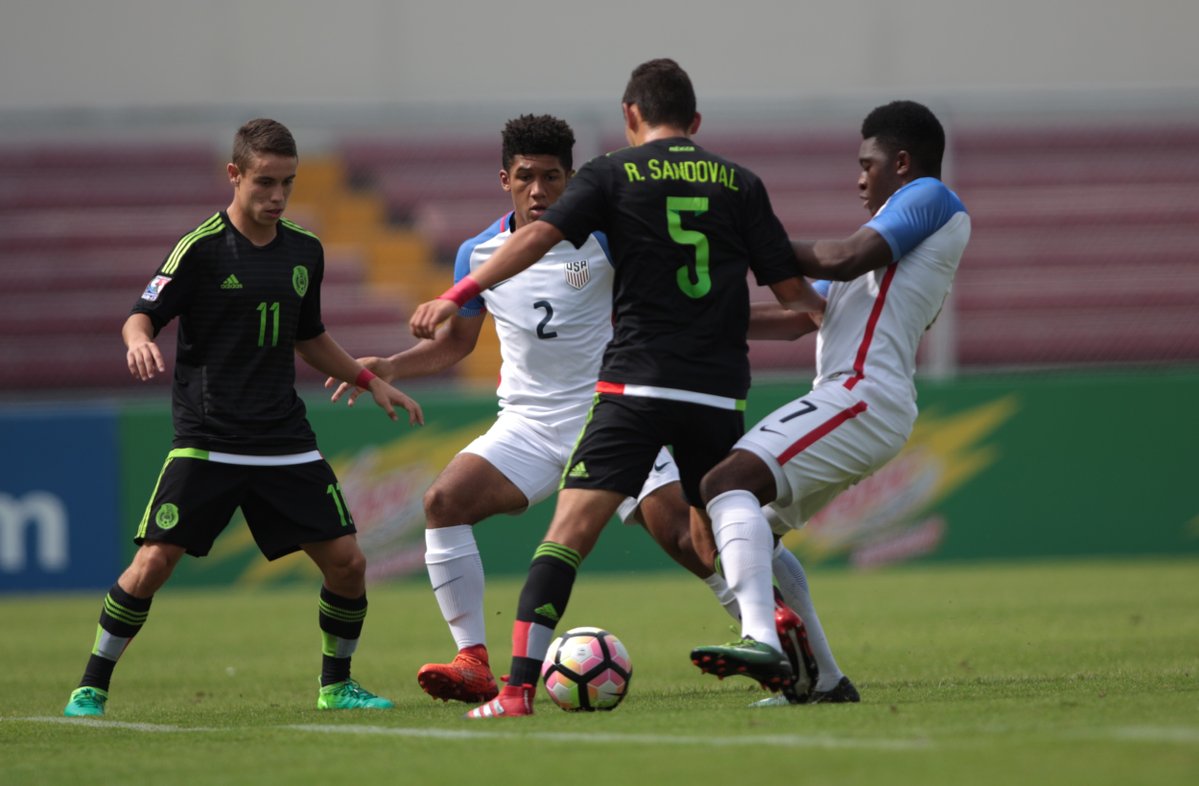 The U.S. Under-17 Men's National Team met their goal. After cruising through the first five games of the CONCACAF U-17 Championships, the U.S. is bound for this fall's World Cup, where they can now test themselves against the very best in the world.
Still, that doesn't make Sunday's defeat any easier. Any loss hurts, and any loss to Mexico hurts even a bit more, but the way and manner in which the U.S. U-17s lost Sunday's CONCACAF final will hurt for a long, long time.
Up a goal in stoppage time, the U.S. was just moments away from lifting the region's trophy, joining the U.S. Under-20 Men's National Team in winning a 2017 CONCACAF crown. Then, in the 93rd minute, Carlos Robles broke through, heading past U.S. goalkeeper Justin Garces for the last-gasp equalizer.
The ensuing penalty kicks proved a back and forth affair until Akil Watts' miss in the fourth round as Mexico went a perfect five-for-five to shock a U.S. team that defeated them, 4-3, less than two weeks prior.
"It stings. There's no way to take this kind of result," said U.S. head coach John Hackworth. "That said, I'm proud of these young men. I'm proud of my staff. I'm proud of the way we performed in this tournament. We need to walk out of here with our heads held high and understand that we have some more work to do to win championships in the future."
Hackworth will have plenty of positives to sift through in the coming weeks. The U.S., by and large, was the tournament's most dominant team, cruising to five straight wins heading into Sunday's finale. The team road a defense that allowed just six goals through six matches, with three of them coming in the group stage shootout against Mexico.
The attack, led by Josh Sargent, Andrew Carleton and Ayo Akinola, proved dangerous throughout, even if they fell a bit short on Sunday. Still, they got the goal required as Timothy Weah combined with Carleton to take care of a defensive blunder and give the U.S. a 1-0 lead in the 62nd minute.
Fortunately for the U.S., Garces, who earned the tournament's Golden Glove award, made saved after save. Eventually, Garces was left helpless as Robles' header soared into the back of the net and rapidly began the U.S. team's downfall.
"It's extremely tough for the group," said midfielder Chris Durkin. "Going 93 minutes up and then you finally concede and you go to PKs and lose, but we met our first goal, which was to qualify for the World Cup and we're obviously extremely happy for that. That's the big challenge to come. We're fully focused on that goal."
Until then, though, Sunday's loss will marinate. A U.S. team that was largely dominant was just seconds away from a remarkable achievement, and the feeling of losing it all in the blink of an eye will likely linger until the team departs for India this fall.
In some ways, it may be a helpful tool, a motivating factor. In some ways, the U.S. fell short, failing to meet one of their goals. But now, the bigger picture is just a few months away from kicking off and the U.S. is confident they'll be more than ready.
"We're going to let this loss burn inside us for a little bit," Durkin said, "but then we're going to move on and focus on the World Cup."