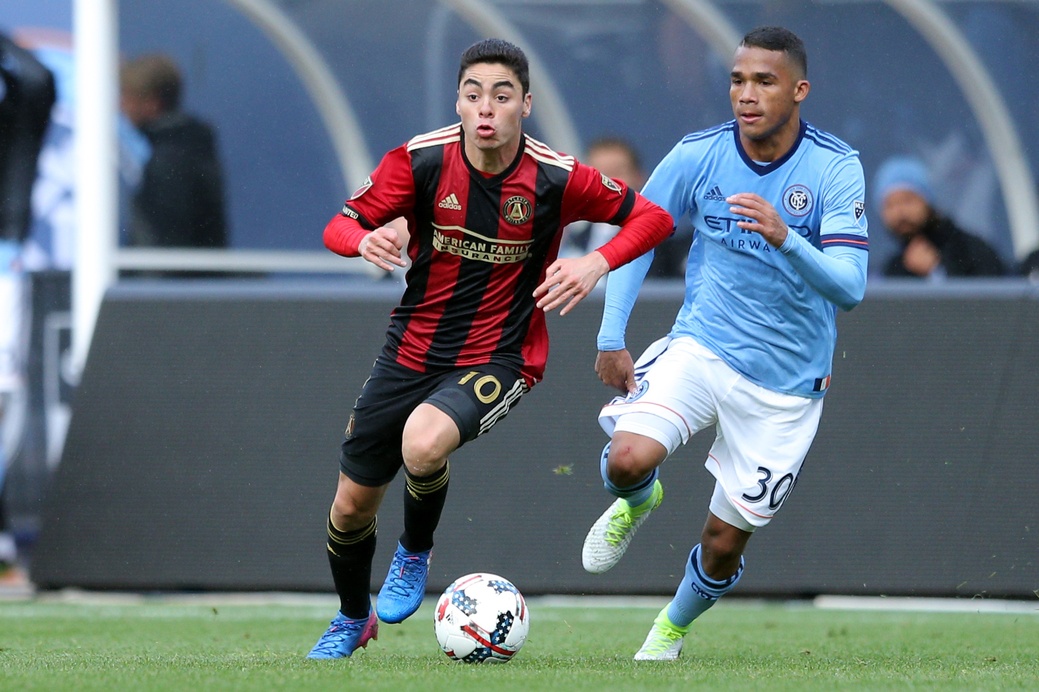 Through the first month or so of the MLS season, Atlanta United lived up to, and perhaps even exceeded, the hype. They played free-flowing soccer thanks to their trio of South American Designated Players and as goal after goal soared in, the results followed.
Now, those goals have dried up and the wins have rapidly turned to losses. For the first time in franchise history, frustration has hit as the team faces its first real blip, a first real period of adversity and strife.
After falling, 3-1, to D.C. United last time out, Atlanta United lost by the same scoreline on Sunday against New York City FC. In the six games since a 4-0 thrashing of the Chicago Fire, the club has collected five points as a dream start has rapidly come to an end. The club is drifting back towards the pack.
"This is a challenge for us. This is the first time this team is facing some adversity," defender Michael Parkhurst said following Sunday's loss. "Two games in a row, not only do we lose, but we don't play well. This is a testing time for us to see how we can regroup and how we can come out in our next game, pull things together and have a better performance.
"I don't think we feel like an expansion team," he added. "Every team in MLS I've been on goes through these periods and every team, look at the results in MLS this weekend, teams go through it. We've now gone through it twice in a row here, so it's a testing time for us. An expansion team is maybe slower to come out of it, but we don't see ourselves as an expansion team. We want to come out of this quickly."
Fellow veteran Jeff Larentowicz is quick to point out that Atlanta's recent issues happen to coincide with an extended run on the road. The club has played five of its last six matches away from home and, with a match against the Portland Timbers looming before a return home, the path won't get any easier.
The poor run of form also happens to coincide with the loss of several regulars, including star striker Josef Martinez. Jacob Peterson remains out with an injury while head coach Gerardo 'Tata' Martino also pointed to U.S. Under-17 Men's National Team playmaker Andrew Carleton as a key absence.
On Sunday, it was hard to see how any of the trio could have changed the result. From the get-go, NYCFC was the sharper team, punishing Atlanta from the first minute. After conceding a David Villa opener, the club was fortunate to find a Carlos Carmona wonderstrike heading into the half. The second half saw the wheels fall off quickly as Rodney Wallace created a trio of chances just seconds into the second stanza. The Costa Rican winger then paired with Maxi Moralez to punish Atlanta United with a pair of goals in a two-minute span.
"It wasn't just a problem in the second half," Martino said. "The whole game, we were the inferior side. Even when we scored, it was a half-volley from outside of the box. Even in that moment, we didn't deserve the goal. The other team was just superior tonight."
"Straight from the get-go in the second half, we just didn't bring it," Parkhurst added. "Against a good team, you get punished. We were lucky we didn't get punished in the first 30 seconds. It was a matter of time."
Martino said there were no real positives to take from Sunday's loss. They came up against a superior team and got the result they deserved. NYCFC had more intensity, more control throughout a match that was theirs to lose.
That fact isn't on the attack, Parkhurst says, even if the unit hasn't truly been firing since Martinez went down. In recent weeks, the team hasn't played well defensively or found their footing building out of the back, making matters tough from the top on down. The veteran defender says improvements are needed from top to bottom if the club is to break out of this rut.
Martino doesn't expect Martinez or Peterson back for the trip to Portland, but he also doesn't expect a massive overhaul. It's more about rediscovery, not reinventing, as Atlanta United looks to bounce back from their first real MLS test.
"We'll evaluate everything this week," Martino said. "We'll see what players are recovering and who is available, but I also think we played a very good first six or seven games. Just because we've played two poor games, it doesn't mean we have to modify everything."
"We have to come together," Parkhurst added. "When you lose, you tend to get to yourself, focus on yourself and your own stuff. We need to make sure we stick together as a team and go back to what was making us successful at the beginning of the year, and that was working hard and working for each other."