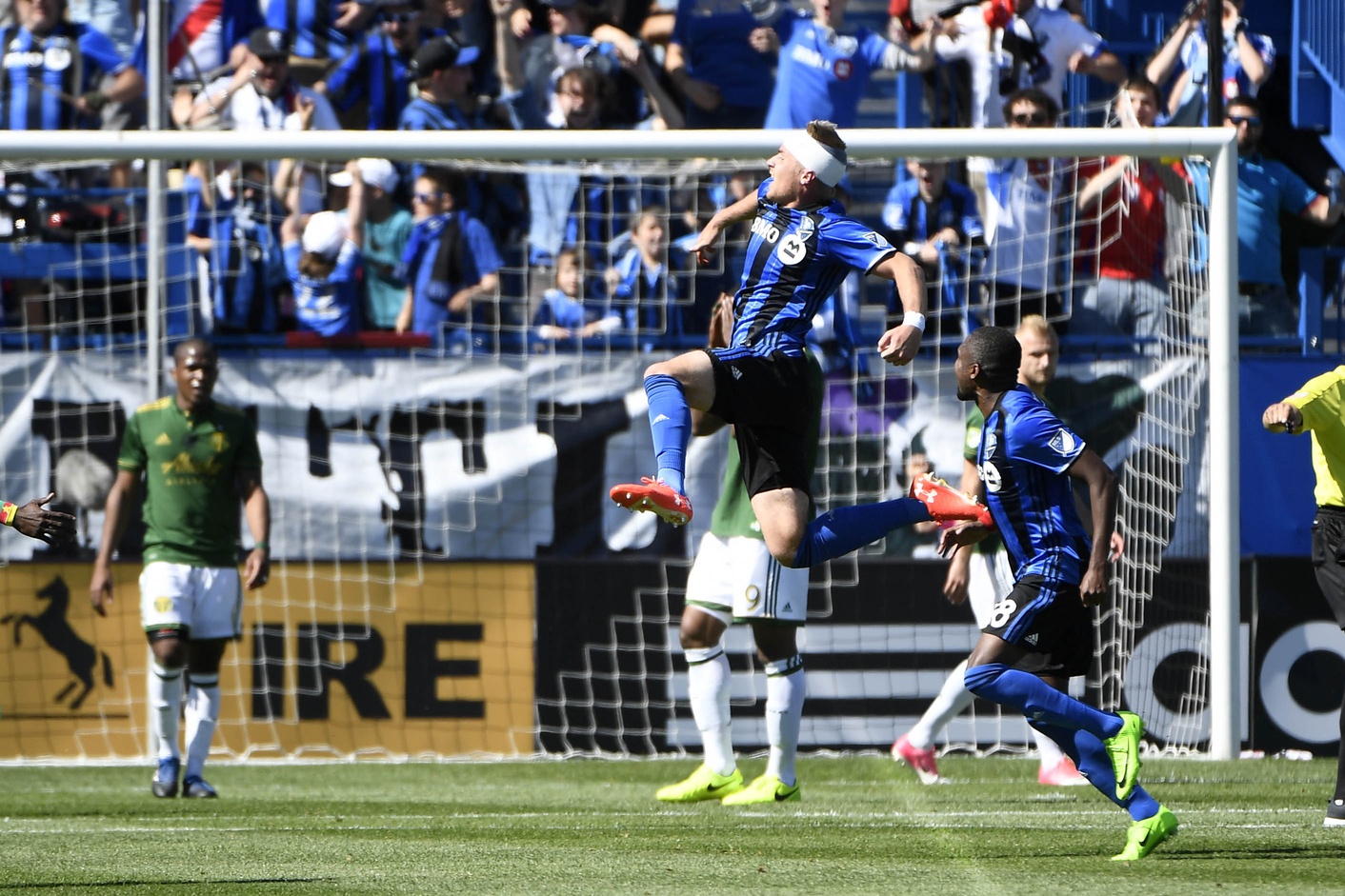 MONTREAL–Hockey analogies are popular in Montreal so it was only fitting Impact head coach Mauro Biello had a great one about Kyle Fisher when he spoke—in French—in his post-game press conference following a 4-1 Impact win over the Portland Timbers.
"He had a Gordie Howe evening," Biello said.
A Gordie Howe hat trick, popularized by the late Detroit Red Wings legend, is a goal, an assist and a fight. Fisher completed two-thirds of it by scoring a goal and sparring in a constant fight with Timbers forward Fanendo Adi, one that sent him out for a few minutes, but he came back with a head bandage and he later received six stitches on his right eyebrow.
Solid contact with Adi forced the former Clemson Tiger off the field to receive medical attention. The Easley, South Carolina native was cut and immediately needed a head bandage from the medical team. A few minutes later, he scored his first goal in Major League Soccer, heading a ball into the net off a Blerim Dzemaili corner kick.
"Getting adjusted to the bandage, first off, was a little time period there," said Fisher. "It took about five minutes and then [getting] that corner kick I went up and was like: 'Hopefully we can get this ball in and at least put it on target and put it towards the back post. It went in today, so that was good."
At halftime, the bandaged Fisher got back to the locker room and was not taken out of the game by Biello. He "got cleaned up," received six stitches and got re-bandaged before heading out for the second half.
"It was a little better job of bandaging," said Fisher. "I wasn't feeling like my head was going to explode with the pressure of the tape around it but it was good."
Fisher confirmed himself that he did go through concussion protocol at the end of the game.
His work against Adi, a 6'4″ forward with six goals to count for this season, did not go unnoticed by his teammates and coaching staff. His tenacity and work ethic is what jumped to the attention of captain Patrice Bernier.
"You need this in this league, there are a lot of guys like that," said Bernier. "Against players like Fanendo Adi that are not easy, he made it hard for him and it's good. […] Some players adventure themselves a bit too much, we've got to show them that we're at home."
The Canadian international even admitted that Fisher is tough to deal with daily.
"He's a bit [frustrating] to play against," Bernier said. "Even in training, he falls on [some people's] nerves because he is always on your back."
Without being too flashy—he is a center back after all—Fisher has been able to collect praise and from his peers and has been turning heads after replacing the injured Hassoun Camara.
"It's a guy who will run through a wall for his team," said Biello. "In the end, it shows character, it shows a young player that has worked extremely hard and is focused on what he could control. It's a guy that has done well in the last four-five games."
Running through walls, cutting his eyebrow in the process, is the style of play Fisher prefers. He plans to continue playing this way and making himself a regular part of Biello's starting lineup.
"It comes down to competing and that's what I love to do. So, [Adi is] someone I love to play against," Fisher said. "I like the challenge and being undersized compared to a guy like that feels good."