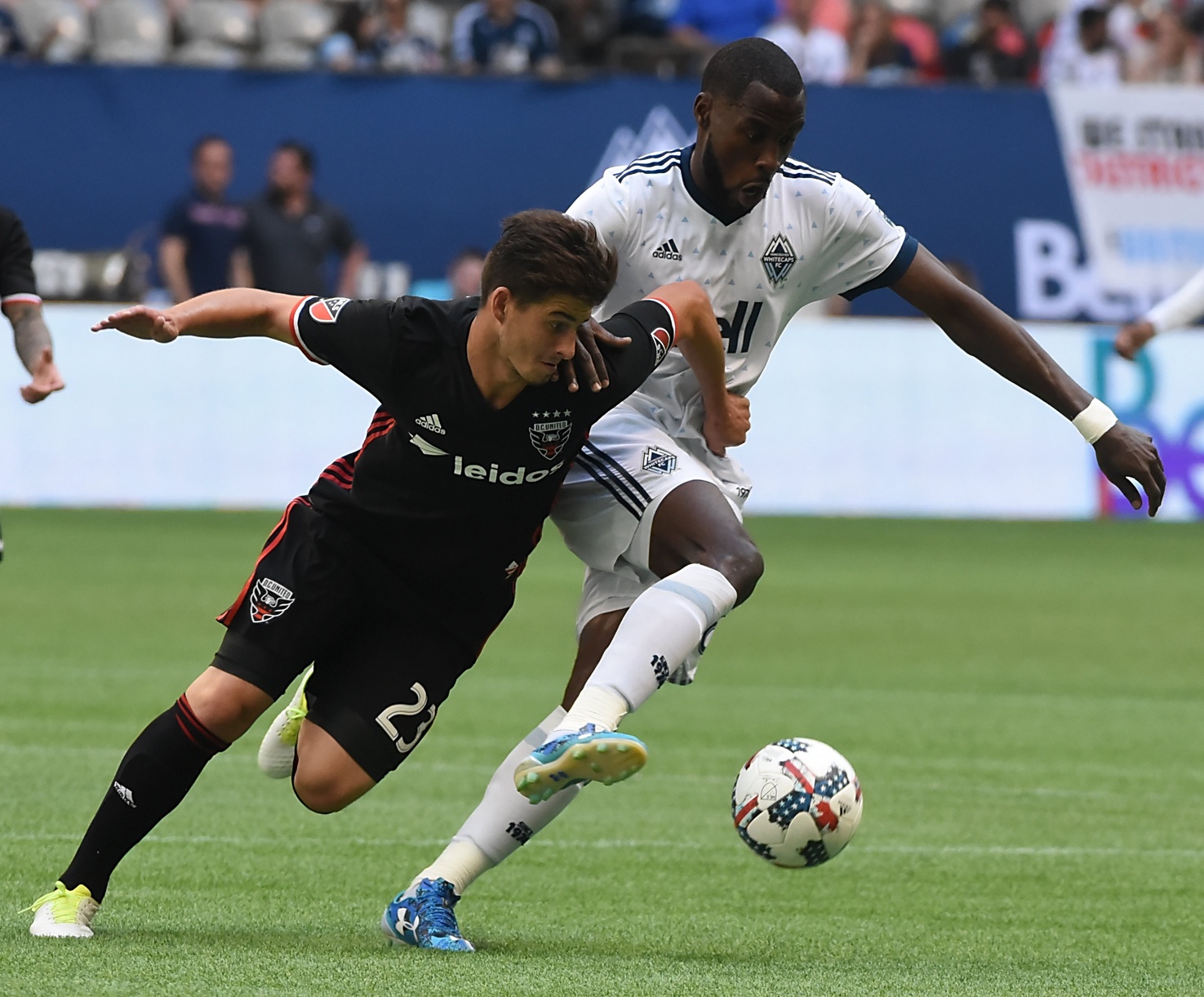 It wasn't quite peak Benny-ball, but it got the job done, albeit controversially.
A controversial penalty call proved just enough for D.C. United, who escaped Vancouver with a 1-0 win over the Whitecaps. The win was D.C. United's first in four games while the Whitecaps settled for their second loss in three matches.
In a matchup of two less-than-prolific attacks, it took a penalty kick to decide Saturday's match in the 61st minute. The penalty call itself was disputed, as José Guillermo Ortiz was taken down in the box by Kendall Waston. Replays showed that Ortiz embellished the contact, but there was nothing a raucous BC Place crowd could do once Sorin Stoica pointed to the spot.
Lamar Neagle stepped up to take the ensuing penalty kick, and the D.C. United midfielder's effort rocketed past David Ousted into the top corner for the game's lone goal.
It's not to say there weren't chances on either side, but rather that both sides failed to truly take them. Ousted made a spectacular save in just the seventh minute, parrying away a Luciano Acosta shot while his counterpart, Bill Hamid, made a spectacular kick save just before halftime.
Both keepers were in form, but it was the crossbar that truly saved the day for D.C. United. A 19th minute header from Cristian Techera smashed off the crossbar while Waston's magnificent overhead kick just moments later was also denied by the woodwork.
In the second half, Hamid continued his magic, making another wonderful stop in the 77th minute. In total, Hamid made four saves while Ousted finished with three.
The Whitecaps had one more chance in the waning moments of second-half stoppage time, but Techera's penalty clanged off the right post.
With the win in their back pocket, D.C. United turn toward a midweek visit to Orlando City while the Whitecaps now prepare to host Atlanta United next weekend.
MAN OF THE MATCH
Bill Hamid wasn't fully superhuman, but he sure was good in leading the way to another D.C. United clean sheet.
MOMENT OF THE MATCH
José Guillermo Ortiz drew the penalty and Lamar Neagle smashed it home, giving D.C. all it would need to escape with three points.
MATCH TO FORGET
It's impossible to get every call right, but Sorin Stoica should have spotted  José Guillermo Ortiz's dive from a mile away.