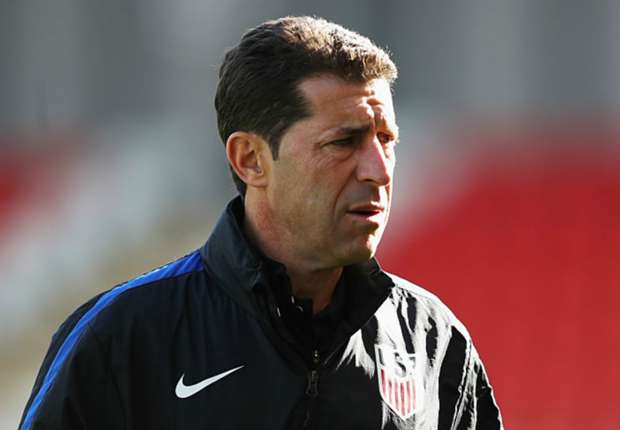 Tab Ramos understands the frustration better than anybody. He knows there are several players, several big names, missing from his U.S. Under-20 Men's National Team roster. He's fought the usual battles, made the usual concessions but, even still, the U.S. is missing some potential contributors.
But, make no mistake: Ramos is as confident as ever in the group he has been able to assemble for the upcoming Under-20 World Cup.
Ramos unveiled his 21-man roster on Tuesday, and it features some heavy-hitter additions mixed with players returning from the CONCACAF championship team. Cameron Carter-Vickers and Gedion Zelalem, two players on the last World Cup roster but used sparingly this cycle, are back in the fold. Philadelphia Union midfielder Derrick Jones is involved having recently been cleared to represent the U.S. as is Josh Sargent, fresh off a qualifying campaign with the U.S. Under-17 Men's National Team.
Still, it's easy to see notable absences. Fiorentina forward Josh Perez was not released, although he has recently been dealing with an injury. He's a player that Ramos targeted, even if Ramos hasn't had him in camp for over a year. The same could be said for the Schalke duo of Weston McKennie and Nick Taitague, both of whom weren't released by their club.
"We haven't had an opportunity to see Josh with us in over a year now," Ramos said, "and that's really difficult, to follow a player that's not playing on the first team, who is playing on the U-19 and we don't get to see him with us.
"Schalke was pretty straight-forward with, 'Our U-19s are more important than your national team, so they're going to stay here until we're done playing'. That's something for our young players to look at. When they go to Europe, sometimes you sign for a club that thinks your national team is not important at the youth level, so you have to deal with that."
The core of the group remains intact. In total, 15 players return from the team that won CONCACAF's qualifying tournament. The six newcomers are headlined by familiar faces like Zelalem and Carter-Vickers, while Sargent makes the leap after dominating at the U-17 level. Ramos says he's had his eye on Sargent for quite some time and, with U-17 qualifying done, the time finally felt right to bring him in.
The lone surprise, in many ways, is Atlanta United product Lagos Kunga, who impressed enough during a recent training camp in London to earn a spot on the roster.
Also a part of that training camp was Carter-Vickers, a player Ramos will rely on in the coming weeks. At that camp, though, Carter-Vickers suffered an injury, casting doubt over his status for the World Cup. There's a contingency plan in place in the form of Philadelphia Union defender Austin Trusty, who would be called in should anything go wrong. Erik Palmer-Brown is also figured to feature in the centerback pool as Ramos looks to move him back from a No. 6 role.
Ramos is confident in Carter-Vickers' fitness, though. The defender has been running since joining camp, mostly working on fitness. Ramos expects him back in the next three or four days in time to begin training in full early next week.
"This time around, he's been on Tottenham's first team, and Tottenham is one of the top 10 teams in the world today," Ramos said. "That's a great place to be and he's playing with amazing players. Unfortunately for him, because of that, he hasn't been able to play as many games as he played the year before. He's gone from playing between 40-55 games to now playing only 10 or eight. That's difficult for a young player.
"We've had to manage a little bit of that and that's why we've called him to some camps to see if we can get him opportunities for extra games. Tottenham has been great for us and they feel the psychological part of the game is important. Cameron is happy when he comes with us and he needs that. He needs the 90 minutes games. That's helped him."
Ramos expects Carter-Vickers, Palmer-Brown and Zelalem to assume leadership roles in the coming days and weeks. He says he's seen Palmer-Brown grow and mature in the two years since the last U-20 World Cup, becoming one of the best talents the team has at either centerback or in the midfield.
Admittedly, Ramos was a bit concerned with Zelalem, though. A recent loan move to VVV Venlo has proben less fruitful then expected, as the young midfielder made just nine appearances for the Dutch second division side.
But, having seen Zelalem up close, Ramos is more than happy with where he is. The U.S. head coach expects to rely on the midfielder big time to help unlock defenses, adding to an attack that struggled in qualifying. Despite leading the qualifying tournament in chances created, the U.S. struggled to score goals, and Ramos is expecting Zelalem to step up and drive the attacking force.
"Coming in, I was a little bit concerned with his form and what that would look like," Ramos said, "but having seen him for the last three or four days at practice, I'm convinced he's ready to do a great job for us. No concerns there.
"I would have hoped his career at this point would be a little bit more advanced. Two years ago, he was at Arsenal, he had already gotten some opportunities with the first team and here we are two years later and we're looking at the same type of scenario. I think after this World Cup, he'll likely move to play first team ball. That's my feeling. Somewhere in Europe if it's not in England alone, he'll move somewhere else to play."
Ramos admits there were a number of tough decisions. Leaving Mukwelle Akale off the roster was one that stuck out, and the U.S. head coach admits he still looks at the roster and wonders how he couldn't fit the young forward in.
But, by and large, he's happy with the group he's assembled and he's confident that it's a group that is strong enough to compete at the World Cup. The U.S. faces a tough group, one featuring Ecuador, Saudi Arabia and Senegal, but Ramos believes this team has the weapons and swagger to step in and create something special in Korea.
"Obviously attending and playing in a World Cup against the best players in their age int he world is a great experience for them," Ramos said. "We're very proud that, for the first time, we travel to a World Cup as champions of our region. I'm looking forward to seeing how the team responds to that. Normally, we like to play the underdog role and although in this case we remain underdogs, we go there as champions and I hope we can take this new experience as a good one and this becomes the norm rather than the exception."
"I'm very happy with the roster that we have," Ramos added. "You know this is a talented age group and regardless if we say is someone missing or not here or if there is someone else we can have that will make the team better, I still think the guys we have here will represent us well and we have a good team."