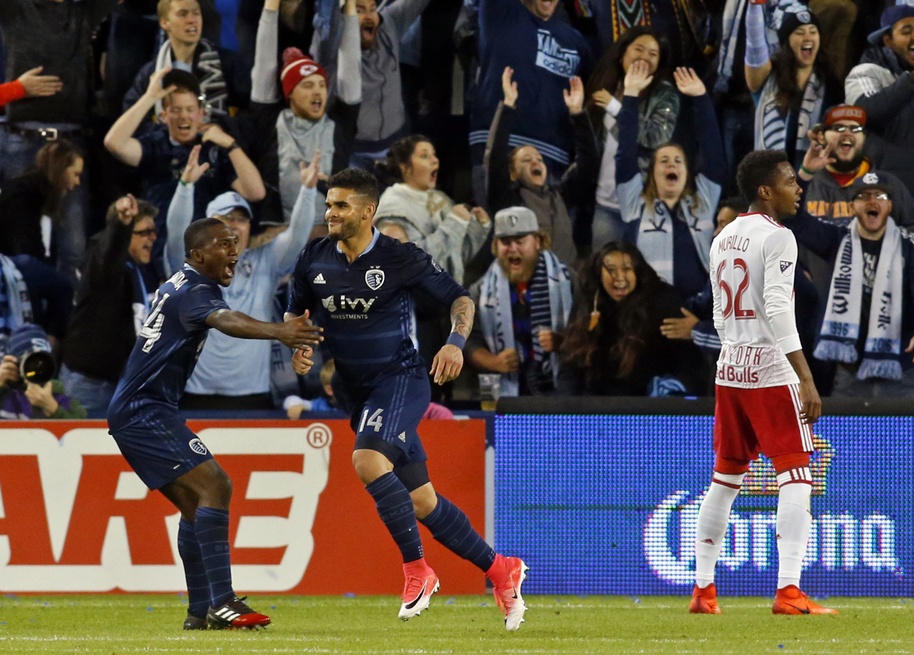 The New York Red Bulls' bid to rest starters in a midweek road match fell short Wednesday night as Dom Dwyer powered Sporting KC to another home victory.
Jesse Marsch and the Red Bulls deployed key starters in the second half, but Dwyer's scoring quality was too much to handle. Sporting KC snapped the Red Bulls' three-match winning streak with a 2-0 win at Children's Mercy Park.
Red Bulls defender Sal Zizzo fumbled a clearance in front of former teammate Dom Dwyer to allow Dwyer to open scoring in the 46th minute. Dwyer doubled Sporting's lead in the 68th minute when he met a Benny Feilhaber cross about 12 yards from goal.
The win sees Sporting KC rise to first in the Western Conference, though many teams hold one or two games in hand. The Red Bulls have a similar situation, still standing in second. Every team in the Eastern Conference, however, holds one or two games in hand.
The Red Bulls played a weakened lineup in the match, having to withstand a short turnaround from last week. Bradley Wright-Phillips and Sacha Kljestan entered off the bench in the second half with the Red Bulls down, 1-0, but it was too late for them to make an impact.
Other Red Bulls starters to sit out in the match included Tyler Adams, Kemar Lawrence and Daniel Royer. Panama international and Red Bulls offseason signing Michael Amir Murillo started his first game for the Red Bulls on Wednesday.
Sporting turned in another dominant home performance and allowed only two shots on goal. The Sporting KC defense earned yet another shutout, the team's fifth in eight games. Previously this season, Sporting allowed a 0-0 draw to FC Dallas, which rested several starters ahead of a CONCACAF Champions League semifinal.
Sporting KC takes to the road this weekend to face Minnesota United in Minneapolis. The packed week also continues for the Red Bulls, as they continue on the road to face the Philadelphia Union on Saturday.
MAN OF THE MATCH
Sporting KC's go-to forward is heating up. Dom Dwyer was clearly the best player on the field in this match, scoring his third and fourth goal in the last four games.
MOMENT OF THE MATCH
The Red Bulls were put away with Dom Dwyer's second goal of the match. Dwyer sent Feilhaber's cross neatly into the top corner to make the score 2-0.
MATCH TO FORGET
Red Bulls center back Sal Zizzo's misstep to put his team down one opened the match up for Sporting. Zizzo and the Red Bulls defense faced 18 shots from Sporting on the night.