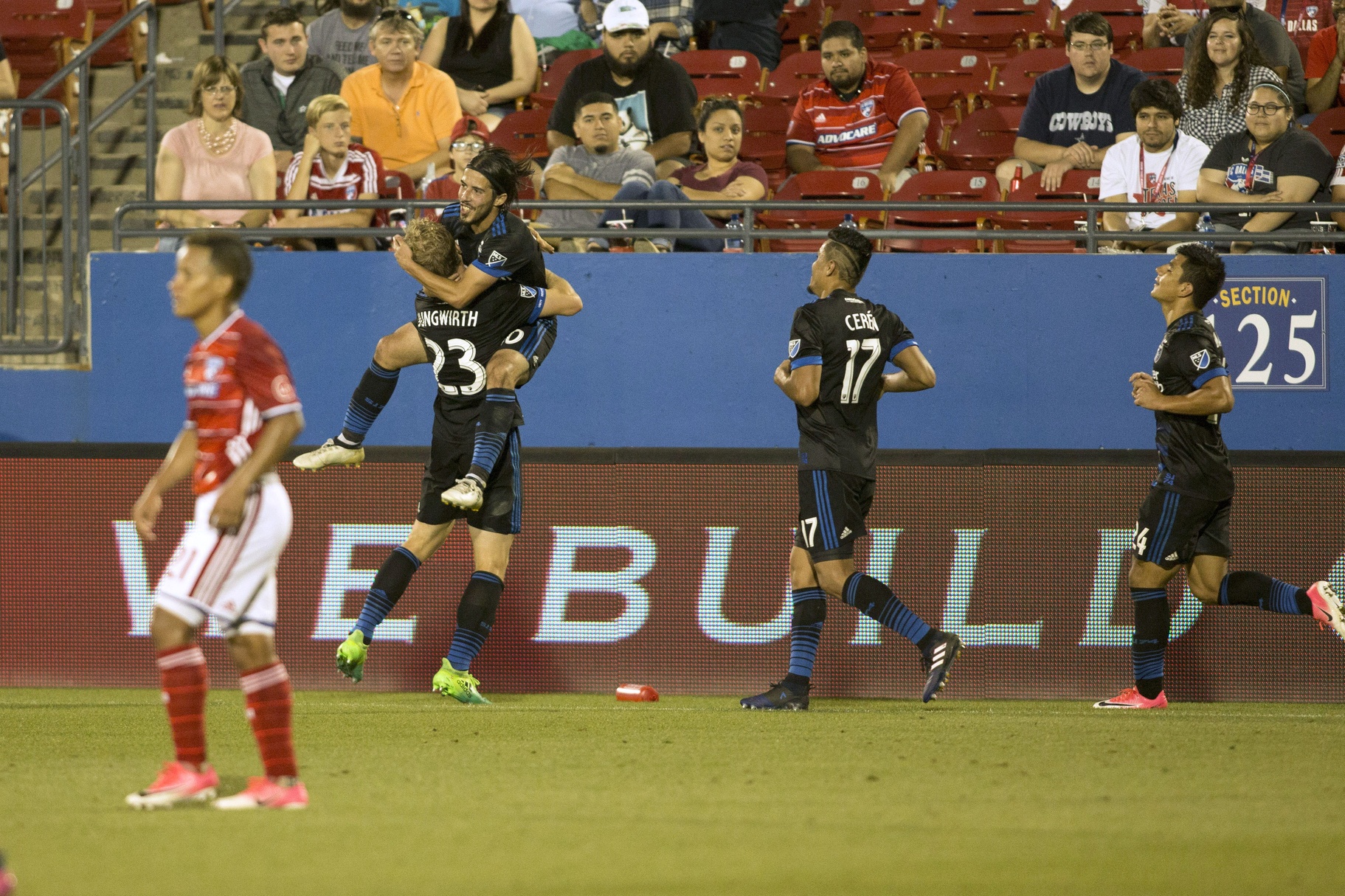 After 10 matches, FC Dallas is unbeaten no more. The San Jose Earthquakes 1-0 victory at Toyota Stadium marked Dallas' first home defeat since September of last year.
After a game of exchanged blows, the Earthquakes persistence finally paid off in the 81st minute. Jahmir Hyka delivered what could be the goal of the week, and the nail in the coffin on Dallas' nine-game unbeaten streak. Hyka's sublime technique and finish during the game's last gasps was reminiscent of his impact against the same Dallas team back on April 4.
The match was played in typical Quakes fashion with the majority of the action generated in the final 10 minutes.
David Bingham experienced a busy and productive night, delivering two saves in the first minute of stoppage time. 15 minutes earlier, the Quakes goalkeeper denied a lofting strike in a one-on-one scenario with Michael Barrios.
Early on, the Quakes would approach the road game with an attacking mindset, peculiar to their play away from Avaya this season. As a result, captain Chris Wondolowski would have a first-time chance inside the box to open the scoring but would see his strike sail over the crossbar.
Danny Hoesen will have to wait for his first MLS goal. The Dutchman had an open look in the 75th minute but was denied by Jesse Gonzalez's responsive reactions.
After the victory, the Quakes will shift its focus on this season's first edition of the California Clasico, as they host LA Galaxy at Avaya on Saturday. FC Dallas quickly returns to action as they travel to Chicago to take on a red hot Fire squad on Thursday night.
MAN OF THE MATCH
David Bingham made no stupendous save, but his consistency throughout the 90 minutes was vital to the Quakes victory.
MOMENT OF THE MATCH
Not only did Hyka score a world-class goal, but the dagger that ended the leagues' last unbeaten team.
MATCH TO FORGET
Despite being Dallas' top goalscorer, Maximiliano Urruti was nowhere to be found against the Quakes swarming defense.