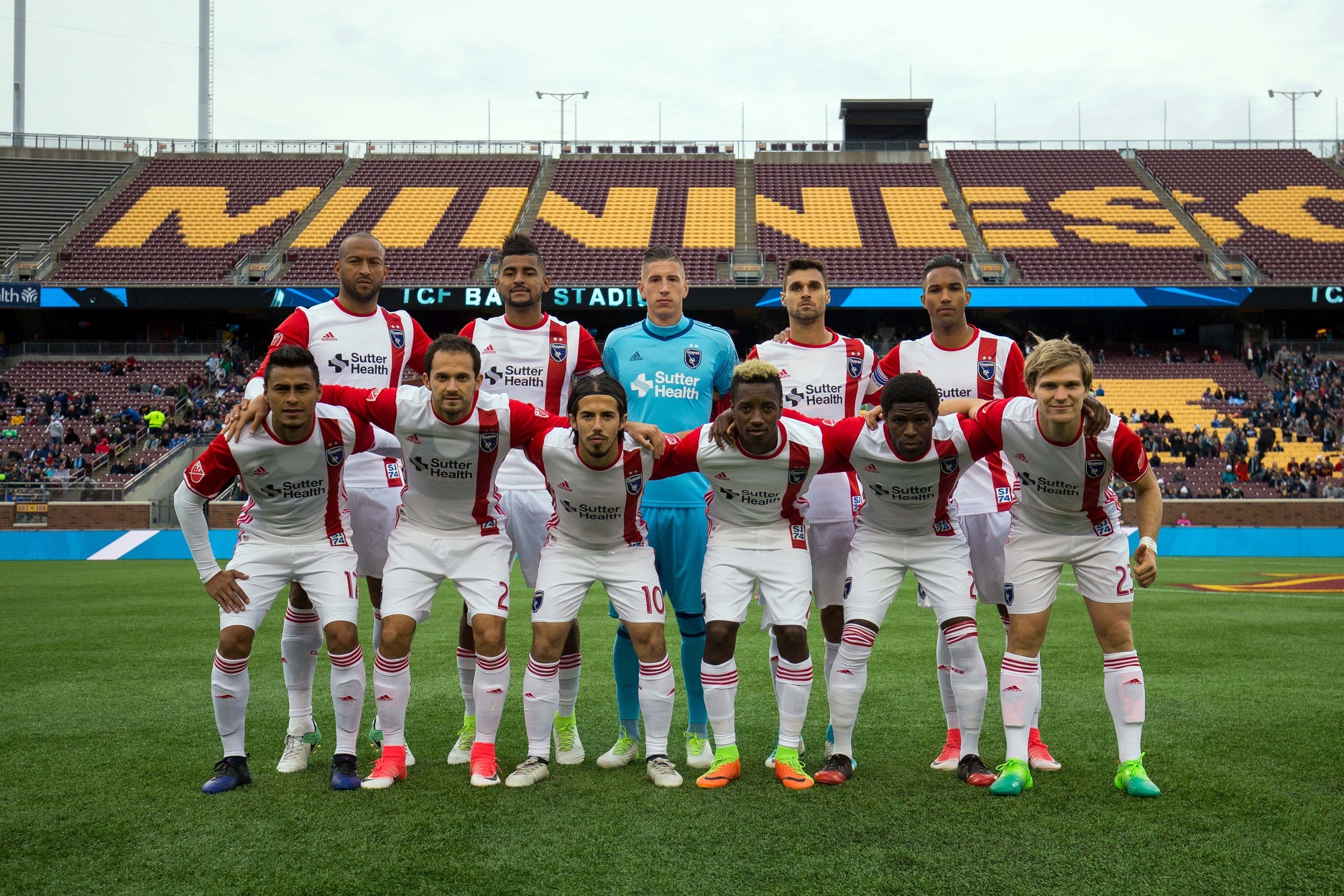 The San Jose Earthquakes concluded their three-game road stretch with a victory over Minnesota United, the team's first road win since August, and first victory after a six-match winless slide..
On Saturday, the Quakes will be back at Avaya Stadium to face the Portland Timbers, and though facing one of the league's top teams is a daunting task, the Earthquakes' recent results have the team feeling confident.
"Yeah it was good, I mean it was a good draw obviously the spirits weren't exactly sky high after Houston, but I think we followed that up with a good performance in Minnesota," Coach Dom Kinnear told SBI. "Then the vibe in the locker room after the game and out here has been positive."
Over the past two seasons, the Quakes have struggled on the road, last week's win notwithstanding. They had lost 11 points on the road after their first four bouts, but managed to salvage three with a 1-0 victory at TFC Bank Stadium.
"Four out of nine is pretty good you'd like to have more, I think to finish off those three games with a win was good for the confidence of this group."
With a one of the league's best paying a visit, the Quakes look to summon the mentality that led them to the perfect start of the season which was in a way unlocked against the Loons.
"Sense of relief you know, we haven't won since week two so just to go out there to get the win it didn't matter at home or away we just got to win so you know that's good and hopefully we take it with us into the weekend," Cordell Cato said.
Cato at right back
During the early stages of the season, Cordell Cato failed to appear on the bench come match day. Against Minnesota United, Cato flourished at right back, a position in which he had yet to feature since last season.
The Trinidad and Tobago international, early on, saw his rifle of a shot blast past Minnesota's Bobby Shuttleworth, only denied by the lip of the crossbar. He would continue an overwhelming attacking oriented approach throughout the developing stages of the game.
"Yeah I think last year as well, we are a possession team so we hold the ball enough so I can advance into those attacking positions and be dangerous," Cato told SBI.
This time around the supporting cast almost seems unfamiliar to Cato, who played alongside new teammate Jahmir Hyka for the first time. The right side pairing allowed for the 24-year-old to flow forward effectively and constantly.
"I mean he's (Hyka) is technically gifted and he's more inside type of guy so it creates that space for me to move forward," Cato added.
Rookie Nick Lima had taken the right back position by storm after shutting down Montreal's Ignacio Piatti in the season opener, emerging as an MLS rookie of the year favorite, but Cato showed against Minnesota United that the Earthquakes have more than one option at right back.
"He attacks well, he make good decisions with the ball, he's a good defender," Kinnear said. I thought he had a good game last week, and I wasn't surprised by it."
Flo on
When Florian Jungwirth was brought to San Jose back in February, his purpose was to bolster the defense. Nine games into the season, the German defender co-leads the Earthquakes in goals scored with two.
"I didn't expect it, I started scoring goals here," Jungwirth told SBI.
The 28-year-old's transition to MLS has been better than expected after spending his entire career in Germany, most recently with Bundesliga side SV Darmstadt 98.
"I think I started well here, but it was easy.  All my mates from the first day they were so nice to me," Jungwirth said. "The coaches talk a lot with me, what they expected from me, I think I did well but it's still only nine games, so I have to do it for the whole season and if I can hold that, I think everyone's happy."