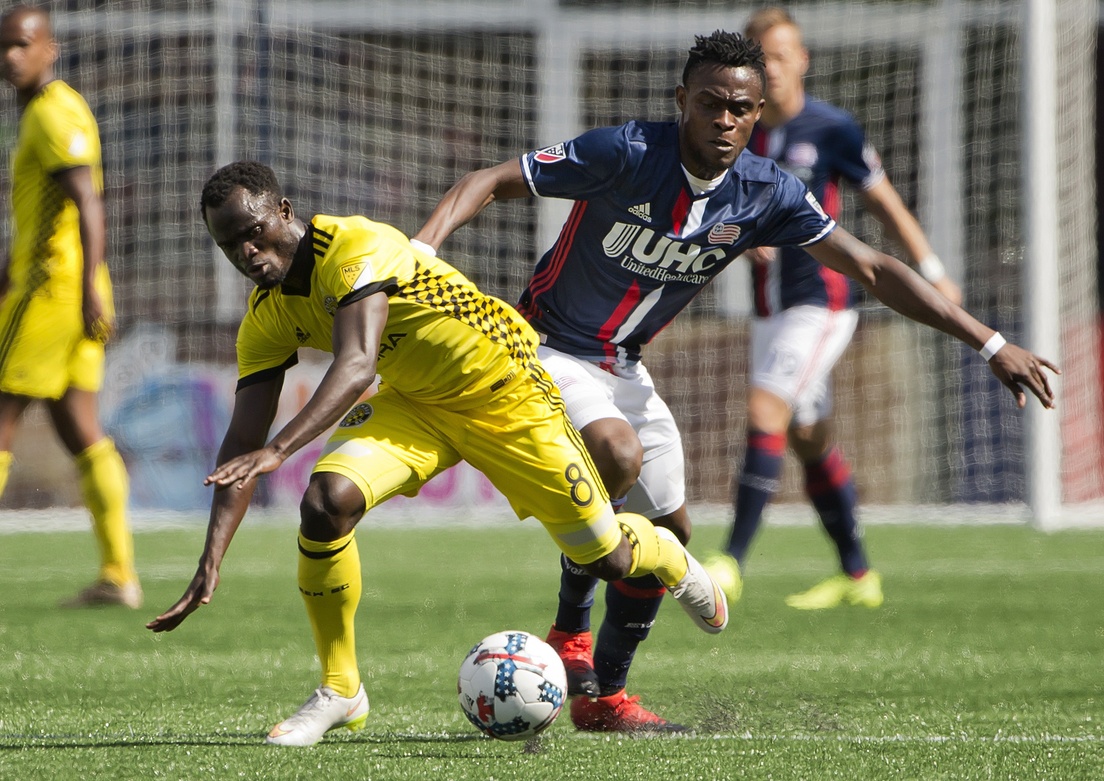 FOXBOROUGH – After six successful seasons in MLS, defensive midfielder Gershon Koffie tried his luck in Europe and latched on with Swedish side Hammarby IF over the offseason, signing a three-year contract in what he hoped was the next step in his professional career.
Four months later, after just one appearance, Hammarby loaned Koffie back to his most recent MLS team, the New England Revolution for the remainder of the 2017 season, and he made his second home debut at Gillette Stadium in as many seasons on Sunday afternoon.
With a stomach bug plaguing defensive midfielder Scott Caldwell, the 25-year-old Koffie came on at halftime for forward Femi Hollinger-Janzen as the Revs looked to protect a 2-1 lead against the Columbus Crew SC and the team's defense spiked in the second half.
"He jumped into training the last two days and just fit in like a glove," Revolution coach Jay Heaps said. "It was a moment we needed a player that had some experience and that's why I was thrilled that we were able to sign him. (general manager) Mike Burns and I really pushed hard to get him, and we did, and Mike did a great job getting him here because of moments like this."
Partnering with Xavier Kouassi, the Ghanian Koffie helped limit the Crew to just two shots on goal in the second half as they pushed for an equalizer, with the Revs also winning 38 of 60 duels for the ball in the final 45 minutes, compared to just a 42.5 percent success rate on duels in the first half.
"He and Kouassi were just solid together," Heaps said. "You could tell that's where (Columbus) wanted to play. They wanted to overload with (Justin) Meram, they wanted to overload with (Federico) Higuain, and they have (Mohammad) Abu dropping in and where (Will) Trapp was, so we felt like if those two guys could cover and play a little bit of zone and man when need be, we could break it up. I thought the second half was light years better defensively."
"He probably knows the players as well as Kouassi does, so it was great," Heaps added.
Koffie said the substitute role was fine by him as he works himself back into 90-minute game fitness after playing sparingly over in Sweden.
"I feel tired," Koffie said after the game. "I feel like I played like 92 minutes, because I haven't played games for a while, but it's getting there."
The Revs, who got back to .500 on the season, improving to 4-4-4 with their second straight win, now face a good kind of problem to have, with a glut of quality options in central midfield.
"It's nice to see a familiar face back and it's all about building a deep team because it's a long season and not everybody's going to be healthy all the time," Revs forward Kei Kamara said. "Today, it felt like he never really left.  I think he only left for a couple of months. His locker was still in the corner, so we knew he was coming back."
Lee Nguyen has deservedly locked down the attacking midfield role behind Kamara, which has forced Kelyn Rowe to roam between central midfield, the right and left wings and left back. Rowe occasionally played behind Nguyen in offensive-minded lineups, but those days might be far and few between now with Koffie back in the fold pushing for field time.
The Swiss-league veteran Kouassi has quietly been sturdy in his debut since tearing an ACL last year, while Caldwell has been one of the Revolution's most consistent players, playing in 88 percent of the team's 7,200 minutes since the start of the 2015 season.
That puts a squeeze on Koffie's role with the Revs – he was, after all, originally acquired from the Vancouver Whitecaps in Feb. 2016 to fill in after the designated player Kouassi got injured, and now Kouassi is back close to 100 percent.
"I really liked playing 45 minutes with him," Koffie said of playing with Kouassi. "I enjoyed every second on the field. I think he's a good guy and he works his socks off."
Koffie has had a strong professional career to date, originally latching on as a teenager with Vancouver before it joined MLS after he was scouted by current Revolution assistant Tom Soehn.
He went on to make 133 appearances, including 116 starts for the Whitecaps over five seasons in MLS before playing another 22 games in an slightly injury-plagued season for the Revs last year.
Koffie's absences might have played a role in the Revolution just missing the playoffs in 2016, and now he's left searching for minutes in a deeper lineup.
Additionally, 34-year-old ageless wonder Daigo Kobayashi and Homegrown Player Zachary Herivaux are also lying in wait to get into the central midfield mix.
"It's been tough, but it's one of the things that you have to deal with in life – not just soccer, but in life – things don't go the way you want sometimes," Koffie said of his stint at Hammarby. "But I feel good to be back (with the Revolution) and get some minutes."