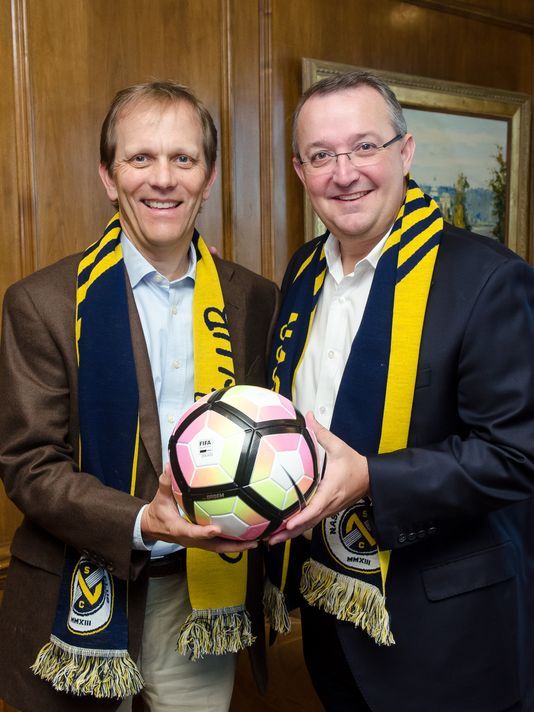 With Tampa/St. Petersburg rising and St. Louis falling, Nashville and lead investor John R. Ingram are ramping up their push for one of the two open expansion spots in MLS.
Previously, the Nashville MLS bid and the new USL franchise Nashville SC, set to begin play in 2018, were completely separate entities in ongoing discussions about how to unify their efforts. That issue was resolved on Thursday morning as Nashville SC announced that Ingram has purchased a majority stake in the team, unifying the two Nashville forces into a single block of increasing momentum.
"Our effort to bring Major League Soccer to Nashville and the mission of DMD Soccer are now jointly committed to elevate and expand professional soccer in Music City," Ingram said in a statement. "We plan to give Nashville SC fans an exceptional soccer experience, starting with this season's debut of the organization's PDL (Player Development League) team, which will lead to a successful debut in the USL as we continue to grow the game in Nashville at every level."
While the details of the takeover weren't announced, the move consolidates the entirely of Nashville's pro soccer movement under a single umbrella. With a great deal of flux in the landscape after former front-runner St. Louis saw their stadium hopes shot down in a public vote, the launch of Nashville SC as an inclusive part of the bid, rather than as a competitor for fans in the area, strengthens Nashville's growing profile. It also gives the team a base to begin building talent ahead of a potential MLS launch in a few years time.
"John Ingram has a long history supporting sports in Nashville," Nashville SC founder David Dill said. "He will be a driving force in Nashville SC's ownership group as we move our vision forward, which is to provide professional soccer to the region's passionate fans. Nashville SC has grown from the grassroots, and now John's commitment speaks volumes about the future of soccer in Nashville and helps Nashville SC grow while unifying soccer interests in our city."
The acquisition certainly gives MLS a few more things to think about, and perhaps places Nashville a successful stadium plan away from being one of the favorites in this round of expansion.