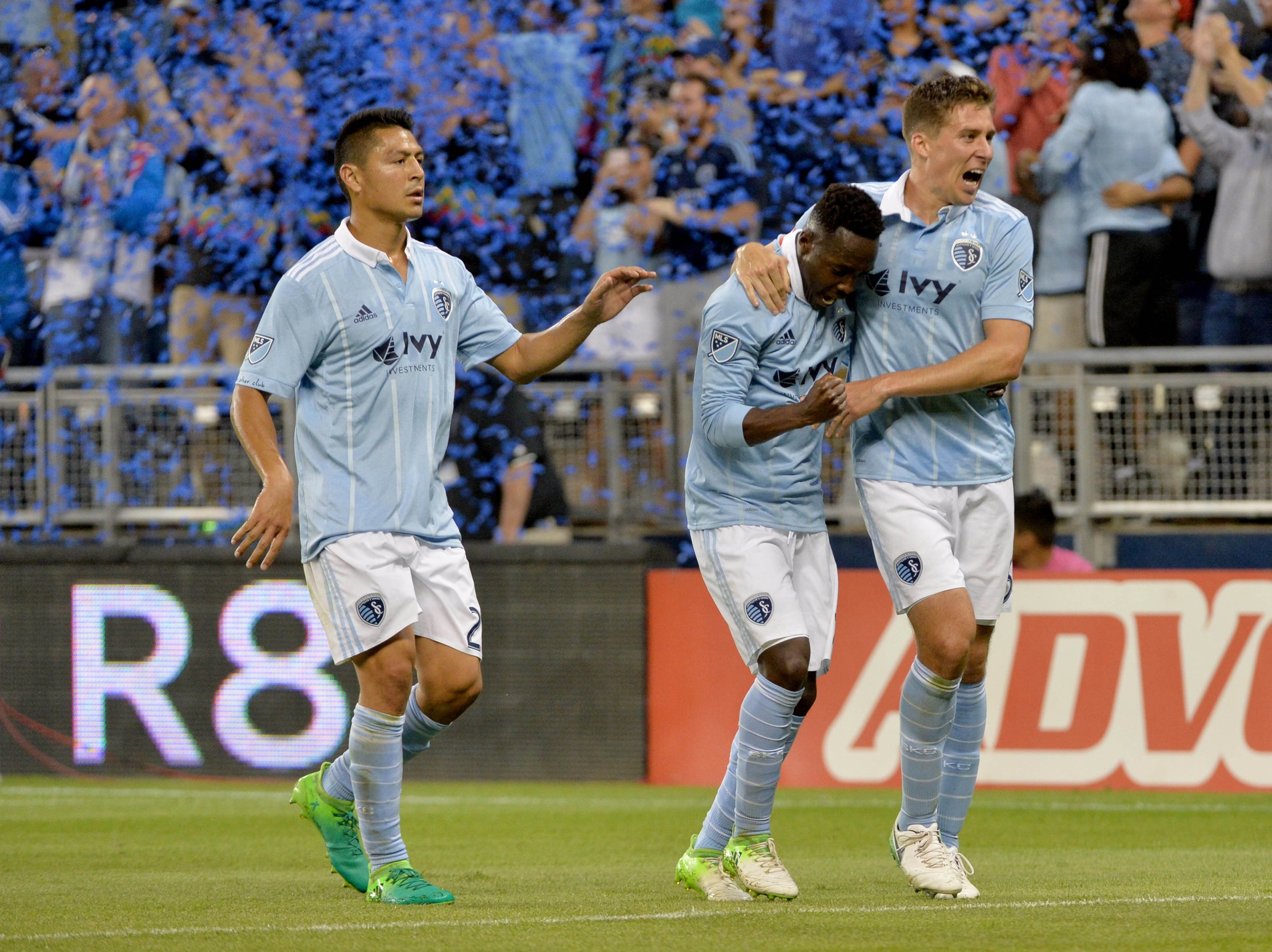 A high-power second half made for a Gerso Fernandes hat trick, clean sheet and table-topping win over the Seattle Sounders for Sporting KC on Wednesday night at Children's Mercy Park.
Fernandes emerged as Sporting's engine on the night– a night in which usual scorer Dom Dwyer received few meaningful touches. Sporting went up quickly in the second half and didn't look back.
The 45 minutes prior were a much different story.
"It was the type of game where we had to grind through some not-favorable play, but we came together in the second half and got the result that we needed," Sporting KC goalkeeper Tim Melia said.
The seventh shutout of the season for Melia might have been the most difficult one. Melia saved Sporting KC's life late in the first half. Three saves– and two back-to-back point blank stops late in the half– sent Sporting KC with confidence into the second half.
First there was a close call. Sounders playmaker Nicolas Lodeiro tamed a cross and sent it into the opposite corner. He was called slightly offside, but the Sounders had recorded five shots and held Sporting KC to zero by the late stages of the first half.
Melia closed out the half with a kick-save of Alvaro Fernandez' slotted effort and a diving save of a shot from Christian Roldan.
"Goals change games," Sounders coach Brian Schmetzer said of his team's missed opportunities. "I'm not saying if we would have scored one or two in the first half that the game would have had a different outcome, but it certainly would have put things in our favor and that would have been ideal."
Sporting KC midfielder Benny Feilhaber told reporters after the game he had a message for Melia after the match.
"I went up to Tim right after the game and I said 'What you did in the first half is equally as important as what Gerso did'," Feilhaber said. "And so [if] we go into down 1-0, if we go down 2-0, I can almost guarantee you that we're not coming back and winning 3-2. So those are huge saves. That's what he's there for but we know that we've got a very, very big-time goalie behind us that when we make those mistakes he gonna save us more times than not."
Fernandes added in his post-game comments that Vermes "had to scream at us" in order to make changes in the second half.
Melia's first-half heroics set the table for Fernandes, who made Sporting's escape from the first half only an afterthought. Fernandes scored the seventh hat-trick in team history in the space of only 13 minutes.
"It's important to get three goals and get this hat-trick,"Fernandes said, "but it's most important to win as a team."