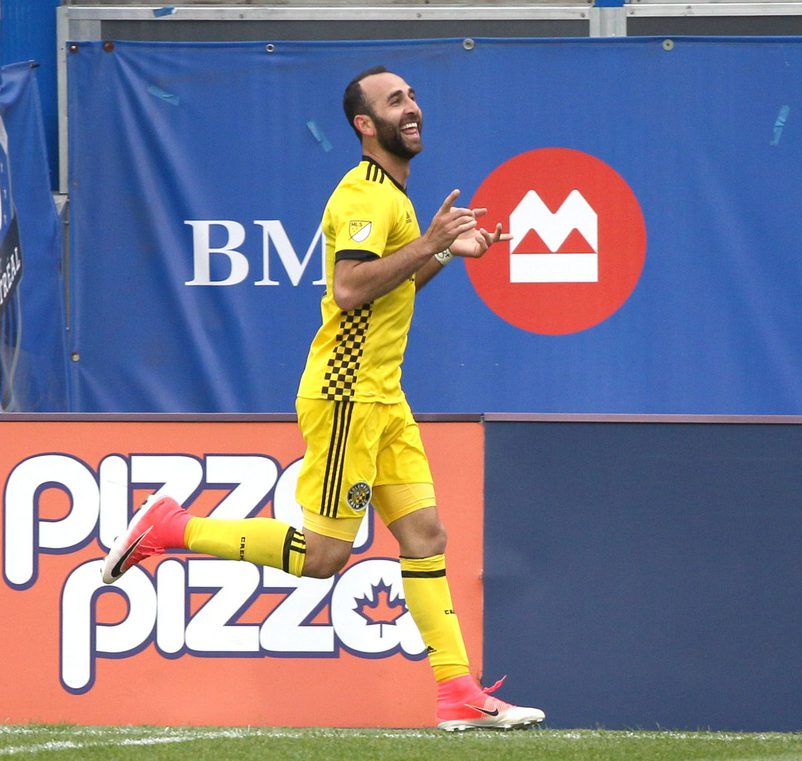 After losing to Toronto FC on Wednesday, the Columbus Crew managed avenge their loss by defeating a different Canadian opposition.
Despite an electric comeback by the Montreal Impact in the second half, Justin Meram had a hat-trick afternoon with a third goal in stoppage time to beat the Canadian side, 3-2.
The Crew were quick to score. In the 13th minute, Justin Meram easily went past Hernan Bernardello, lost his pass but immediately intercepted the ball back and beat Evan Bush on the lower right hand corner.
Meram didn't stop there. The Iraqi international took advantage of a bad clearance from Bernardello after a cross by Kekuta Manneh at the 28th minute. Meram got to the right of Bush, who ran out to stop the chance, and beat Kyle Fisher who was trying to block the shot.
Down two goals at home, the Impact changed drastically at halftime as Biello substituted in captain Patrice Bernier for Adrian Arregui.
The change seemed to have made an effect early in the second half. The bleu-blanc-noir applied instant pressure on the Crew and Ignacio Piatti took advantage of a loose ball at the penalty spot at the 52nd minute to bring the score to 2-1.
Who else to make the tying goal for Montreal but young sensation Anthony Jackson-Hamel. The Canadian international found a ball sent in towards the far post by designated player Blerim Dzemaili on a free kick to level the score at the 77th minute.
Impact fans were thrown a cold shower when in stoppage time, a three-on-two opportunity gave Meram his hat trick and sealed the game for the Crew.
Man of the Match
Justin Meram scored a hat trick and finished his second multi-goal games of the season. Meram took advantage of the chances given to him and sunk the Impact's second-half comeback attempt in stoppage time.
Moment of the Match
Justin Meram took advantage of a three-on-two opportunity to kill the hopes of Impact fans rejoicing to a possible tie game by scoring his third goal of the afternoon.
Match to Forget
Hernan Bernardello was part of Meram's two first half goal and created a considerable gap for his team to cross within 28 minutes of play.