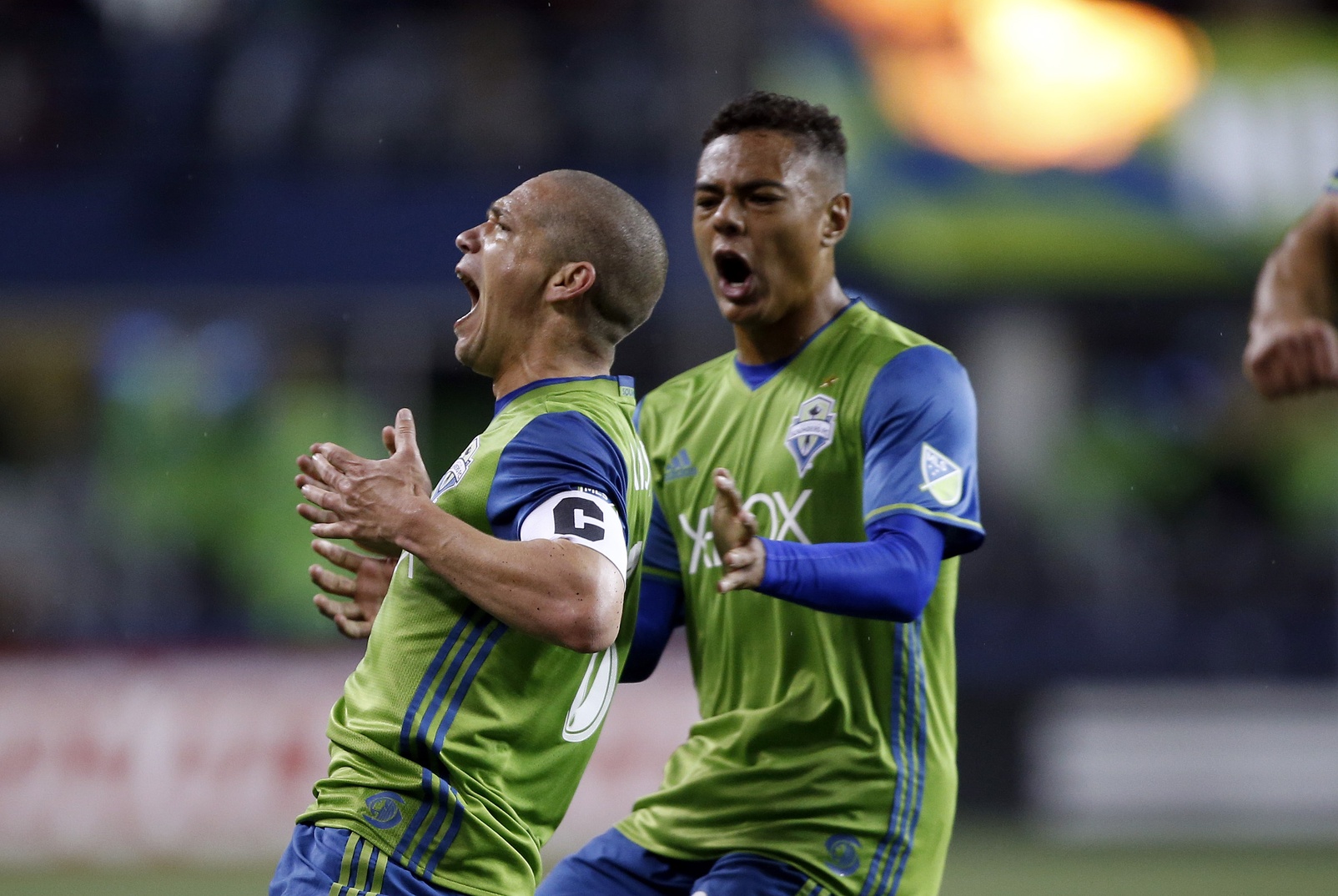 The MLS Cup rematch we've all been waiting for headlines a full weekend slate of action across Major League Soccer. Toronto FC and the Seattle Sounders will be front and center on Saturday afternoon before a slew of games kick off at night.
The weekend begins with Vancouver's trip to Colorado in what might not be the most exciting of contests, but Week 10 is almost certainly guaranteed to end on a high note when New York City FC takes on Atlanta United at Yankee Stadium.
Here's a look at each of the 11 games being played in MLS this weekend:
Vancouver Whitecaps at Colorado Rapids (Friday, 10 p.m. ET, TSN/MLS Live)
It's going to be hard to convince anyone outside of Vancouver and Colorado to watch this one, even some MLS diehards may opt out of this Western Conference clash on Friday night. Vancouver is meddled in the middle of the pack in sixth place, but it hasn't done anything to grab the eyes of the national audience yet. Maybe this is the game Fredy Montero explodes for a hat-trick against a weaker opponent and moves right into the Golden Boot conversation.
There's no other way to put this: Colorado's trade of Sam Cronin and Marc Burch made zero sense. The Rapids are struggling to replace the skill set of Cronin and it's been one of the many things hurting Pablo Mastroeni's men in 2017. Colorado has only taken four points out of three home games, something that needs to be reversed soon in order to save what appears to be a lost season.
Toronto FC at Seattle Sounders (Saturday, 3 p.m. ET, ESPN)
Everyone wants Saturday's showdown at CenturyLink Field to be a high-flying, energetic attacking affair with the league's biggest names on display, much like we wanted the 2016 MLS Cup to be. However, that might not be the case with Toronto traveling after a Wednesday home match and the early start in the Pacific time zone.
Nevertheless, Sebastian Giovinco, Jozy Altidore, Michael Bradley, Clint Dempsey, Jordan Morris and Nicolas Lodeiro could all be on display. Although the stars will receive most of the attention, look for the central midfielders on both sides to be the real difference makers. We all know about Osvaldo Alonso in Seattle, but Toronto's Victor Vazquez isn't receiving as much credit as he should. Also look out for TFC youngster Raheem Edwards to make a splash in front of a big audience.
Montreal Impact at D.C. United (Saturday, 6 p.m. ET, MLS Live)
The last time the Impact traveled down into the I-95 corridor, they stole a point from the Union after being three goals down. Montreal failed to use the momentum gained from that result against the Whitecaps last week and they remain in a rut in 10th place in the Eastern Conference.
D.C. surprised us all with a tremendous win at Bobby Dodd Stadium over Atlanta United. Now, the Black and Red must translate that into what should be an easy home win at RFK Stadium. United have won 12 of their last 13 regular-season home matches. However, the Impact did go into RFK and bruise up Ben Olsen's side in the playoffs last season.
New York Red Bulls at Philadelphia Union (Saturday, 7 p.m. ET, MLS Live)
On paper, it's a no-brainer as to what the final result at Talen Energy Stadium will be on Saturday night. The New York Red Bulls should trample the lowly Philadelphia Union and push for the top spot in the Eastern Conference. But remember, this is MLS, where the wildly unpredictable happens on a regular basis.
Give the Union some credit, they've improved in certain aspects of the game in recent weeks. They did score three goals against Montreal before slamming on the self-destruct button and they put together a decent performance against the Galaxy to earn a point. But the 15-game winless run still looms large over the Union and they've yet to prove they can play well for 90 minutes.
New England Revolution at Columbus Crew (Saturday, 7:30 p.m. ET, MLS Live)
Putting last week's letdown in Seattle behind them is a huge task for the New England Revolution. Jay Heaps' men looked set to stun the Sounders and earn three points on the road before the defending MLS Cup champions came blazing back to secure a 3-3 draw. The good news for the Revs is Juan Agudelo continues to score. The American is up to six goals and he's had a pair of two-goal performances in 2017.
Columbus got off to a fast start, but it has regressed a bit and dropped down to fifth place in the East, which is about where many expected the Crew hover around this season. The Crew have a nice 3-1-1 record at home and they've only conceded 13 times in nine games. If they can lock up Agudelo and company, the Crew should cruise to three points.
Orlando City at Houston Dynamo (Saturday, 8:30 p.m. ET, MLS Live)
We've said this before with games involving the Houston Dynamo, but Saturday's clash at BBVA Compass Stadium should be an exciting one with dynamic forwards on both ends. Cyle Larin leads Orlando City into Texas off a 2-1 defeat to Toronto FC on Wednesday. If Larin is able to bruise up the Dynamo center backs like he should, the Lions will put a few in the back of the net, which should be enough given how well their defense has played.
Erick "Cubo" Torres will be in charge of a task not many teams have been able to accomplish in 2017: breaking down the Orlando back line. The Dynamo have the speed and skill to do so with Torres, Alberth Elis, Romell Quioto and Mauro Manotas, but it will take a near-perfect showing, like the ones we saw in March from the Dynamo, to stretch out the Orlando defense.
FC Dallas at Real Salt Lake (Saturday, 9:30 p.m. ET, MLS Live)
FC Dallas is just cruising along doing FC Dallas things with 15 points from seven matches, sitting third in the Western Conference. Oscar Pareja's team hasn't hit its stride yet, and that's perfectly fine at this juncture of the campaign. Don't expect too many goals from this one though, FC Dallas and Real Salt Lake combined for three goals and four clean sheets in three games in 2017.
A low-scoring affair would benefit the Claret and Cobalt, especially with the continuing injury crisis going on in Utah. The RSL injury report reads like one from the NFL in November. Everyone seems to be banged up and even Nick Rimando and Kyle Beckerman have caught the injury bug. Albert Rusnak and Brooks Lennon, two players who haven't been hurt this season, will be the keys to victory with Yura Movsisyan trying to pick apart Matt Hedges and Walker Zimmerman.
Chicago Fire at LA Galaxy (Saturday, 10:30 p.m. ET, MLS Live)
The mighty fortress StubHub Center has been compromised on four occasions in 2017, and the Chicago Fire could conquest Carson on Saturday night. The Fire have the manpower to overrun the struggling Galaxy in the middle of the field, and Nemanja Nikolic could potentially run the Galaxy defenders into the ground over 90 minutes.
What hasn't gone wrong for the Galaxy this year? Joao Pedro's shot that hit both posts a week ago was a perfect representation of the Curt Onalfo era. LA isn't close to putting all the pieces together and luck isn't on its side. Romain Alessandrini has been the lone bright spot and even he was shut down by the Union last week. Maybe, just maybe, this is the game where Giovani dos Santos and Gyasi Zardes break the Galaxy out of their slump, or to be more realistic it's just another week where they struggle.
Portland Timbers at San Jose Earthquakes (Saturday, 10:30 p.m. ET, MLS Live)
MLS fans get a double dose of MLS After Dark on Saturday night when the Timbers venture down the left coast to take on the Earthquakes. Portland has taken points from four of its last five matches and won two of three against San Jose a year ago. Fanendo Adi may face more of a challenge than expected against Florian Jungwirth, who has settled into MLS nicely.
The Quakes have drummed up memories of the Goonies in recent home games, but no one at the club wants that to be a regular occurrence. Dominic Kinnear's men have to take care of business at Avaya Stadium in order to contend for a playoff position. They have the squad to do, but they need to pass tests like Saturday to prove they are for real.
Sporting Kansas City at Minnesota United (Sunday, 1:30 p.m. ET, Fox Sports 1)
Sporting Kansas City sits atop the Western Conference with 18 points after a 2-0 win over the Red Bulls' B team on Wednesday. At the start of the year, Minnesota United couldn't even come close to challenging anyone's B team, but now they've steadied the ship a bit. The key for Sporting KC will be the central midfield, where Ilie Sanchez looks like the replacement for Oriol Rosell the club has been looking for the past few years.
There's no doubt Minnesota is still a work in progress, but its taken baby steps each week to become a decent team in MLS. Adrian Heath has kept the belief in his side and it is up to ninth place in the West above LA and Colorado, two sides that have much more to worry about at the moment than the Loons.
Atlanta United at New York City FC (Sunday, 4 p.m. ET, Univision/Facebook)
It's a shame two teams with terrific attacking firepower will be limited in tight space at Yankee Stadium, or maybe that could be beneficial to the technically sound Atlanta United. Tata Martino has seen his share of soccer locales, but Yankee Stadium is unique in itself. The Atlanta boss will definitely have his side prepared to deal with the narrow field, and the gifted midfield could overrun Andrea Pirlo.
David Villa still headlines the NYCFC frontline, but Jack Harrison, Rodney Wallace and others have stepped up in 2017, with Harrison delivering two goals in Columbus a week ago. Patrick Vieira has also found a potential replacement for Pirlo in Yangel Herrera, who might get a starting nod over the Italian with the pace of Atlanta coming to town. A win by NYCFC would create some distance between the top four and the rest of the pack in the East.