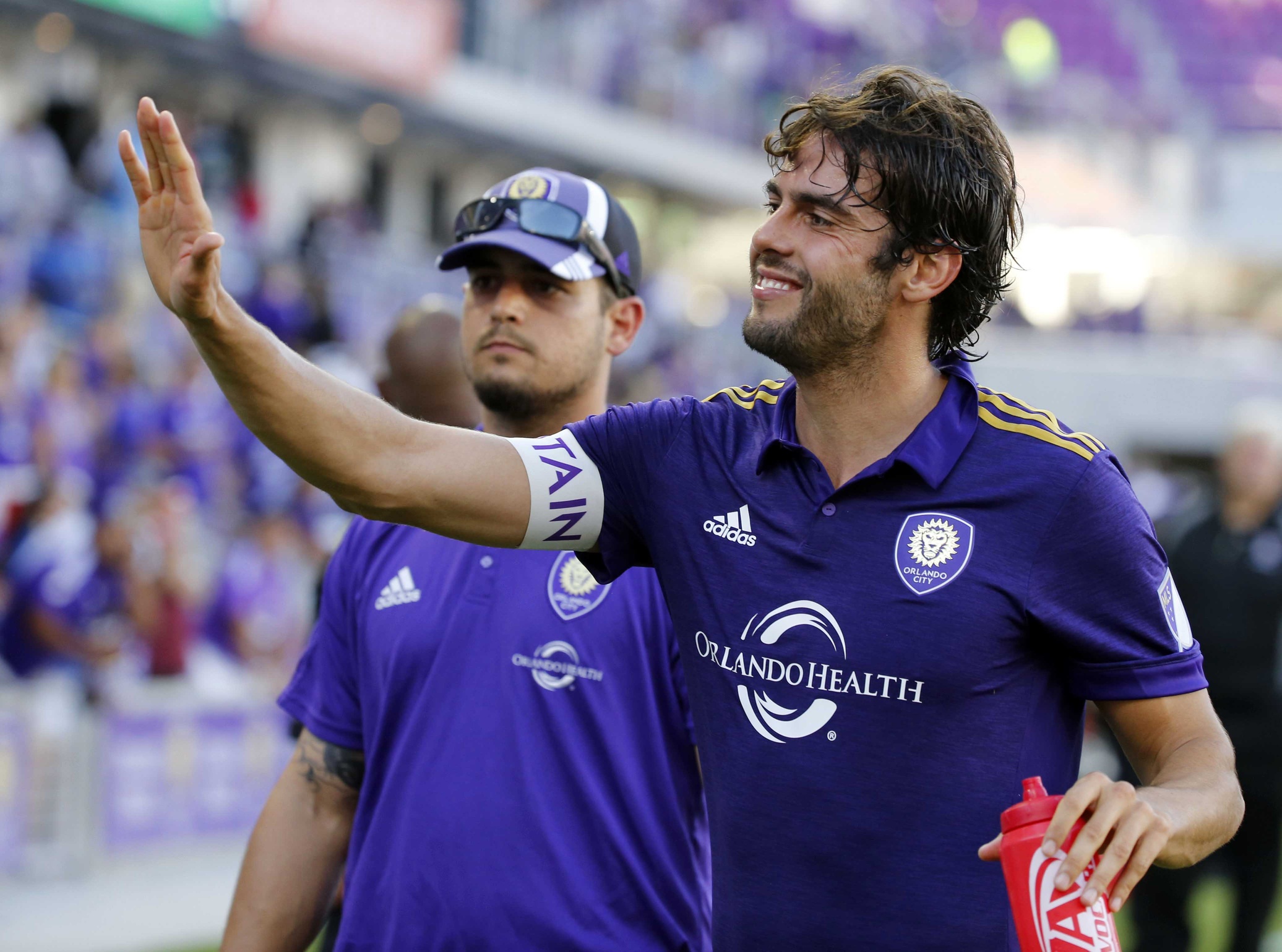 Roughly two months into the MLS season, we all have an idea of where things stand. We know the Portland Timbers and FC Dallas are good. We know that, at the moment, the LA Galaxy and Philadelphia Union aren't. It's been long enough to make some determinations, even if there's still a long season ahead.
Still, MLS always finds a way to add a little wrinkle to make each and every week interesting.
This week saw several interesting performances and scorelines as several players stepped up in a big way. For New York City FC, it was a youth movement. For Orlando City, it was the return of their veteran star. D.C. United, meanwhile, used a full team performance to take down a contender.
With that in mind, here's a look at some takeaways from this weekend's action:
NYCFC'S KIDS ARE ALRIGHT
David Villa and Andrea Pirlo certainly remain the focal points of the NYCFC lineup, but Patrick Vieira has to be more than impressed with the effort put forth by some of his younger stars over the weekend.
Jack Harrison burst on to the scene rapidly in 2016, and his efforts have certainly continued to impress this season. Still, on Saturday, Harrison unleashed a superstar performance. He's been good, but Saturday was next level.
For his first goal, Harrison chipped a helpless Zack Steffen with a wonderful individual sequence. The second was a bit scrappier, as Harrison fired home a loose ball from inside the box. Without Villa, Harrison stepped up in more ways than one, anchoring the NYCFC attack in an impressive win over a Columbus Crew team that remains a contender.
He wasn't the only one, though. Sandwiched between Harrison's goals was a finish from Manchester City loanee Yangel Herrera, who looked plenty comfortable in his first start. Defender Alexander Callens may not have had his best game, but the Peruvian defender looks to be a piece worthy of building around in what has been a revolving door of a defense.
NYCFC's youngsters are more than just youngsters at this point. Saturday was a step forward for several of them, giving Vieira something to build around as things continue.
D.C. KEEPS IT COOL AGAINST ATLANTA UNITED
Atlanta United has come out firing to start their inaugural season, showing a commitment to a play style that will, generally, lead to goals and lots of them. On Saturday, D.C. United put forth a composed effort and showed a bit of a blueprint on how to frustrate the expansion club.
As per usual, Atlanta United came out with high energy, moving the ball and taking risks in pursuit of a goal. However, against a D.C. United team content to concede possession, they struggled to find anything decisive. While they were firing shot after shot off target, D.C. was content to defend and counter and, to this point, the Atlanta defense has proven susceptible to rapid-fire mistakes. Atlanta passed the ball at will, but it got them nowhere as D.C. conceded space. Space, however, doesn't lead to goals, and D.C. was content to burst forward any time they were lucky enough to find the ball.
That's how you beat Atlanta United. You likely won't out-finesse them. They're too technical and too quick. You have to be disciplined and composed in defense and take your chances when they come. It's not rocket science nor revolutionary, but it's certainly harder to execute. Having Luciano Acosta helps, and the midfielder certainly made his mark on Saturday.
Also helping the cause? Bill Hamid, who was spectacular in the 3-1 win. Not every team has an Acosta or a Hamid and not every team has a defense strong enough or smart enough to face Atlanta's attack but, at least on Saturday, D.C. proved why Bennyball can still be successful even against the most attacking of teams.
RETURN OF KAKA
Orlando City has exceeded expectations throughout the start of the MLS season. Riding their defense and the positive mojo of a new home, the Lions have surged to the top of the conference while allowing just five goals in seven matches.
All of this was done without Kaka, a player that very much remains a leader for the team both on and off the field. Now, Kaka is back, and the Lions suddenly look even more dangerous than they did when they began their run atop the conference.
Kaka came back with a goal on Saturday, making the most of his second half cameo. In his absence, the Lions have all but cruised with Cyle Larin continuing to improve as an MLS goalscorer. On the other end, the defense, led by Jonathan Spector, continues to dominate, especially on home turf.
If Kaka can be the player many expect him to be, and if he can stay healthy, Orlando City jumps up another level. They were already good, and a good defense can carry you a long way, but a healthy Kaka is something new altogether.
Can he stay healthy? Can the club hold on to Larin? Will the defense hold long-term? These are all important questions for the months ahead, but if the club answers with a firm 'yes', look out.
GALAXY, UNION FAIL TO TAKE THEIR CHANCE
Saturday was an opportunity for the LA Galaxy and Philadelphia Union to build something, anything, positive. The two teams have been ridiculed and criticized plenty through the early part of the MLS season and, with a face-off looming, both saw an opportunity to right the ship.
In some ways, it was expected that neither would take that chance, and they certainly didn't. They produced a 0-0 draw, one devoid of much of anything. For two teams struggling, it was another awful result in a long lone of awful results, one that keeps both clubs, and coaches, firmly on the hot seat.
For the Union, you could at least sit back on a road clean sheet. That's all well and good and they deserve some credit for it, but the lack of attacking push remains an issue. Who can you trust to score a goal on this Union team?
The Galaxy, meanwhile, fare much worse. They couldn't muster a goal against the league's worst team, shutout for the second consecutive week.
Both clubs are at rock bottom, and the road ahead looks grim. Saturday was a chance to push out of the hole they dug themselves in but, when all was said and done, the Galaxy and Union simply dug that hole just a bit deeper.
FC DALLAS, TIMBERS REMAIN CLASS OF THE WEST
The Western Conference is certainly loaded with contenders, but two of the conference's top teams showed why their the favorites when they went head-to-head over the weekend.
FC Dallas and the Portland Timbers remain on another level than their peers, and the two split points on Saturday in a 2-2 draw. Both were without their star playmakers, Diego Valeri and Mauro Diaz, but both showed more than enough to continue heaping on the praise that they've earned thus far.
Sebastian Blanco stepped up in a big way for the Timbers by firing a goal while Maxi Urruti and Tesho Akindele combined to lead the FC Dallas attack. Both teams are still pushing towards 100 percent, and both certainly still do have questions.
The Timbers' issues lie in defense. The combination of Blanco, Valeri, Darlington Nagbe and Fanendo Adi should cause fits for each and ever MLS team, but can the defense hold up when crunch time cones. For FC Dallas, it remains the forward position. Will Cristian Colman come good after struggling through his early matches, or is Urruti still the go-to forward in Dallas?
There's still plenty of time to answer those questions, but few others remain when it comes to the two teams' credentials. Expect the two to be in the thick of it come the fall as Saturday served as a very, very early potential playoff preview.