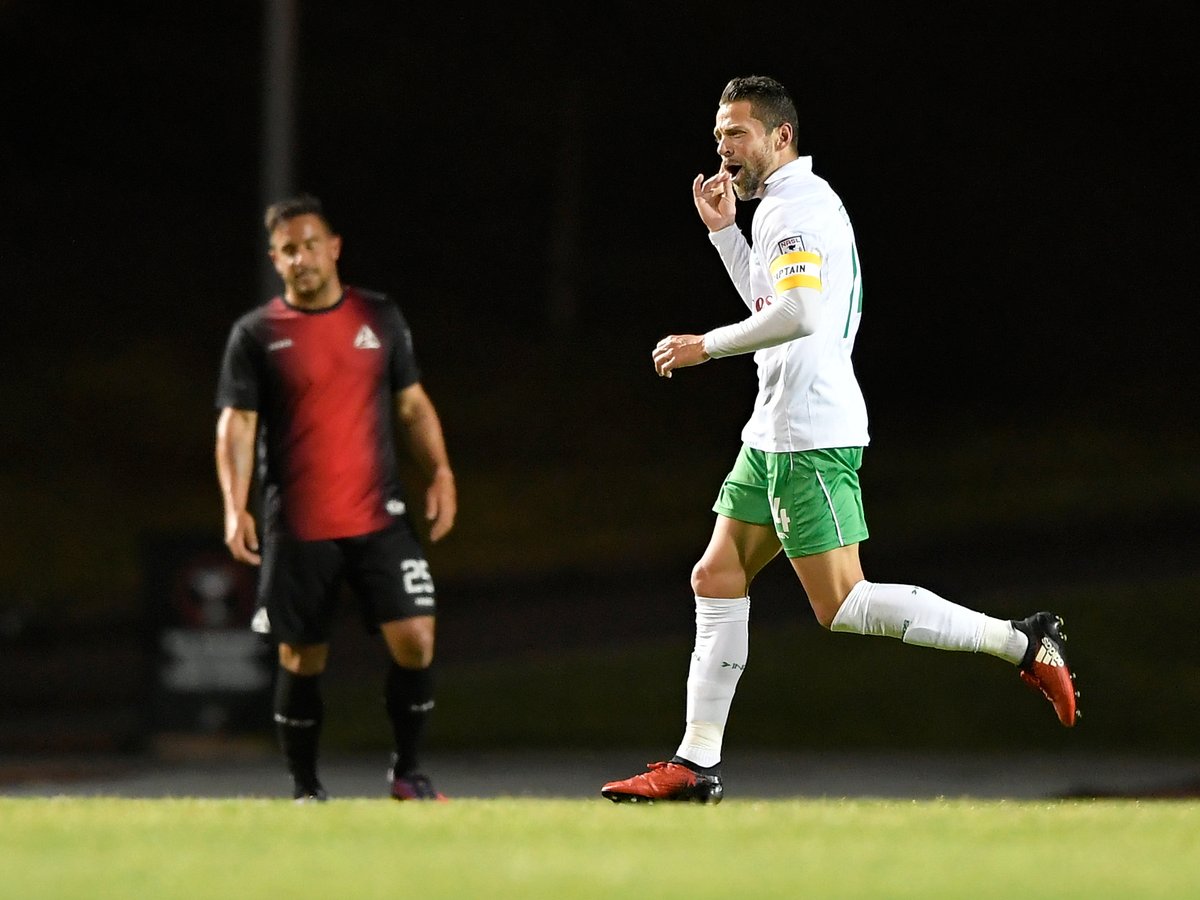 Things were fairly eventful in the NASL this weekend as four matches were played and a total of six goals were scored.
The New York Cosmos and North Carolina FC both battled to 1-0 victories while Miami FC cruised to a 2-0 victory. Meanwhile, the Jacksonville Armada and Indy Eleven split points in a 1-1 draw.
Here is a closer look at the matches.
Jacksonville Armada FC 1, Indy Eleven 1
The Jacksonville Armada and Indy Eleven remained unbeaten after their 1-1 draw on Saturday.
The match was rather uneventful, as both teams scored in the first half. Of note, Indy Eleven forward Justin Braun got on the scoreboard on Saturday, adding to his league-leading tallies of three goals and two assists in five games this season. Jonathan Glenn leveled the scoreline for the Armada, heading home on a free kick.
The Armada will be disappointed not to take all three points at home, but as they work to cement their first place position in the Spring Season, they will take any points they can get.
Puerto Rico FC 0, North Carolina FC 1
Saturday saw second-place North Carolina FC top seventh-place Puerto Rico FC  in a 1-0 finish in Puerto Rico.
The lone goal of the game came early, in the 28th minute, when Lance Liang found Steven Miller to break the game open. Liang now has two assists and two goals on the season, good enough to be tied for second in both categories.
Winless through the first five games of the season, Puerto Rico FC will want to turn things around soon, before the season gets too far away from them. 
 Miami FC 2, FC Edmonton 0
Miami FC scored a goal in each half as they topped FC Edmonton this past Saturday, 2-0.
The goals came from Stefano Pinho, tied for second in league assists, and Kwadwo Poku, tied for second in league goals. The win puts Miami FC second in a tightly contested league table early in the season. Having finished 5th in their inaugural season, Miami FC are seemingly determined to do better this season.
FC Edmonton sits at the bottom of the table, having only acquired three points in the first five games of the season. They will hope to solidify their attacking suite and turn the season around.
 San Francisco Deltas 0, New York Cosmos 1
The 2016 champions, the New York Cosmos, scored late on Saturday evening take home their first away win of the season.
The game was a quiet affair, with the lone goal coming in the 69th minute off the boot of Cosmos forward Emmanuel Ledesma. Of note, Jimmy Maurer added to his league-leading 21 saves on the night, coming up big five times.
The Cosmos and the Deltas sit fourth and fifth in the table respectively, each trying to find successful in a closely contested league early this season.