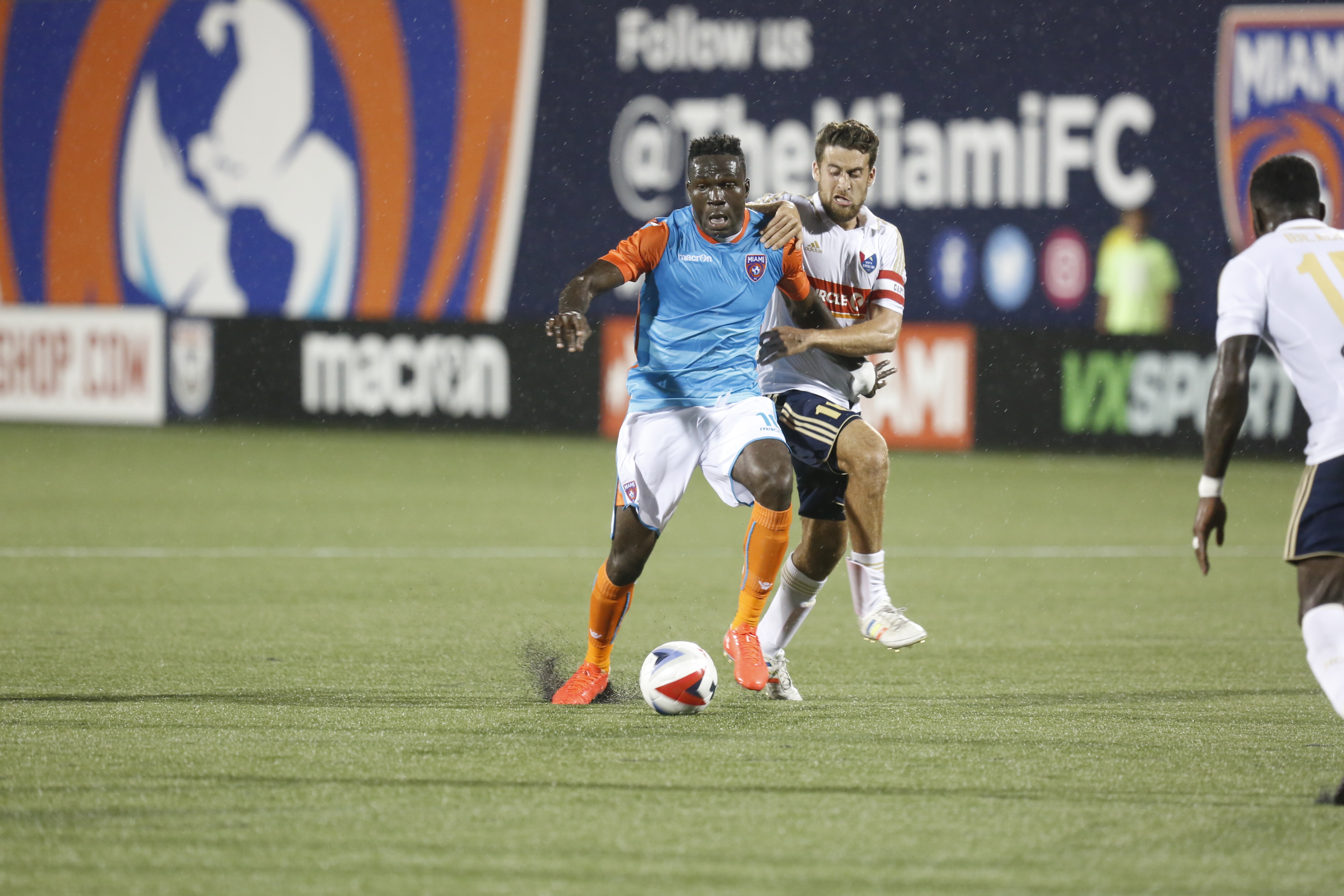 The week's NASL news was headlined by the announcement of a new expansion team, but there are some big games to be played over the weekend as one second-year club looks to keep their hold on first place.
Miami FC sits atop the table heading into a home match against Indy Eleven. The Eleven have drawn each and every match played thus far, but they'll certainly face a test in the form of Miami FC's high-powered attack.
The New York Cosmos, meanwhile, face off with Puerto Rico FC while the second-place Jacksonville Armada take on North Carolina FC. A clash between the San Francisco Deltas and FC Edmonton rounds out the weekend.
Here's a closer look at this weekend's NASL action:
NEW YORK COSMOS vs. PUERTO RICO FC (Saturday, 7 p.m., ESPN 3)
After conceding a shocking stoppage time equalizer last time out, the defending NASL champions look to bounce back against Puerto Rico FC.
The New York Cosmos were stunned in stoppage time last time out, tying the Jacksonville Armada, 1-1, thanks to a 95th minute goal. The good news? Midfield star Javi Márquez continued to round into form as he curled home a free kick for his second goal of the season in the draw.
Puerto Rico FC enters on the heels of a frustrating 2-1 loss to Miami FC, as they too were on the wrong side of late dramatics. Two late goals proved their undoing with a 94th minute winner dooming Puerto Rico FC to a loss that sees them sit last in the league.
MIAMI FC vs. INDY ELEVEN (Saturday, 7:30 p.m., ESPN 3)
Miami FC enters the weekend atop the table as a match with last year's runners-up looms.
The aforementioned late comeback against Puerto Rico FC saw Miami FC shoot atop the table thanks to the team's high-powered attack. Vincenzo Rennella and Jaime Chávez are both riding high following their first goals of the season, adding more elements to the club's goalscoring unit.
Indy Eleven sits five points out of first riding yet another draw, the club's sixth of the season. They know face another road match having drawn the previous three, 1-1, each time.
NORTH CAROLINA FC vs. JACKSONVILLE ARMADA (Saturday, 7:30 p.m., beIN Sports USA)
North Carolina FC's set piece defense let them down last time out, and they'll be in need of a rebound against a contender.
Sitting just one point behind Miami FC, the Jacksonville Armada club snagged a late draw to steal a point from the Cosmos. The club's hot start has waned in recent weeks, as four straight draws see the club remain unbeaten, but in second place.
North Carolina FC gave up two set piece goals in a 2-1 loss to the Deltas, dropping the club to fifth in the table. The club has scored the most goals in the league through six games, but it will be up to the defense to step up against a talented Armada team.
FC EDMONTON vs. SAN FRANCISCO DELTAS (Sunday, 4 p.m., ESPN 3)
The San Francisco Deltas have done surprisingly well to start their first NASL campaign, but the club could certainly use three more points against a team struggling in a major way.
Heading into this weekend's match against FC Edmonton, the Deltas sit in third place with nine points from six games. Having lost just once, they now face an Eddies team that has won just once on the young season.
Goalscoring has been a major issue for the Eddies, who have scored just thrice in six games. Abdoulaye Diakité and Adam Straith have generally been strong at the back, but, without a competent attack, it looks like it could be a long season for the Canadian side.