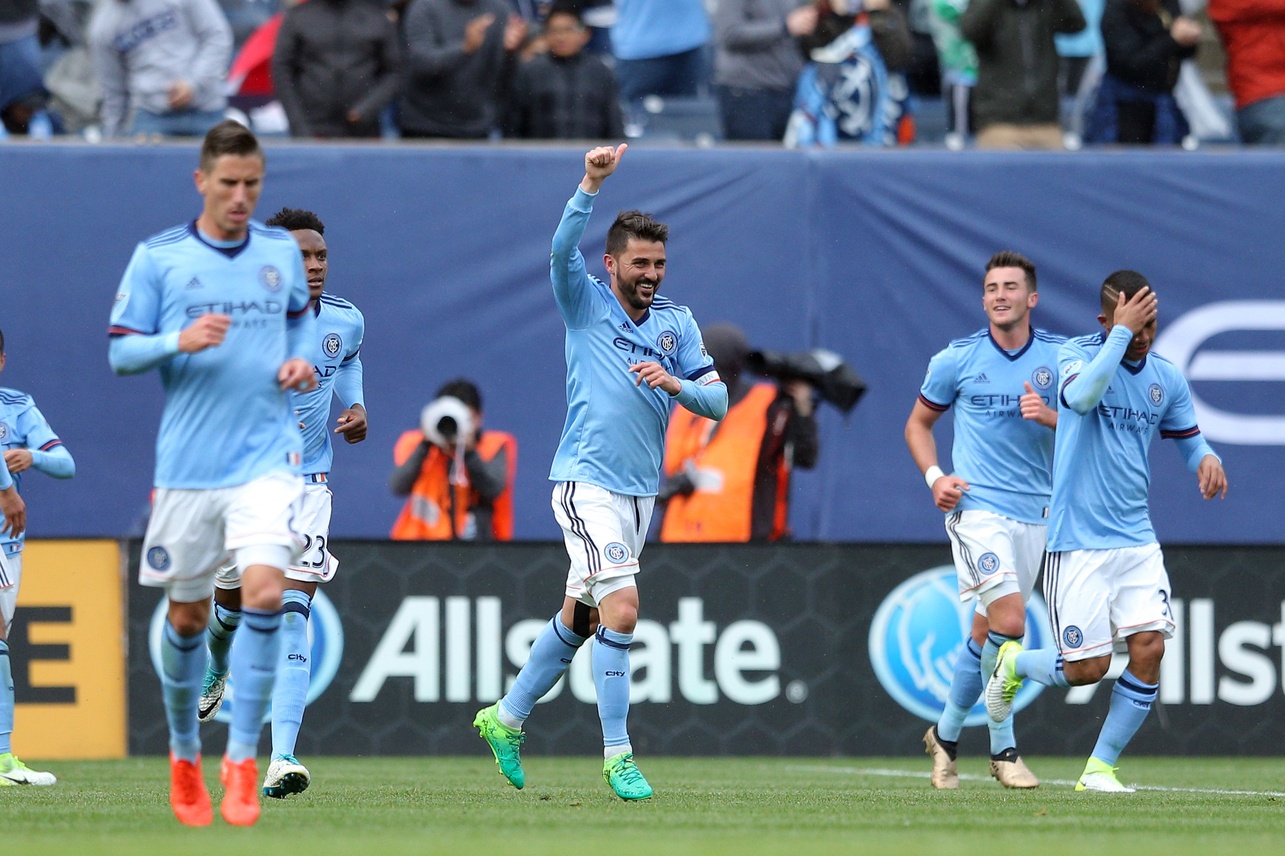 Patrick Vieira revealed at the beginning of the season that he is adjusting his principles and will permit more direct service out of the back to counter the unwieldy pressure supplied by some of their opponents – especially in the undersized confines at New York City FC's home, Yankee Stadium.
In 2016, Vieira stubbornly maintained his build-out-of-the-back philosophy even under the most difficult circumstances for his goalkeepers and backs. On occasion, the resulting turnovers translated into goals conceded.
In last week's 3-1 home triumph over expansion darlings, Atlanta United – a high pressing outfit that leads Major League Soccer with six goals in the first quarter-hour of matches – Vieira's 2017 methods in possession were notable in a dominant performance.
"I was pleased with the decision-making from our back four, especially in the first 15-20 minutes," said Vieira. "They managed to go long when they needed to and not be scared to do it and even doing that we kept playing well. The balance was good between short and long play."
The long ball inclination was exemplified when keeper Sean Johnson drove a right-footed service nearly 70 yards off a dead ball to the target, David Villa. Villa won the flick header in front of both Michael Parkhurst and Leandro Gonzalez-Pires and into the path of Rodney Wallace. The Costa Rican then located Argentine Maxi Moralez for NYCFC's third goal.  Wallace, who finished NYCFC's second goal also assisted on Villa's score to open the match, a gorgeous combination that included Moralez and Ben Sweat.
"The performance of the team was amazing," said Villa. "When we play like that it will be difficult for any team to beat us."
Herrera's Gone
Sweat made his second MLS appearance in his second consecutive start at left back in place of the injured Ronald Matarrita. Ditto Yangel Herrera who replaced Andrea Pirlo again in the starting XI.
"He's definitely a spark in the midfield for a young guy," said Sweat of the 19-year old Venezuelan. "He broke up a ton of tackles which makes it easier on the back four to have someone breaking up the plays besides us."
Herrera left after the Atlanta United match to join his teammates for the U-20 World Cup. The teen with one full team cap will be absent for at least four matches.
"I'm quite disappointed that this is his last game – this is not good news for us," said Vieira. "But that's the way it is."
With the emergence of Herrera and Pirlo's diminished playing time, there is the appearance that the midfield guard is undergoing a change.
"No, not at all," said Vieira. "Andrea is of course not happy. If a player like him still plays at his age and still plays at this level, they have a love of the game. He's not happy – it's normal. This is something that as a manger I have to live with."
The 37-year-old Pirlo has played the full 90 minutes in just two of nine matches this season. Last season, Pirlo finished 22 of the 32 matches he started. He participated in post-game fitness with the reserves in Columbus two weeks ago but was a no-show after the Atlanta match although he sprinted from the facility well ahead of his teammates.
"The sprints are not mandatory," said Vieira.
Travel Lessons
NYCFC will embark on an eight-day, three-game road trip this weekend with stops at FC Dallas (Sunday), Real Salt Lake (Wednesday) and Orlando City (Sunday).  From his initial season in MLS, Vieira not only ascertained that a more direct style out of the back could be advantageous but an altered team travel plan was compulsory on these arduous road trips.
"Of course we are going to manage the traveling better than we did last year," said Vieira.
The major blemish in Vieira's MLS resume, aside from the failure in the Toronto FC playoff series, was the New York Red Bulls' 7-0 demolition of NYCFC at Yankee Stadium – the third match in a seven-day stretch that began with a victory at Portland and a mid-week draw at BMO Field in Toronto. Vieira traveled with his entire squad.  His side was exhausted and exhibited little passion in a dubious result.
"We are going to take 20 players to Dallas and the others will stay here (in New York)," said Vieira. "Then some of them will leave Dallas for New York while some of those that stayed home will fly directly to Salt Lake."
Vieira suggested that there will be a player rotation in the starting group although it will not be dramatic.
"I have to keep the strength and the core of the team," said Vieira. "It won't make sense to change seven or eight players. We have to use players that can keep a good tempo of the game."
No U-20's for Lewis
While Herrera surrenders his spot in the midfield for the U-20 World Cup in South Korea, Jonathan Lewis will continue his development under the auspices of the NYCFC technical staff. Lewis had played in a reserve role in the U.S. U-20's run to their first CONCACAF championship. However, Tab Ramos did not select the Generation adidas product for the U-20 World Cup.
"He's disappointed and we are disappointed as well," said Vieira. "We are happy to have him here with us and training next to the players we have on our squad – it is good for him."
When the U.S. defeated Honduras in penalties to win the first major trophy for the U-20's, Lewis was not there to celebrate with his teammates. Instead, he travelled with NYCFC to Orlando for the MLS opener. Lewis was not in the 18-player squad that day.