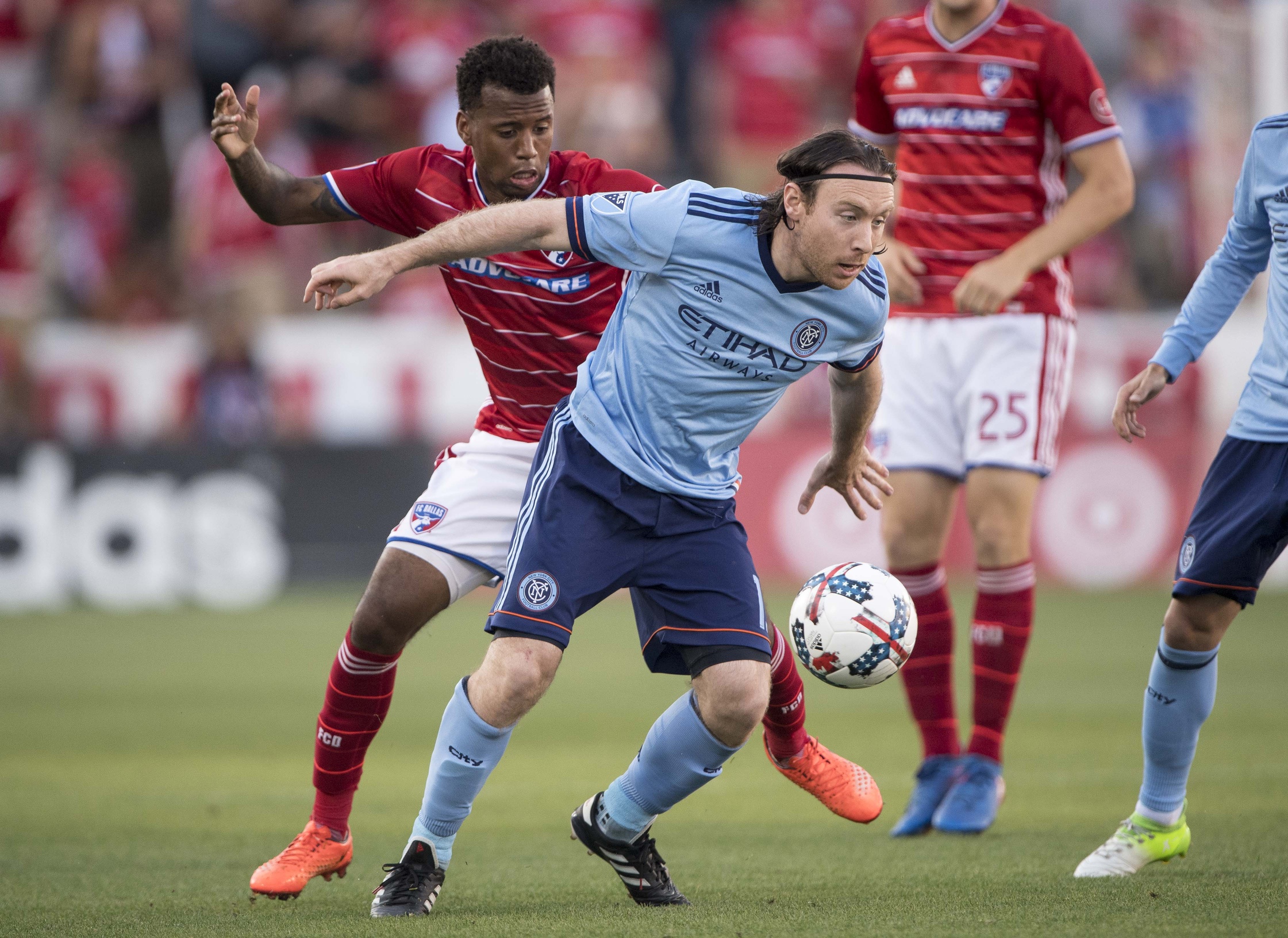 It was an important night for Tommy McNamara. A regular in the starting XI the previous season, McNamara had been relegated to reserve duty with the additions of Rodney Wallace, Maxi Moralez, Alexander Ring and emerging teenager Yangel Herrera. With Herrera departing for the U-20 World Cup and Andrea Pirlo back home in New York, head coach Patrick Vieira plugged McNamara into the starting group at FC Dallas on Sunday night.
65 minutes into the match, and with his squad trailing the 2016 Supporters Shield holders by a goal, Vieira summoned Miguel Camargo. Vieira has been waiting to identify the proper moment to spring the Panamanian who thus far had appeared in 3 matches for a total of 17 minutes. Camargo stood at the halfway line waiting for the hand-held electronic board to show that No. 99 was replacing No. 15 – McNamara. Even the card-carrying members of the McNamara Cult could not question Vieira's decision. McNamara often seemed surprised that he was closed down so quickly and with so many numbers. He was dispossessed often.
David Villa suffered a foul just a few yards outside the penalty box and the fourth official, Daniel Radford, was prepared to raise the placard above his head to make the change.
"I told him, 'no, wait till after the free kick'," said Vieira.
Villa's dead ball attempt beat the keeper but not the cross bar. However, the savvy McNamara anticipated the rebound and bravely headed a goal just inside the right post. His celebration was delayed as he untangled himself from the back of the net.
"David hits a brilliant free kick," said the reluctant hero. "My thought was just in case it doesn't go in and there's a rebound, let me get myself in a position to make a play, and that's exactly what happened."
And Vieira could only smile about his good fortune. Camargo was again downgraded to a cameo, replacing Jack Harrison in the 84th minute while Dallas native Mikey Lopez made his 2017 debut at minute 77 for McNamara.
Pirlo Starts at RSL
At training last week, Vieira announced that a group of players would not travel to Dallas but would meet the team in Salt Lake City for Wednesday's match against Real Salt Lake. It was revealed a few hours before kick-off in Frisco, Texas that Pirlo was one of four players held back in New York.
"I decided to leave Andrea in New York to do some training so that he didn't have the flight in his legs," said Vieira. "He will start the game when we play on Wednesday."
Pirlo has not played in three consecutive matches. R.J. Allen, Ugo Okoli and Shannon Gomez will also re-join their teammates in Salt Lake City while Khiry Shelton and Ronald Matarrita continue to rehab from injuries.
RSL Struggles
After winning their initial two matches under coach Mike Petke, RSL has dropped four straight by a combined 13-1.
With the quartet of Danny Acosta, Justen Glad, Sebastian Saucedo and Brooks Lennon all missing for the U-20 World Cup, RSL was routed by the New England Revolution in their last match, 4-0. Acosta, Saucedo and Lennon have had a prominent role, each appearing in 10 matches this season with Lennon exhibiting the qualities of an MLS All-Star. Lennon is on loan from the Liverpool U-23's where he tallied twice in 12 matches following a dominant 31-goal campaign for the RSL U-18 Academy team.
Clubs are not required to release players for the U20 World Cup but Petke has been clearly supportive.
"If we need them at 19 years old and we are that desperate, we're not in a good spot," he said in a recent interview. "Now, you could look at results, I'd rather them go there and us suffer a little bit, because it's going to benefit us in the long run."
Three players made their initial start of the season and one back, Reagan Dunk, started in his MLS debut versus the Revs.
Striker Yura Movsisyan came off the bench against the Revs in his second incarnation with RSL. The native of Azerbaijan was acquired on loan and then signed permanently from Spartak Moscow last year. Movsisyan began his career in 2006 at Sporting Kansas City in MLS followed by a three-year stint with RSL before his departure to Europe. He gives a bulk of the credit for his success to former RSL and New York City FC coach Jason Kreis, the current manager at Orlando City.
"As a young striker, coming into the league especially having played a year and a half at Kansas City and not being very successful you want somebody to put their arm around you," said Movsisyan. "Jason did a lot of that. He stayed after every practice with me and the young strikers. He's such a special person for me as a soccer player – how he helped me when I was a young pro."
Movsisyan had an MLS career-high 9 goals a season ago for the Claret and Cobalt. He had 16 goals in 27 league matches for Spartak in the 2013-14 season.