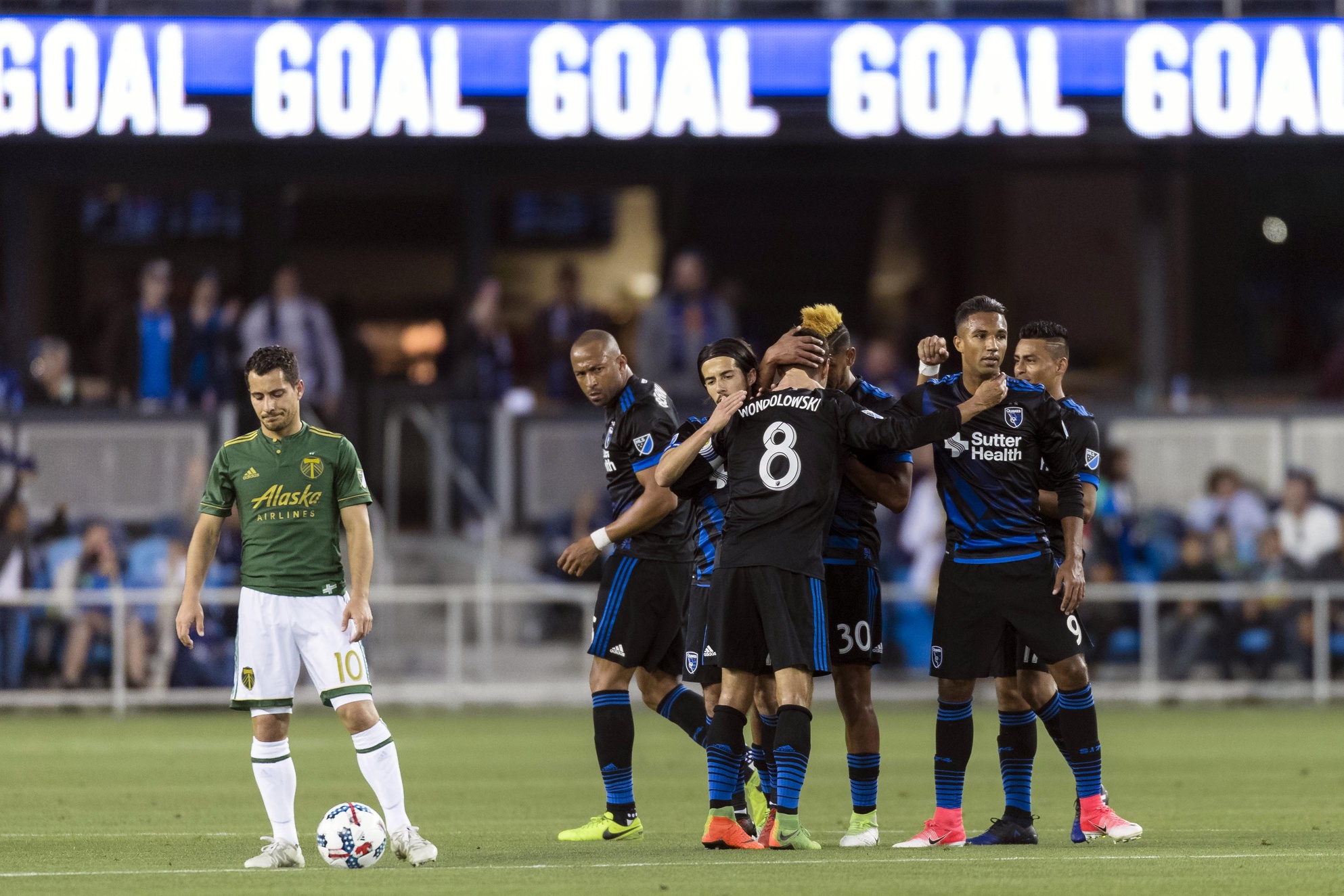 The San Jose Earthquakes carried the momentum from their road win over Minnesota United a week ago into Saturday night to down the Portland Timbers 3-0.
The win extends San Jose's unbeaten home streak to five matches (3-0-2). Portland's recent struggles continue as it has now won just one of its last four.
The Earthquakes opened the scoring early on in the match as Jahmir Hyka cleaned up a mess inside Portland's six-yard box. Danny Hoesen started the attack from just outside the box and crossed it into the six, looking for Marco Ureña and starting a short string of shots and blocks, which eventually ended up with Hyka's goal.
The Earthquakes boosted their lead to two on a goal by Chris Wondowloski in the 31st minute. Wondolowski took a pass from Florian Jungwirth and attempted his shot with three defenders around him, curving it to the far post.
The two would link up again in the second half, pushing the San Jose lead to three. Jungwirth found Wondolowski down the wing on a perfect ball and the American forward beat Jeff Attinella to the far post again. Wondolowski has now scored 10 goals in his last 10 matches against the Timbers.
Portland had its share of opportunities throughout the night as well, however, Earthquakes' goalkeeper David Bingham stopped all of Portland's attempts in one of his best matches of the season. He totaled four saves and caught three crosses.
The Earthquakes (4-3-3, 15 points) travel to FC Dallas on Sunday, while the Timbers (5-3-2, 18 points) return home to take on Atlanta United on Sunday as well.
MAN OF THE MATCH
Earthquakes' goalkeeper David Bingham had his best match of the season against the Timbers on Saturday night. He made clutch save after another throughout the 90 minutes to preserve the clean sheet, his second of the season.
MOMENT OF THE MATCH
With the Earthquakes up 2-0, Chris Wondolowski put the game on ice with his slick goal in the 55th minute, off of a perfect pass by Jungwirth. Wondo received the ball near the post, forced Jeff Attinella to commit and guided just ball just inside the far post.
MATCH TO FORGET
Portland Timbers' goalkeeper Jeff Attinella had a night to forget. Along with allowing the three goals to San Jose, he nearly overran a high ball into his box in the opening minutes and had a shot bounce out of his grasp in the first half as well. Saturday night was anything but his night.