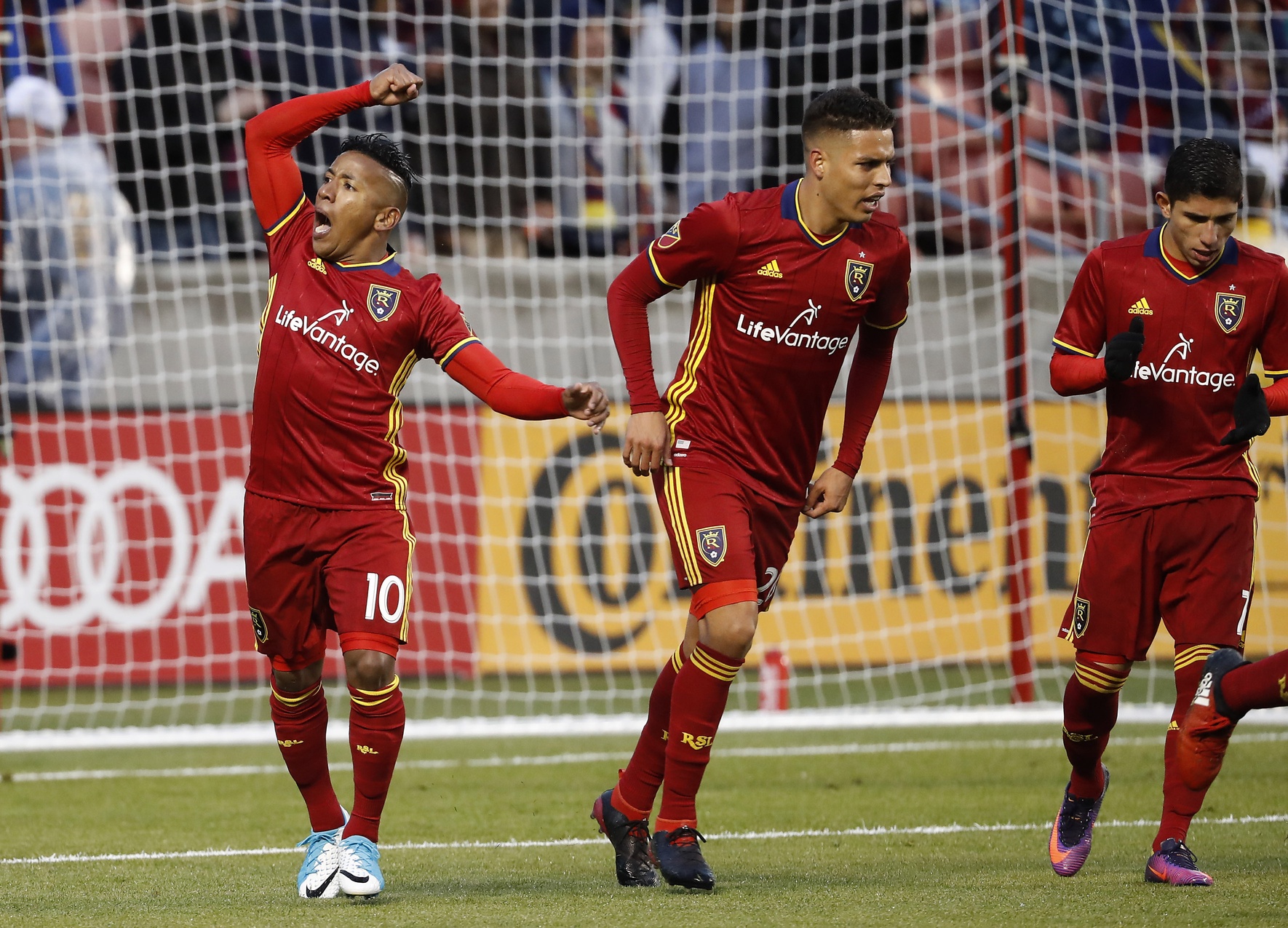 Joao Plata's form was cooled at the surface for his first nine appearances of 2017, but the dormant forward erupted in the first half on Saturday night to power Real Salt Lake to a 1-0 win over the Philadelphia Union.
The diminutive Ecuadorian beat Andre Blake in the 36th minute to hand the Claret and Cobalt their fourth win of the season and end the Union's unbeaten run at six matches.
Plata got off to a rip-roaring start in the opening stanza, as he peppered the Union net starting in the eighth minute on a shot from distance that was saved by Andre Blake.
The Union netminder saved a few =defensive lapses throughout the first half, including a 21st-minute denial on a Luis Silva shot at the right post.
Real Salt Lake also got in on the spectacular save show in the 17th minute, when Aaron Maund raced to clear Fafa Picault's rebound attempt off the line. Picault's initial shot was tapped away by Nick Rimando near the top of the box.
The hosts finally earned a breakthrough in the 36th minute on Plata's first goal of the campaign. Both Union fullbacks appeared to keep Jefferson Savarino onside and the new addition made Ray Gaddis and Fabinho pay as he played in Plata for a tap-in.
The second half produced little in terms of beautiful soccer. The Union chased the equalizer more than RSL went after a second, but the visitors looked disjointed in the final third and couldn't sneak one past the sterling Rimando.
Rimando was called into action in stoppage time on the Union's most dangerous chance, as he batted away a Haris Medunjanin free kick from 25 yards out.
The Union wrap up a two-game road trip on Saturday with a trip to Yankee Stadium to face New York City FC, while Real Salt Lake plays twice next week, starting in Houston on Wednesday.
Man of the Match
Plata was the catalyst of the RSL attack in the first half, and he recorded the lone goal of the contest on one of his four shots on target.
Moment of the Match
Plata and Savarino were able to expose the Union back line and scored in the 36th minute to produce the game-winning tally.
Match to Forget
Ilsinho struggled to put together anything from the No. 10 role for the Union. The disconnect caused by Ilsinho's lack of production hurt the Union's front four.