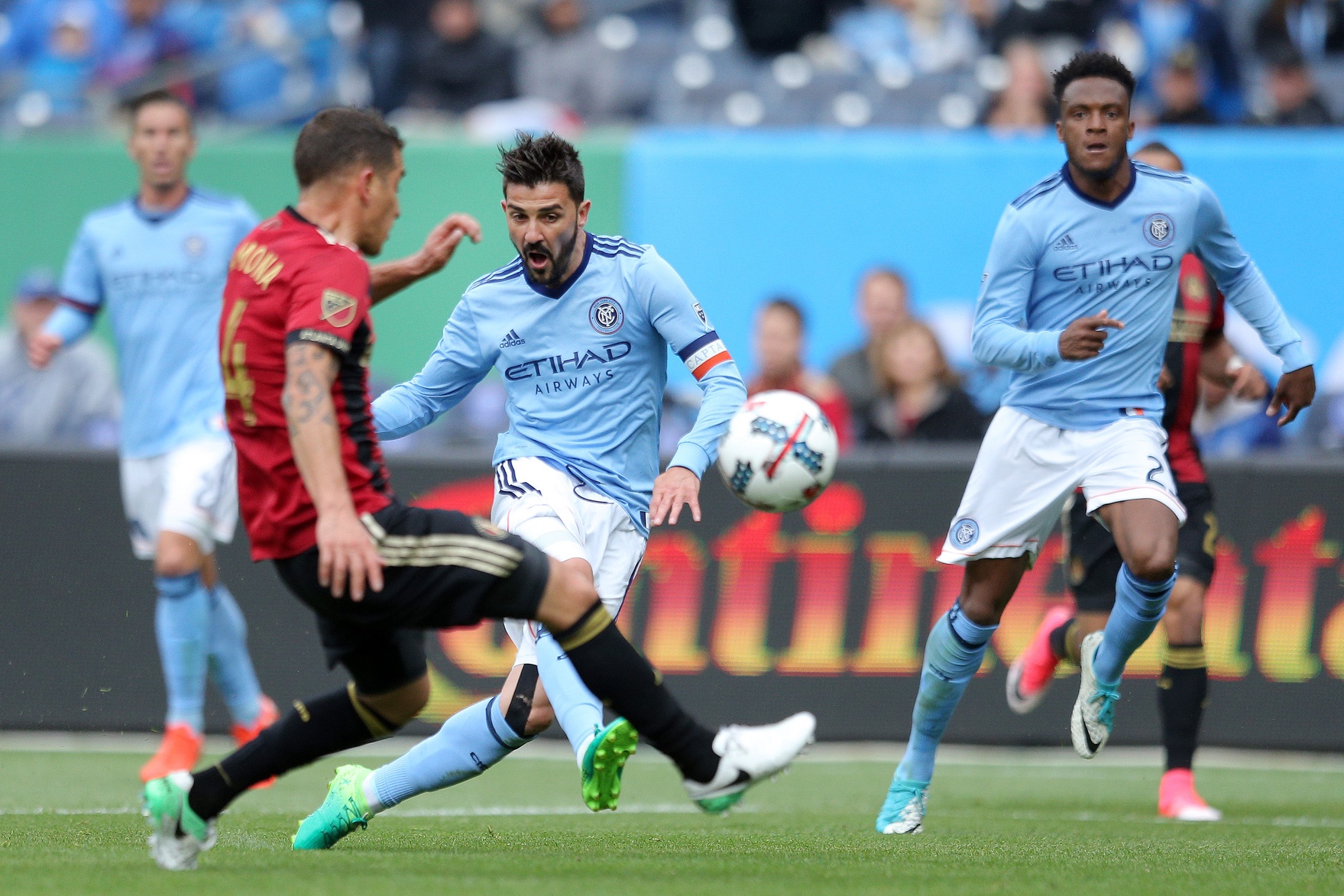 NEW YORK — Sunday's match between New York City FC and Atlanta United was billed as a clash of two of the most potent attacks in MLS. It lived up to the hype in that regard, at least for one team.
NYCFC rode second half goals from Rodney Wallace and Maxi Moralez to a 3-1 win on Sunday at Yankee Stadium, earning the club their second straight win. Atlanta United, meanwhile, fell for the second consecutive time in a match where they were largely outplayed.
The hosts broke through in the 17th minute after being largely in control to start the match. Breaking through on the right side, David Villa fired past Alec Kann, off both posts and in for his sixth goal of the 2017 season.
The hosts remained on the front foot for the bulk of the first half but, with time waning before halftime, Carmona fired a rocket of an equalizer to level the scoreline. On an Atlanta United throw, the ball bounced out to the midfielder, who smashed a first-time half-volley off the post and in to push the score to one apiece heading into the locker room.
Just seconds into the second half, NYCFC fired a warning shot, or three, as Atlanta United cleared a trio of Rodney Wallace shots off the line in rapid succession. In the 59th minute, Wallace wouldn't be stopped as he flicked on a low cross from Ethan White for his third goal of the season.
Three minutes later, it was Moralez's turn, as Wallace fed the Argentinian playmaker inside the box. Moralez was left with a simple finish as he curled a shot past Kann to push the lead to 3-1.
From there, NYCFC would ice the match. A Kenwyne Jones header in the 80th minute proved a test for Sean Johnson, but the visitors mustered little else as NYCFC cruised to a victory.
NYCFC returns to action with a visit to FC Dallas, kickstarting a four-game road trip. Atlanta United, meanwhile, continues their road trip with a visit to Portland for a match against the Timbers.
MAN OF THE MATCH
Rodney Wallace ignited the NYCFC attack in the second half. After having a trio of shots cleared off the line, Wallace scored one before setting up another to earn Man of the Match honors.
MOMENT OF THE MATCH
Just moments after Wallace gave NYCFC the lead, he set up Maxi Moralez, who all but put the game away with his well-taken finish.
MATCH TO FORGET
With Josef Martinez out, there's more pressure on Miguel Almiron to drive the Atlanta United attack, but the Paraguayan was held largely quiet on Sunday afternoon.