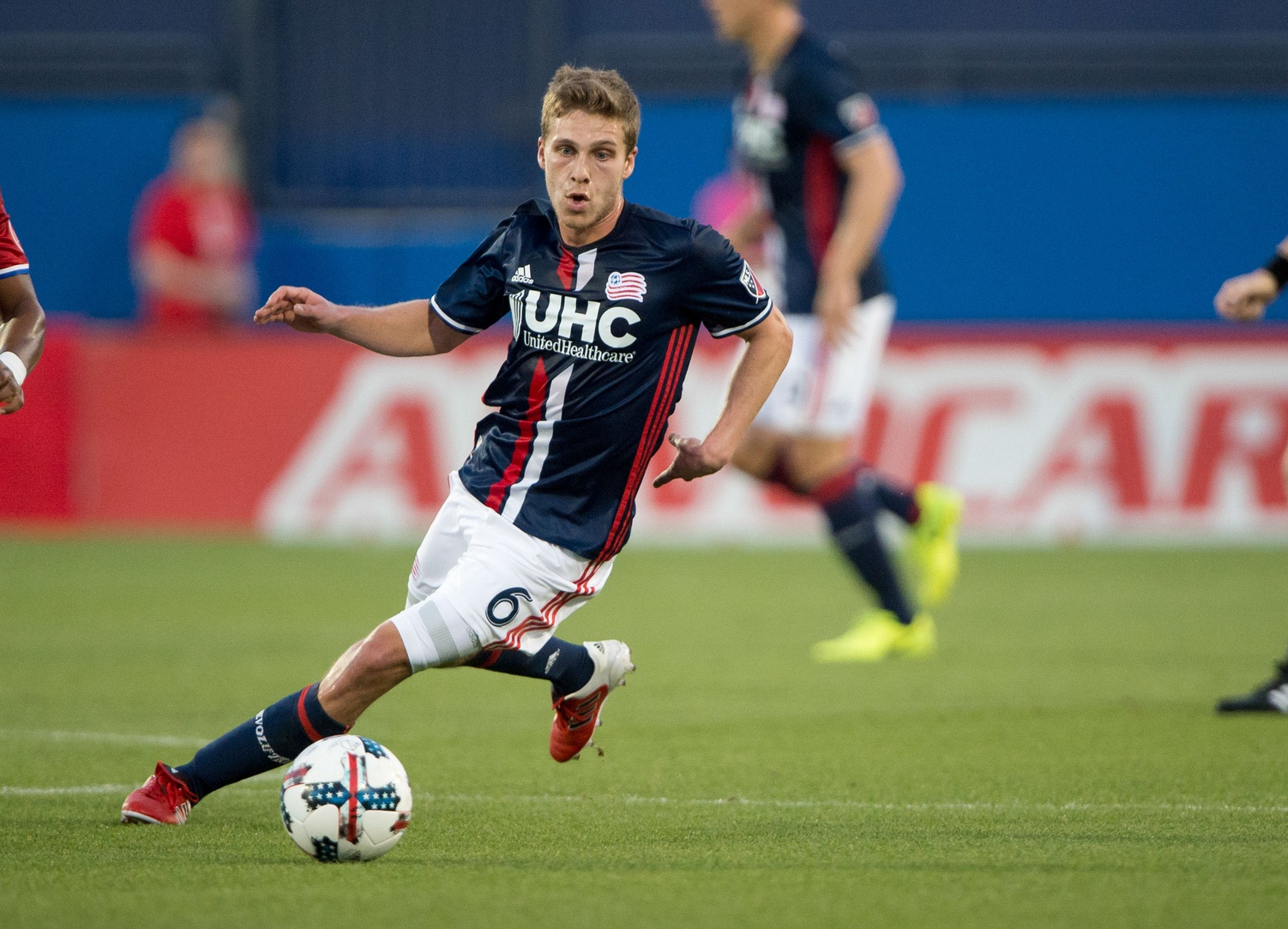 FOXBOROUGH — Defensive midfielder Scott Caldwell doesn't score often, but his fourth-minute goal for the New England Revolution in Saturday night's 4-0 victory over Real Salt Lake was a rallying cry for a Revs team that entered the match mired in a four-game winless streak.
The goal was only Caldwell's third in 132 appearances and 110 starts over the 26-year-old Homegrown Player's five seasons in MLS.
"Actually, a couple guys had been trying to get me to go forward a bit to score or get chances, so that helped," Caldwell said. "I think in the back of my mind it pushed me forward a little bit more."
Caldwell is undersized at 5-foot-8 and has a soft-spoken demeanor, but he's been the Revs' pit bull in the center of the field for the last several seasons, providing sideline-to-sideline defense and showing his efficiency by leading the team in passing accuracy last year at 86.9%.
When Caldwell finished out in front off a Diego Fagundez cross early in Saturday night's win, the Revs swarmed to Caldwell to show him how much they appreciate his unheralded contributions.
"Go back and watch the film when he scores and watch everyone get a little bit more excited," Revs coach Jay Heaps said. "You can look at the entire bench, you can look at the field, Scotty's just — we love him. Let me say it this way, I have a daughter and if she meets a guy like Scott, I'll be thrilled. That's probably too honest right now, but he's that kind of guy. He's as honest as they come as a person, but also on the field he just won't quit and that's what you love about him."
Caldwell actually played forward for much of his college career at Akron, registering 20 goals and 22 assists and scoring the winning goal in the 2010 College Cup Final, winning the tournament's Most Outstanding Player on a team with 11 other future MLS players.
Since going professional, though, Caldwell has played the role of a box-to-box midfielder, providing cover in front of the defense and distributing the ball forward to the attacking players. Caldwell often provides the ball one or two passes before the assist, but rarely shows up on the box score.
After breaking into the starting lineup in 2013, Caldwell gained some notoriety in 2014 when he was often credited with providing crucial cover for Lee Nguyen and Jermaine Jones to freelance forward during the Revolution's run to the MLS Cup that year, eventually losing to the LA Galaxy.
Caldwell was voted the Revs' Most Valuable Player by the fans in 2015 and the team's Player of the Year by his teammates after he notched two goals, five assists and led the team in minutes played.
After an uneventful 2016 season, Caldwell might be primed to play his biggest offensive role yet not that the Revs are employing an even more defensive-minded central midfielder in Xavier Kouassi, and that could lead to more celebrations that indicate a team rallying together.
"If felt good, especially early in the game we wanted to get an early start," Caldwell said.
On Saturday's goal, Fagundez sent a low bouncer in from the left sideline that Kelyn Rowe dummied through, allowing Caldwell to make a run in from the edge of the box to one-touch the ball in and start a run of four Revolution goals over the course of 37 minutes.
"I knew there was a guy coming in, but I didn't know it was Scotty. I was already past the post and I didn't have a very good chance at it," Rowe said.  "I needed someone to be running behind me and it would be a little bit easier for them."
It's the kind of play Caldwell might need to make more often to keep the Revs in playoff contention.