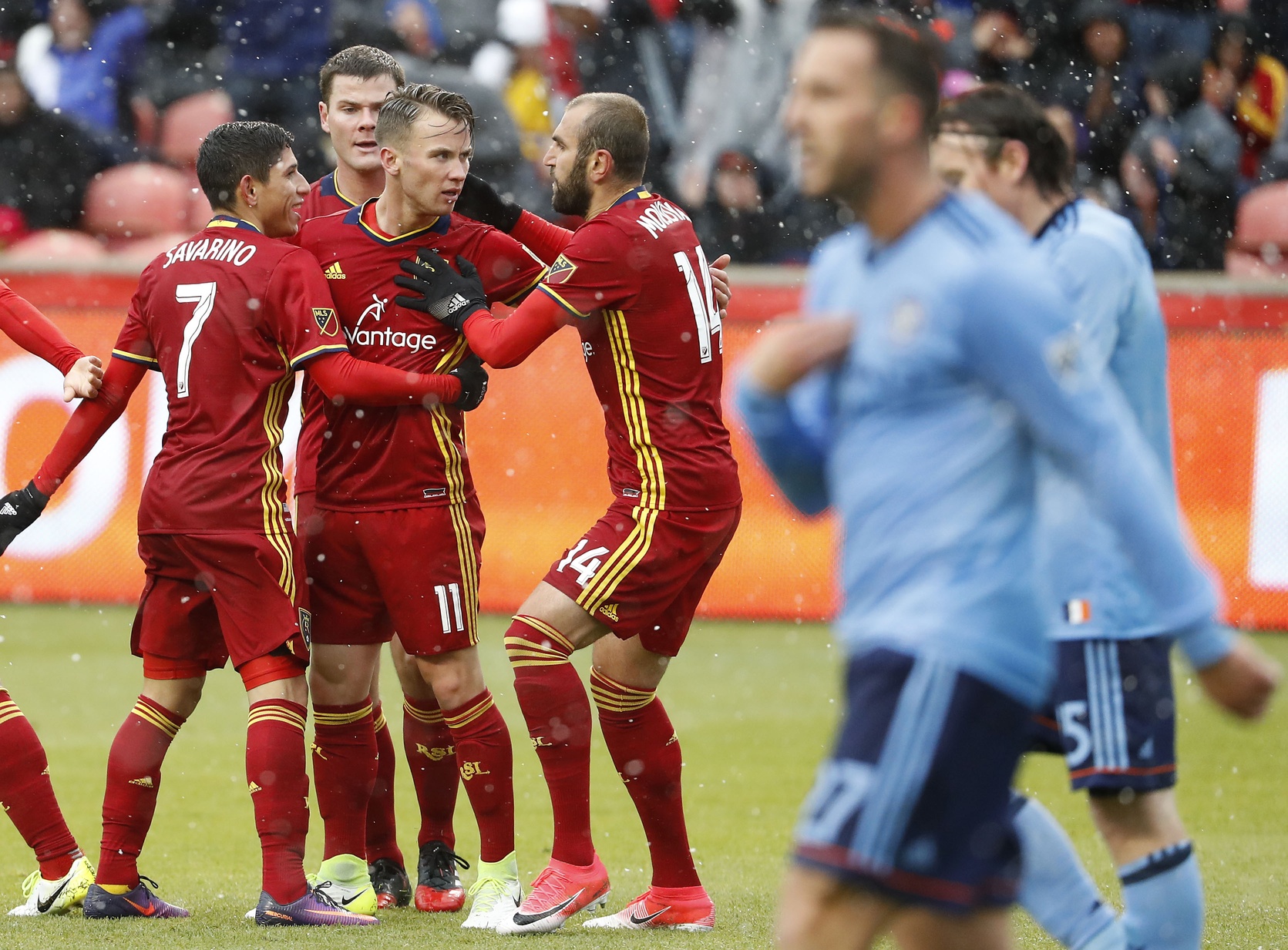 Real Salt Lake ended their four-match losing streak, and their scoreless streak, Wednesday night in their 2-1 win over New York City FC.
NYCFC scored the opening goal off of the foot of Sean Okoli in the fourth minute, putting RSL in an early hole.
RSL pulled even at one goal apiece on a left-footed rocket by Albert Rusnak in the 38th minute, ending a 329-minute scoreless drought. RSL's last goal before Rusnak's equalizer came in the 69th minute against Atlanta United back on April 22.
The Claret and Cobalt took the lead in the second half off of a goal by Aaron Maund, heading in a corner by Rusnak in the 51st minute, putting RSL up 2-1.
NYCFC had their chances in the second half to pull another goal and push for a draw and a needed point. David Villa and Jack Harrison subbed into the match in the 54th minute and provided an immediate impact in the attack. Villa took a shot on goal shortly after entering the match, but RSL keeper Nick Rimando deflected it easily for the save.
RSL earns their first win since April 8, a 3-0 win over Vancouver Whitecaps. and remain undefeated against NYCFC in club history. They'll look to claw their way back up the standings when they take on the Seattle Sounders on Saturday.
NYCFC sees their season long three-match unbeaten streak come to an end in the loss. They'll look to bounce back in a big conference match at Orlando City on Sunday.
MAN OF THE MATCH
RSL's Albert Rusnak led the charge for them in the 2-1 win Wednesday night. He scored a goal, which also ended the club's scoreless drought, and tallied a big assist on a corner kick in the second half to put RSL up, 2-1.
MOMENT OF THE MATCH
Albert Rusnak's goal in the 38th minute ended a 329-minute scoreless drought for Real Salt Lake Wednesday night, giving the team a much-needed lift in the attack.
MATCH TO FORGET
NYCFC's Miguel Camargo earned the start Wednesday night, but was close to invisible on the night, not having any sort of impact or moments whatsoever.