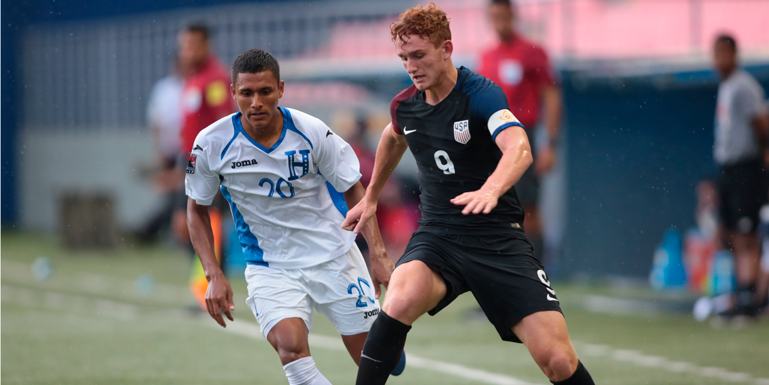 The U.S. Under-17 Men's National Team lost Sunday's CONCACAF U-17 Championship final to Mexico but there group left a big impression on the tournament's Best XI.
A total of five Americans were named to the Best XI following the completion of the 2017 CONCACAF Under-17 Championship, which saw Mexico top the U.S., 5-4, in penalty kicks on Sunday. Representing the U.S. on the team of the tournament is striker Josh Sargent, midfielder Chris Durkin, centerback James Sands, fullback Jaylin Lindsey and goalkeeper Justin Garces.
In addition to his Best XI recognition, Garces was also honored with the Golden Gloves for the tournament's best goalkeeper.
The five Americans led the way for the all-tournament team with champions Mexico seeing four players recognized, including Jairo Torres, who was honored with the Golden Ball. Costa Rica and Honduras each saw one player apiece named to the team with the latter's Carlos Mejia finishing as top scorer with seven goals.
Here's a closer look at the complete list of awards:
2017 CONCACAF Under-17 Championship
Best XI
Goalkeeper: Justin Garces (United States)
Right Defender: Jaylin Lindsey (United States)
Central Defender: James Sands (United States)
Central Defender: Luis Olivas (Mexico)
Left Defender: Walter Cortes (Costa Rica)
Right Midfielder: Jairo Torres (Mexico)
Central Midfielder: Chris Durkin (United States)
Central Midfielder: Alexis Gutierrez (Mexico)
Left Midfielder: Carlos Mejia (Honduras)
Forward: Daniel Lopez (Mexico)
Forward: Josh Sargent (United States)
Golden Ball
Jairo Torres (Mexico)
Golden Boot
Carlos Mejia (Honduras), 7 goals
Golden Glove
Justin Garces (United States)
Fair Play Award
Mexico