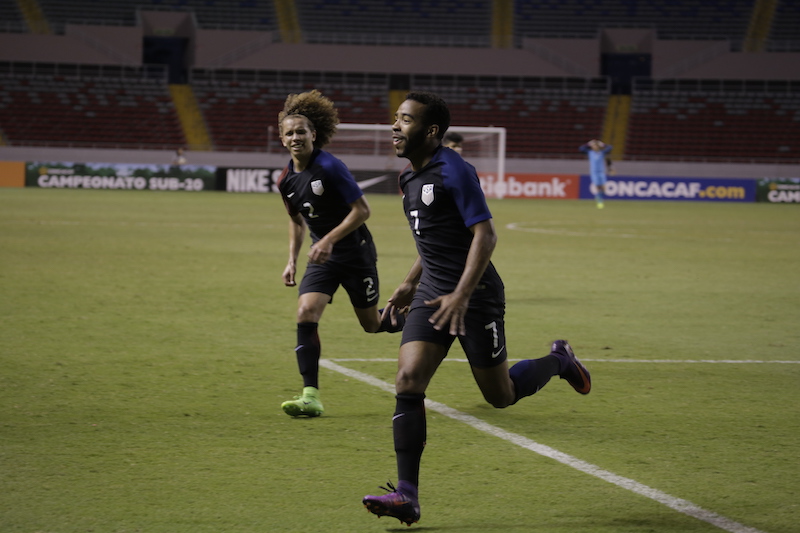 Surrounded by some of the top young professionals in the U.S. Soccer pool, it's easy for U.S. Under-20 Men's National Team midfielder Eryk Williams to be overlooked. It's something he's been dealing with his whole life as he grew up battling some of the country's most highly-touted prospects in the pressure cooker that is the D.C., Maryland, Virginia soccer scene.
Williamson may still be in college and he may not feel quite ready for the professional game. However, if his CONCACAF U-20 Championship performance is anything to go by, the University of Maryland midfielder's game is more than ready for the daunting World Cup task that lies ahead.
After serving as one of the breakout stars of CONCACAF's version of qualifying for the Under-20 World Cup, Williamson is set to join the U.S. U-20s for the upcoming tournament. In an era that is suddenly headlined by a promising crop of young professionals scattered throughout both the U.S. and Europe, Williamson is one of the few college holdovers making waves within the U-20 pool.
Throughout CONCACAF play, Williamson showed it's a label he's not willing to be defined by. He rapidly grew into one of the U.S. team's biggest difference-makers, driving play from the midfield time and time again. His goal against El Salvador proved a standout moment within a standout tournament, an absolute stunner that served as a highlight for a tournament full of them.
Williamson may not be a professional, but he's more than ready to go toe-to-toe with anyone who is.
"You look overseas and everyone is a pro, but I think (my teammates) understand," Williamson told SBI. "Just because you're in college doesn't mean you can't be one of us. I talk to guys about it like, 'Hey I'm in college, what's it like being a pro?'.
"I just feel like it's my job to come in as someone who's not in season but continues to push the pros. They are training everyday and me as a college student, I'm not in a professional environment every day but, when you come into camp, you try to reach that professional level, if not more."
In some ways, Williamson was always a late bloomer. As a young kid, he looked up to his older siblings, following them to their various sporting events. At the age of three, soccer was introduced, although his mother played basketball, and wanted to see her son do the same.
Williamson remembers looking up to the older basketball players within the area. He wasn't driven by the professional athletes on his TV, but rather his brothers and their friends, who told him that he could be something if he pushed himself. As time wore on, though, it became quite clear that Williamson had found something within the game of soccer.
It wasn't immediate. As a kid, he played up, joining the older age groups, but he was never the most highly-touted player within the area. Competing with young stars, and future U-20 teammates, like Gedion Zelalem and Jeremy Ebobisse, Williamson was far from the most recognized young player in a budding DMV soccer scene.
"It helped a lot," Williamson said of the region's competitiveness. "You want to be the best team in Virginia, then you're battling against older guys… You have to beat those teams to be the best in Northern Virginia. Then, after that, you move on to D.C. and Maryland where you're playing against Gedion and Jeremy. Everyone ended up pushing each other to make each other better even if we weren't on the same team.
"(Zelalem and Ebobisse) would always shine and it was a 'wow, these kids are good,' so you just continue to push yourself. They were getting called into national camps and I was barely making region teams. I was maturing and knowing I still had time to develop and grow, and that's what ultimately happened."
As he approached college age, Williamson himself was a coveted prospect, although maybe not as coveted as he should have been. He had developed within the D.C. United academy but still wasn't quite viewed on the level of some of his local peers.
One person who did see his talent, though, was Maryland head coach Sasho Cirovski. The veteran coach, long regarded as one of the top talent evaluators and developers in the college game, remembers hearing about Williamson's high school career. As Williamson progressed through the D.C. academy, it became clear that he was a potential fit for Maryland.
Cirovski remembers the first time he saw Williamson play, likening his game to a young Thierry Henry. He had the passing skills, the dribbling ability. He was able to take a touch at full speed, and rapidly make the play required to open up the defense.
While the Henry comparison forged his initial assessment of Williamson, Cirovski now sees a little bit of former Maryland star Maurice Edu in the young midfielder. Williamson has gotten better defensively during his time with the U-20s, even if there's still tons of work to be done in completing the transition deeper into the midfield.
It's a move that's had its rough patches, though. Initially a winger and a forward, Williamson has slowly moved back into more of a No. 10 role. With the U.S., he's played as a No. 8. There have been growing pains, especially in the college season as Williamson, at times, struggled to make his mark on games.
U.S. Under-20 head coach Tab Ramos says he remembers seeing Williamson play a game at Rutgers, and he left far from impressed. The midfielder was substituted in and out several times of a match that saw him as more of a passenger than driver of play.
Mentally, Cirovski says, Williamson needs work. He's a thinker, and, at times, he gets too caught up in his thinking, prompting him to drift in and out of matches. A move to the midfield should keep him engaged and, ultimately, help continue his development from prospect to young star.
"The hard part is figuring out where his best spot on the field is," Cirovski told SBI. "He can play as a striker, he can play in the midfield, he can play out wide, but in all of those places he's been good, but he hasn't been great in any one place yet. We're trying to find where we can maximize his gift, and we're getting closer. He's a special talent and we're trying hard to nurture that talent.
"Some of the things he can do, I haven't seen a college player do in many, many years. He has an ability to always play at full speed. He's a player that's never been a good shooter, but he scored the goal of the tournament."
Cirovski isn't the only one that has taken notice of Williamson's development. Ramos obviously saw it as he deployed Williamson in all six of the team's qualifying matches, with five of those appearances coming in starts. D.C. United also took notice, as they reportedly offered Williamson a Homegrown deal during the winter.
It certainly was tempting. Williamson remembers going to D.C. United games as a kid, heading to RFK Stadium for several birthday parties. He remembers playing on the field at halftime and getting a ball signed by the entire team, only for him to kick the signatures off of it within the next few months as he played in his backyard. Representing the DMV is something he takes great pride in. He wants those he grew up with to have the opportunity to watch him play and, after hearing his U-20 teammates talk up the life of a professional athlete, the choice was enticing.
Still, Williamson chose to stay. He wanted to be in an environment where he could be guaranteed time on the field, a situation where he could continue his on-the-field and off-the-field development. He loves Maryland. It's somewhere he dreamed of going as a kid. It's an environment that Williamson says feels like it could be a professional environment if you played in a different league, and he credits Cirovski as one of the driving forces behind his return.
"I have a lot of trust in Sasho," Williamson said. "He's led players in the right direction. He talks about maturity. I know that, as a player, I could have left after my freshman year. He sees more in me developing and it's about trusting Sasho like Omar Gonzalez, Maurice Edu, those kinds of guys. It's been something where I don't need to rush it or get out of here because it's not a good place. He knows what he's doing."
"I suspect that next fall he'll be one of the best players in all of college soccer and will be ready to move on after next year," Cirovski added. "Like many people, I'm surprised he's coming back. I'm delighted. I think it shows tremendous humility on his part and I also feel like Eryk wants to win a national title… He's seen guys like Jordan Morris stay a few years and guys like Graham Zusi and Omar Gonzalez go to the World Cup. He has been very mature about not rushing to get to the next level. He deserves a lot of credit."
With several new faces joining camp, pressure is at an all-time high for each and every member of the U-20 squad. The midfield, in particular, is highly competitive. Williamson will be competing against the likes of Zelalem once again while also battling fellow up-and-coming stars like Tyler Adams for spots in that box-to-box role. Ramos says that you're playing for yourself in many ways but, by doing so, you're also pushing your teammates and the group to be the best they can be.
Williamson is far from the best he can be as he continues his maturation from college star to youth national team contributor to, eventually, professional. But he's also more than ready to step up and fight, for both himself and his teammates, as he looks toward the biggest stretch of his young career.
"Eryk just keeps surprising me every time I see him," Ramos said. "I wonder how he's still in college….He has some of the softest feet I've ever seen with the national team in the last seven or eight years. That's something I value a lot and, at the same time, he has great physical ability. Eryk Williamson is doing great for us and potentially, he could be a starter or starting next week."