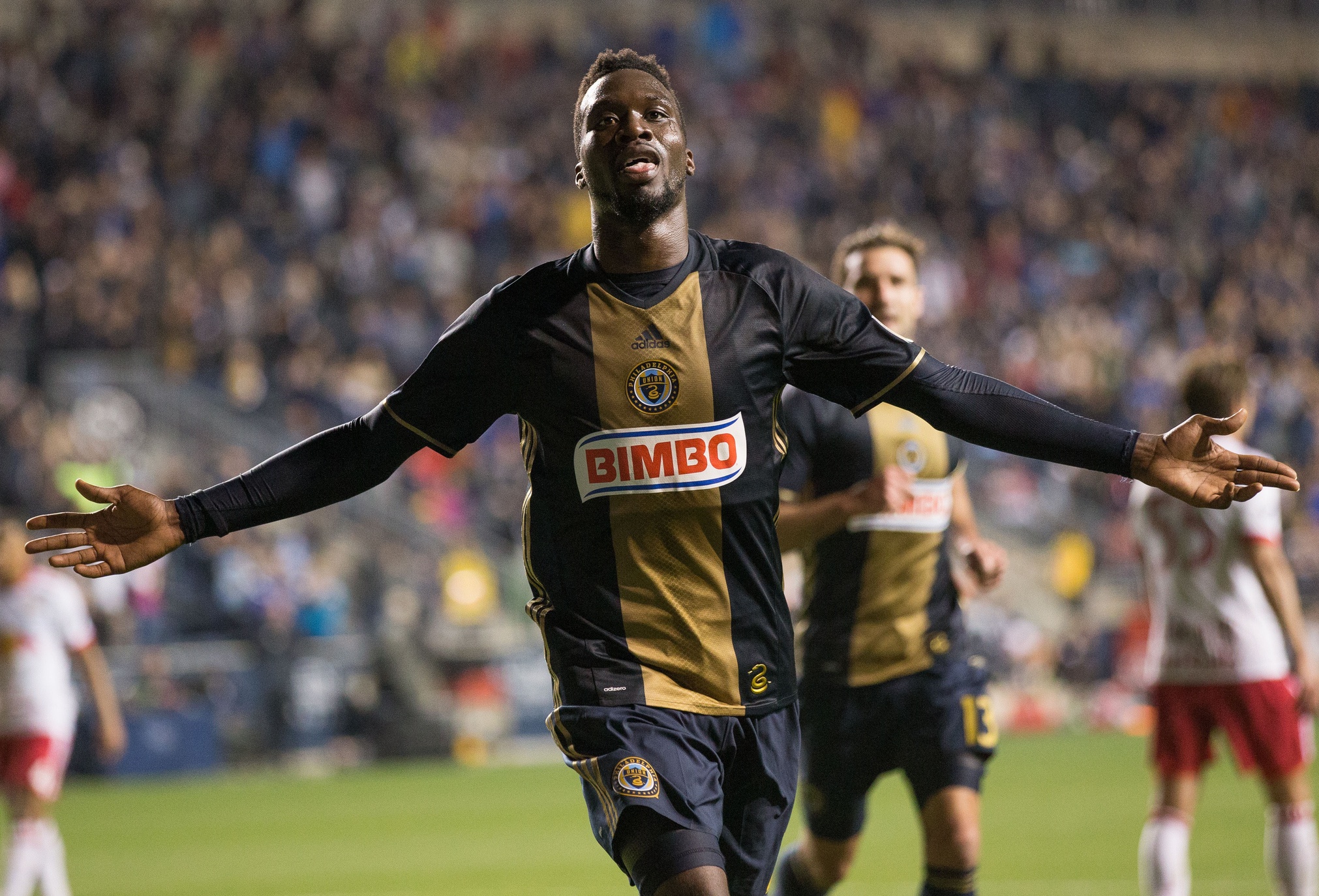 CHESTER, PA– With every goal C.J. Sapong scored on Saturday night came a bigger sigh of relief from the forward himself, his Philadelphia Union teammates and the crowd at Talen Energy Stadium.
Sapong bagged his first-career hat-trick over an 11-minute span to power the Union to a 3-0 victory over the New York Red Bulls. The win snapped a 15-game regular-season winless run that dated 252 days back to August 27, 2016.
"You can't put it into words," Sapong said. "It's been a long, hard working road for us to get this win and there's something I felt from my teammates on the field tonight that is really a testament to how much we've gone through and how we came together. It's a beautiful thing. I'm very happy. We're going to let this marinate, but then we still have a lot of climbing to do."
Sapong is absolutely right in his evaluation of the Union. The club must celebrate the first victory of the season, but it is just the first step in the process of climbing out of the Eastern Conference cellar.
"The games just haven't gone our way," Sapong said. "We're still at the bottom of the table right now. We still have a lot of climbing to do, but we have a little bit more incentive, inspiration and motivation to do that now."
The former Sporting Kansas City man has been one of the top players in the squad this season, and he's been joined in that category recently by Jack Elliott, the fourth-round pick who has filled in admirably at the center back position.
"Jack Elliott has been excellent for us," Curtin said. "The little plays – the play that, I don't want to applaud because it was a yellow card, but the play at midfield to foul, people don't realize how big that play is because (Bradley) Wright-Phillips is gone. For a young kid to have the mindset to see that and make up for a little juggle of the ball and maybe a little mistake is a big-boy play, a really big play from a young kid."
Veteran Oguchi Onyewu, who was supposed to be a role player at best at the start of the preseason, has become a valuable asset on and off the field for the Union.
"Gooch has been everything that we could've asked for this year," Curtin said. "He could've been angry when I took him out of the lineup, but as a man, I give him a lot of credit. I told him, he can be mad at me but not to take it out on the other guys, but he put his arm around Jack and has helped him a lot in his growth. He's helped Richie, he'll help Tribbett and he'll help Yaro. So again he's done a great job and for him to go out tonight after a couple of games off and put in that performance was special."
Onyewu and Elliott held Bradley Wright-Phillips to one shot on goal over 90 minutes, leading to the club's second clean sheet in a row. Once thought to be the biggest weakness of the team, the Union back line has enforced itself against a few tough opponents.
On top of that, Alejandro Bedoya has played better in his natural position, the No.8, and he shut down Sacha Kljestan as the Red Bulls tried to push through the middle of the field.
"It was not just one guy, but he put in a lot of work and made it hard for Sacha," Curtin said. "Sacha is for me one of the best players in this league, and we did a good job of neutralizing him and containing him because he has the freedom to go anywhere. But Ale put in a good shift, and I couldn't be happier for the players."
Now it's time for the Union, a team that has been struggling for small positives for two months, to build off the strong performance at home. With a trip to RFK Stadium ahead next week and then a pair of home matches against the Houston Dynamo and Colorado Rapids the following week, the Union have a chance to make a bit of a run up the table.
The Union are nowhere close to contending for the top six yet, but Saturday appears to be the first true step in the right direction, one that could lead the Union above their expectations if they continue to hold believe in themselves, like they did during the winless run.