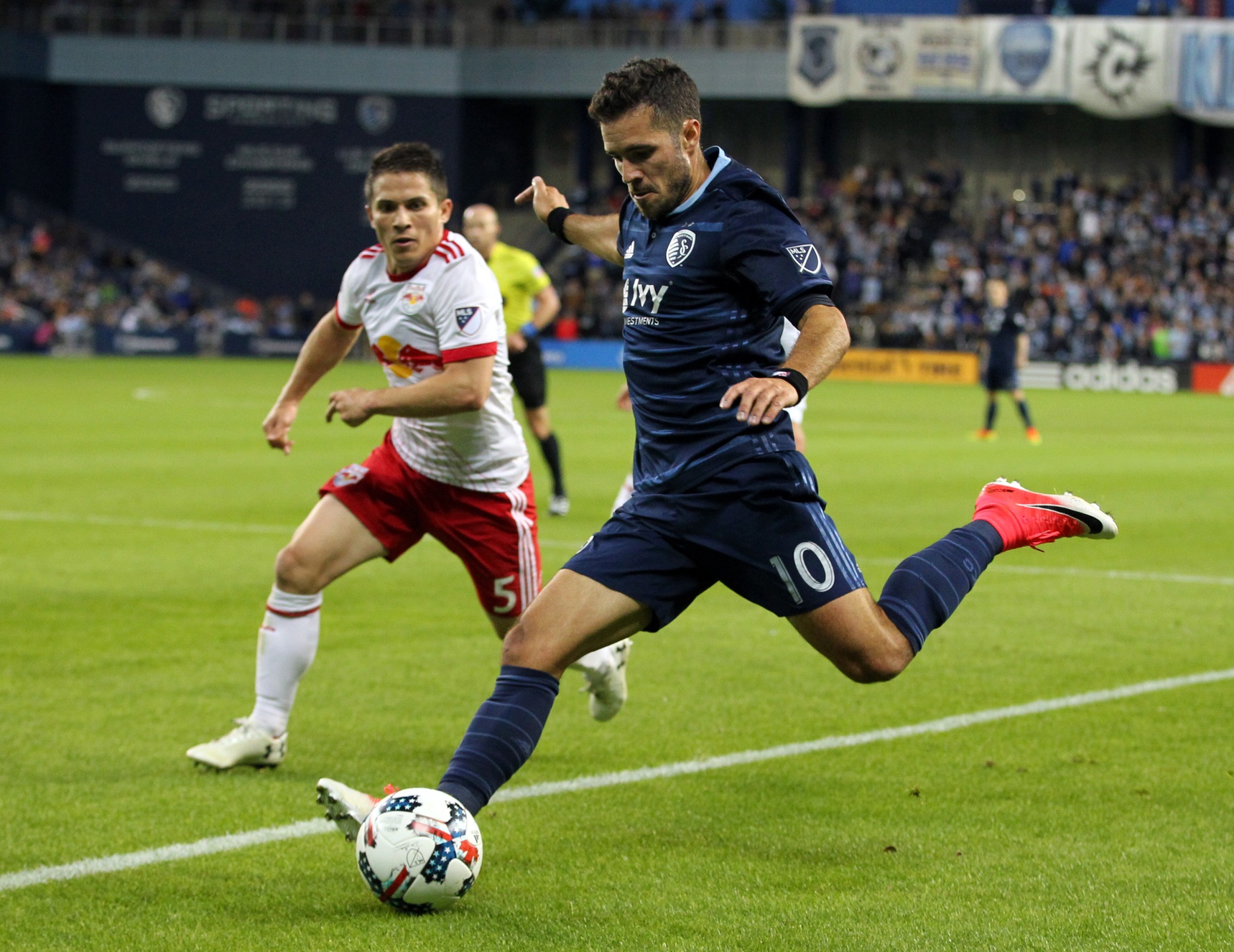 Sporting KC midfielder Benny Feilhaber remembers exactly what happened last time a visitor trotted out a weak lineup at Children's Mercy Park, his team's home turf.
"It was our only game we hadn't won at home," Feilhaber said, recalling a 0-0 draw against FC Dallas weeks earlier. Dallas started several reserves in a successful effort to rest starters for a CONCACAF semifinal match the next weekend.
On Saturday night, Feilhaber and Sporting KC made sure they didn't make the same mistake twice. The team came away with a 2-0 win over the New York Red Bulls, which rested key starters like striker Bradley Wright-Phillips and midfielder Sacha Kljestan for the midweek road tilt.
"I didn't want that to be another opportunity lost today, and so we had a good mentality going into the game," Feilhaber said.
Feilhaber fed Dom Dwyer for Dwyer's second goal of the match in the second half and Sporting defended a club-record home winning streak that reached 14 games.
The fear of slipping up against weaker opposition again, however, was on the team's mind by the time lineups came out. The Red Bulls kept Wright-Phillips and Kljestan on the bench along with other usual starters like Tyler Adams, Kemar Lawrence and Daniel Royer.
"[The Red Bulls] made some changes to their team and when they do that, a lot of teams can almost look at the lineup and say 'Oh, we can back off' and you don't say that, but you do it," Sporting KC coach Peter Vermes said. "And the fact that we played at the intensity and concentration that we did, it's a really big three points for us."
Similar squad rotation looks to be the next task for Vermes and a roster that can reach a little deeper than it has so far this season. And Sporting might soon be on the other end of the challenge it stepped up to against the rested Red Bulls lineup.
"We know how hard it can be when you do play against players that are fresh and hungry," Feilhaber said. "And so you have to have the right mentality."
Since Sporting KC stayed home going into Wednesday's match, it made sense to continue with starters in their places. Vermes alluded to lineup decisions in upcoming matches in his postgame comments, but also added that he doesn't feel pressured to remove key players from the lineup.
"I really don't think about the team that way," Vermes said. "I don't think 'I have to get guys time' or what have you. I think it's a constant assessment of where the team is and where the players are.
"It's really going to be about taking inventory over the next couple of games with the guys to see where they are and then make a decision on what the lineup is."
Sporting closes out this period of short turnaround with Minnesota United FC away on Sunday. At the early point in the season, Sporting has remarkably stayed out of injury trouble.
"Everybody can play on this team and everybody will," Feilhaber said, "so it's about being ready."