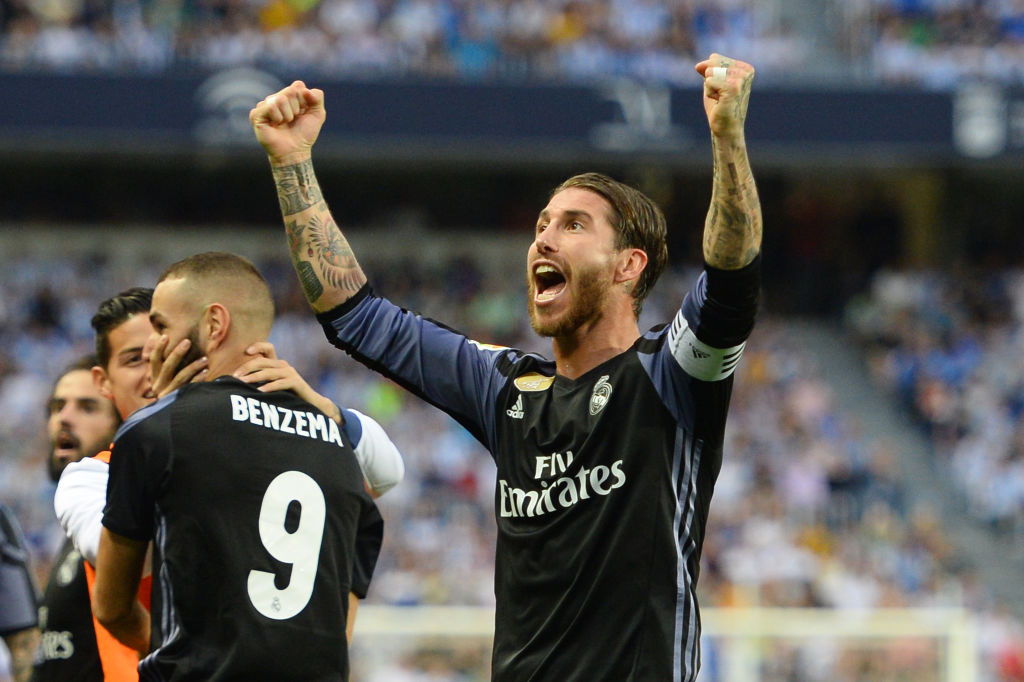 Real Madrid clinched its 33rd La Liga crown on Sunday, defeating Malaga 2-0. A second-minute goal from Cristiano Ronaldo gave the visitors an early lead, after the Portuguese international finished off Isco's through-ball assist.
Karim Benzema doubled the Real Madrid lead in the 55th-minute, finishing from close range. It was the striker's 11th league goal of the season. Keylor Navas made six saves in the clean sheet, while Malaga was shut out for the first time since Apr. 15th. The victory sealed the title for Real Madrid, who had won their previous five league matches prior to today's match.
Elsewhere, Juventus clinched its sixth straight Serie A title after shutting out Crotone in Turin. In England, Manchester City and Liverpool clinched the final two Champions League places after dominant victories to close out the season. EPL Champion Chelsea ended its season on a winning note at home, while Tottenham rolled past relegated Hull City.
Here's a closer look at all Sunday's European action:
ENGLISH PREMIER LEAGUE
Manchester City knew a win in its final match on Sunday would mean a place in the Champions League next season. Pep Guardiola's side rolled past hosts Watford, 5-0, at Vicarage Road, including a four-goal first half. Vincent Kompany opened the scoring after five minutes, heading home Kevin De Bruyne's cross. Sergio Aguero slotted in the visitors second goal after 23 minutes, before the Argentine added his second in the 36th minute. Fernandinho bundled home City's fourth just before halftime, finishing calmly inside the box. Gabriel Jesus' seventh league goal capped the final score at 5-0 just before the hour mark. City's fourth consecutive win see them finish the season in third place, while Watford finish in 17th.
Liverpool finished the 2016-17 season in fourth place after a 3-0 home win over Middlesbrough on Sunday. A 45th-minute winner from Georgino Wijnaldum proved to send Liverpool on their way to a Champions League berth next season. Philippe Coutinho's 51st-minute free kick doubled the Reds' lead before Adam Lallana added a third just five minutes later. Brad Guzan made seven saves in the defeat for Boro.
Despite a 3-1 home win over Everton, Arsenal missed out on the Champions League for the first time under manager Arsene Wenger. The Gunners needed Liverpool to drop points in order to have a chance at fourth place. Hector Bellerin's eight-minute finish kicked off the scoring at the Emirates, before the Gunners were reduced to 10 men. Laurent Koscielny saw a straight-red card after a vicious foul on Enner Valencia. That didn't stop the hosts as Alexis Sanchez doubled Arsenal's lead in the 27th-minute. Romelu Lukaku's 25th league goal of the season, pulled the visitors to within one after 58 minutes. However, Aaron Ramsey clinched the points in stoppage time, curling home his first league goal of the season. Arsenal will participate in the Europa League next season, while Everton will take place in UEL qualifiers.
Here are all of Sunday's Premier League results:
Arsenal 3 – Everton 1
Burnley 1 – West Ham United 2
Chelsea 5 – Sunderland 1
Hull City 1 – Tottenham Hotspur 7
Leicester City 1 – AFC Bournemouth 1
Liverpool 3 – Middlesbrough 0
Manchester United 2 – Crystal Palace 0
Southampton 0 – Stoke City 1
Swansea City 2 – West Bromwich Albion 1
Watford 0 – Manchester City 5
SPANISH LA LIGA
Despite falling in the title race, Barcelona ended the season on a winning note, defeating Eibar, 4-2. A brace from Eibar's Takashi Inui had the visitors up 2-0 after the hour mark. The Japanese international kicked off the scoring after seven minutes, before doubling the lead in the 61st. An own goal off of David Junca cut Eibar's lead in half just two minutes later. Lionel Messi saw his 70th-minute penalty kick saved by Yoel, which kept the score at 2-1 to Eibar. Luis Suarez's close-range finish in the 73rd drew Barca level, before Messi successfully scored on a 75th-minute penalty kick. Messi doubled his tally on the day, capping the final score at 4-2 in stoppage time. Despite a comeback win, Barcelona finish the season second behind Real Madrid.
Atletico Madrid ended the season on a winning note, defeating Athletic Bilbao 3-1 at the Vicente Calderon. A first-half brace from Fernando Torres proved to be enough for Diego Simeone's side, despite a late spell from the visitors. Atletico end the campaign in third, good for a Champions League spot. Athletic Bilbao end the season in seventh, missing out on the final Europa League spot.
Here are all of Sunday's La Liga results:
Atletico Madrid 3 – Athletic Bilbao 1
Valencia 1 – Villarreal 3
Celta Vigo 2 – Real Sociedad 2
Barcelona 4 – Eibar 2
Malaga 0 – Real Madrid 2
ITALIAN SERIE A
After lifting the Coppa Italia title last week, Juventus clinched its sixth consecutive Serie A title on Sunday, defeating Crotone, 3-0, in Turin. Mario Mandzukic's 12th-minute opener put the hosts ahead for his seventh league goal of the season. Paulo Dybala's 39th-minute free kick doubled the hosts advantage prior to halftime. Alex Sandro capped the final score at 3-0, heading home after 83 minutes. Crotone's Alex Cordaz made five saves in the loss, while Juventus made it back-to-back shutouts. Massimiliano Allegri's side conclude their Serie A season at Bologna next weekend, before facing off with Real Madrid in the UEFA Champions League final on June 3rd.
AC Milan snapped a five-match winless run on Sunday, defeating Bologna, 3-0, at the Giuseppe Meazza. Following a scoreless first half, Gerard Deulofeu opened the scoring after 69 minutes, netting his fourth league goal of the season. Substitute Keisuke Honda doubled the hosts advantage, scoring from a 73rd-minute free kick. Gianluca Lapadula capped the final score at 3-0, finishing from close range in stoppage time. Bologna failed to record a shot on target, losing their third match out of their past five fixtures. AC Milan stay in sixth place, while Bologna remain in 15th.
Here are all of Sunday's Serie A results:
Empoli 0 – Atalanta 1
Genoa 2 – Torino 1
Juventus 3 – Crotone 0
AC Milan 3 – Bologna 0
Sassuolo 6 – Cagliari 2
Udinese 1 – Sampdoria 1
Lazio 1 – Inter Milan 3