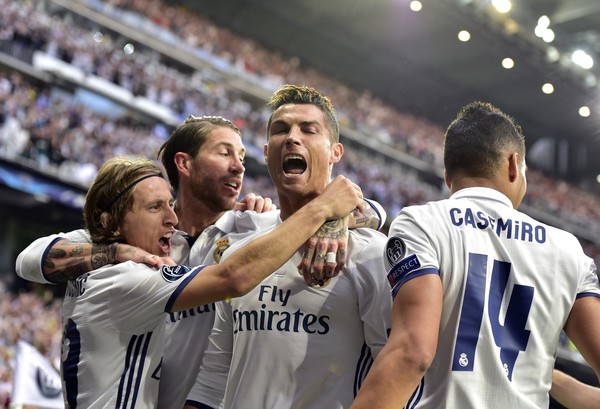 The title race continues in Spain, headlining this weekend's soccer action.
In Spain, Barcelona and Real Madrid continue to jockey for the top spot in La Liga with just a few games remaining. As things stand, Real Madrid is level with Barcelona with a game in hand as they face Sevilla while Barca take on Las Palmas in their weekend match.
In England, two heavy-hitters collide on Sunday as Tottenham faces off with Manchester City. The latter is still pushing for the top four, as is Liverpool heading into a match against West Ham.
Elsewhere, the Liga MX Liguilla continues while a full slate of MLS action headlines American soccer
Here's a closer look at this weekend's soccer on TV:
SATURDAY
ENGLISH PREMIER LEAGUE
7:30 a.m. – NBCSN – Manchester City vs. Leicester City
10 a.m. – NBC Sports Live – Bournemouth vs. Burnley
10 a.m. – NBC Sports Live – Middlesbrough vs. Southampton
10 a.m. – NBCSN – Sunderland vs. Swansea
12:30 p.m. – NBCSN – Stoke City vs. Arsenal
LA LIGA
10 a.m. – beIN Sports USA – Espanyol vs. Valencia
12:30 pm. – beIN Sports en Espanol – Osasuna vs. Granada
SERIE A
12 p.m. – beIN Sports Connect – Fiorentina vs. Lazio
2:45 p.m. – beIN Sports en Espanol – Atalanta vs. Milan
BUNDESLIGA 
9:30 a.m. – Fox Sports Connect – Bayer Leverkusen vs. Cologne
9:30 a.m. – Fox Sports Connect – Schalke vs. Hamburg
9:30 a.m. – Fox Sports Connect – Mainz vs. Eintracht Frankfurt
9:30 a.m. – Fox Sports Connect – Wolfsburg vs. Borussia Monchengladbach
9:30 a.m. – Fox Sports Connect – Werder Bremen vs. Hoffenheim
9:30 a.m. – Fox Sports Connect – Darmstadt vs. Hertha Berlin
9:30 a.m. – Fox Sports Connect – Freiburg vs. Ingolstadt
9:30 a.m. – Fox Sports 1 – Borussia Dortmund vs. Aubgsurg
9:30 a.m. – Fox – RB Leipzig vs. Bayern Munich
LIGA MX
8 p.m. – Univision Deportes – Monterrey vs. Tigres
10 p.m. – Univision Deportes – Toluca vs. Santos Laguna
MLS
3 p.m. – MLS Live – Toronto FC vs. Minnesota United
4 p.m. – Univision Deportes – Colorado Rapids vs. San Jose Earthquakes
5 p.m. – MLS Live – Montreal Impact vs. Columbus Crew
7 p.m. – MLS Live – D.C. United vs. Philadelphia Union
7 p.m. – MLS Live – Orlando City vs. Sporting KC
7:30 p.m. – MLS Live – New England Revolution vs. Real Salt Lake
9 p.m. – ESPN 2 – Chicago Fire vs. Seattle Sounders
NASL
7 p.m. – ESPN 3- New York Cosmos vs. Puerto Rico FC
7:30 p.m. – ESPN 3 – Miami FC vs. Indy Eleven
7:30 p.m. – beIN Sports USA – ESPN 3
SUNDAY
PREMIER LEAGUE
7 a.m. – CNBC – Crystal Palace vs. Hull City
9:15 a.m. – CNBC – West Ham vs. Liverpool
11:30 a.m. – NBCSN – Tottenham vs. Manchester United
LA LIGA
10 a.m. – beIN Sports en Espanol – Deportivo Alaves vs. Celta Vigo
2 p.m. – beIN Sports USA – Las Palmas vs. Barcelona
2 p.m. – beIN Sports en Espanol – Real Madrid vs. Sevilla
SERIE A
9 a.m. – beIN Sports – Torino vs. Napoli
2:45 p.m. – beIN Sports – Roma vs. Juventus
LIGUE 1
3 p.m. – beIN Sports USA – Monaco vs. Lille
MEXICO
7 p.m. – Univision Deportes – Chivas de Guadalajara vs. Atlas
9 p.m. – Azteca America – Tijuana vs. Morelia
MLS 
4 p.m. – ESPN – Portland Timbers vs. Atlanta United
6 p.m. – Fox Sports 1 – New York Red Bulls vs. LA Galaxy
8 p.m. – Fox Sports 1 – FC Dallas vs. New York City FC
NASL 
4 p.m. – ESPN 3 – FC Edmonton vs. San Francisco Deltas