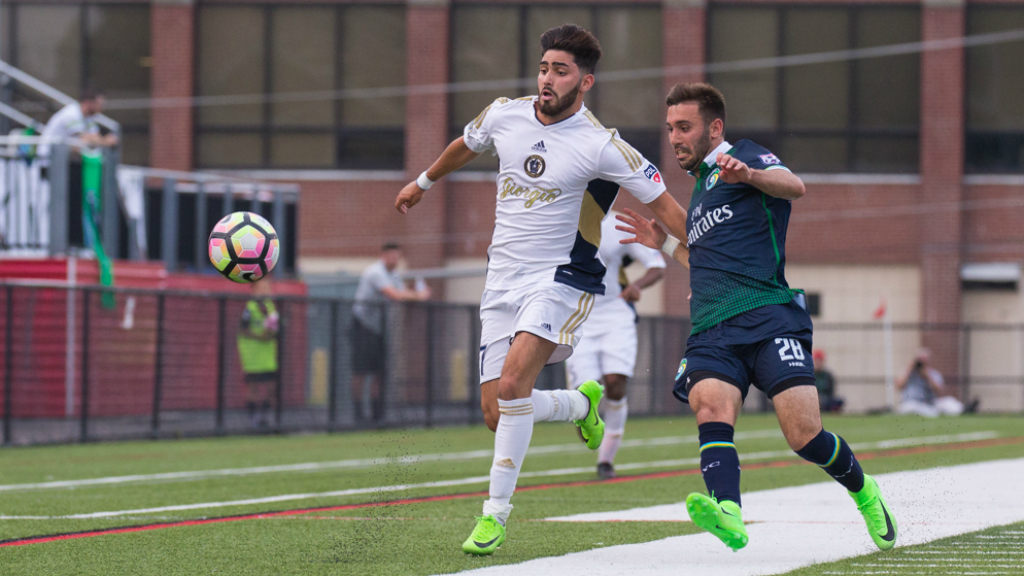 The second round of the 2017 U.S. Open Cup just wrapped up, and there have already been some major upsets in the early stages of the tournament.
Reading United, the Philadelphia Union's PDL affiliate, recorded one of the biggest upsets of the night as they defeated the defending NASL champions, the New York Cosmos, 3-2, on Wednesday night. This marks the third time that Reading has reached the third round since 2013.
Elsewhere, the Michigan Bucks knocked off Indy Eleven, 1-0, at home, Chicago FC United cruised past the USL's Pittsburgh Riverhounds, 3-1, and amateur side Christos FC eliminated the Richmond Kickers.
The third-round matches will be played on May 31. The winners will advance to face the MLS sides in mid-June.
Here is a closer look at the results from the second round:
RESULTS
Tampa Bay Rowdies (USL) 3, Jacksonville Armada U-23 (NPSL) 0
Reading United AC (PDL) 3, New York Cosmos (NASL) 2
Chicago FC United (PDL) 3, Pittsburgh Riverhounds (USL) 1
Michigan Bucks (PDL) 1, Indy Eleven (NASL) 0
Atlanta Silverbacks (NPSL) 1, Charleston Battery (USL) 2
Richmond Kickers (USL) 0, Christos FC (Maryland) 1
Rochester Rhinos (USL) 3, FC Motown (New Jersey) 0
Boston City FC (Massachusetts) 1, GPS Omens (Massachusetts) 2
Miami United FC (NPSL) 1, Jacksonville Armada (NASL) 2
Carolina Dynamo (PDL) 1, North Carolina FC (NASL) 6
Charlotte Eagles (PDL) 2, Charlotte Independence (USL) 3
Tartan Devils Oak Avalon (Pennsylvania) 0, Louisville City FC (USL) 9
FC Cincinnati (USL) 1, AFC Cleveland (NPSL) 0 (AET)
Miami FC (NASL) 3, South Florida Surf (PDL) 2
Ocean City Nor'easters (PDL) 0, Harrisburg City Islanders (USL) 0 (6-7 PKs)
FC Wichita (NPSL) 3, Saint Louis FC (USL) 4 (AET)
Dutch Lions FC (NPSL) 1, San Antonio FC (USL) 2
Tulsa Roughnecks FC (USL) 5, OKC Energy U-23 (PDL) 3
OKC Energy FC (USL) 5, Moreno Valley Fútbol Club (California) 1
Colorado Springs Switchbacks FC (USL) 2, FC Tucson (PDL) 0
Fresno Fuego (PDL) 1, Phoenix Rising FC (USL) 3
FC Golden State Force (PDL) 2, Orange County SC (USL) 5
L.A. Wolves FC (California) 1, Chula Vista FC (California) 0 (AET)

Sacramento Republic FC (USL) 4, vs. Anahuac FC (Nevada) 0
San Francisco Deltas (NASL) 2, vs. Burlingame Dragons (PDL) 1
OSA FC (NPSL) 1, Reno 1868 FC (USL) 1 (3-4 PKs)