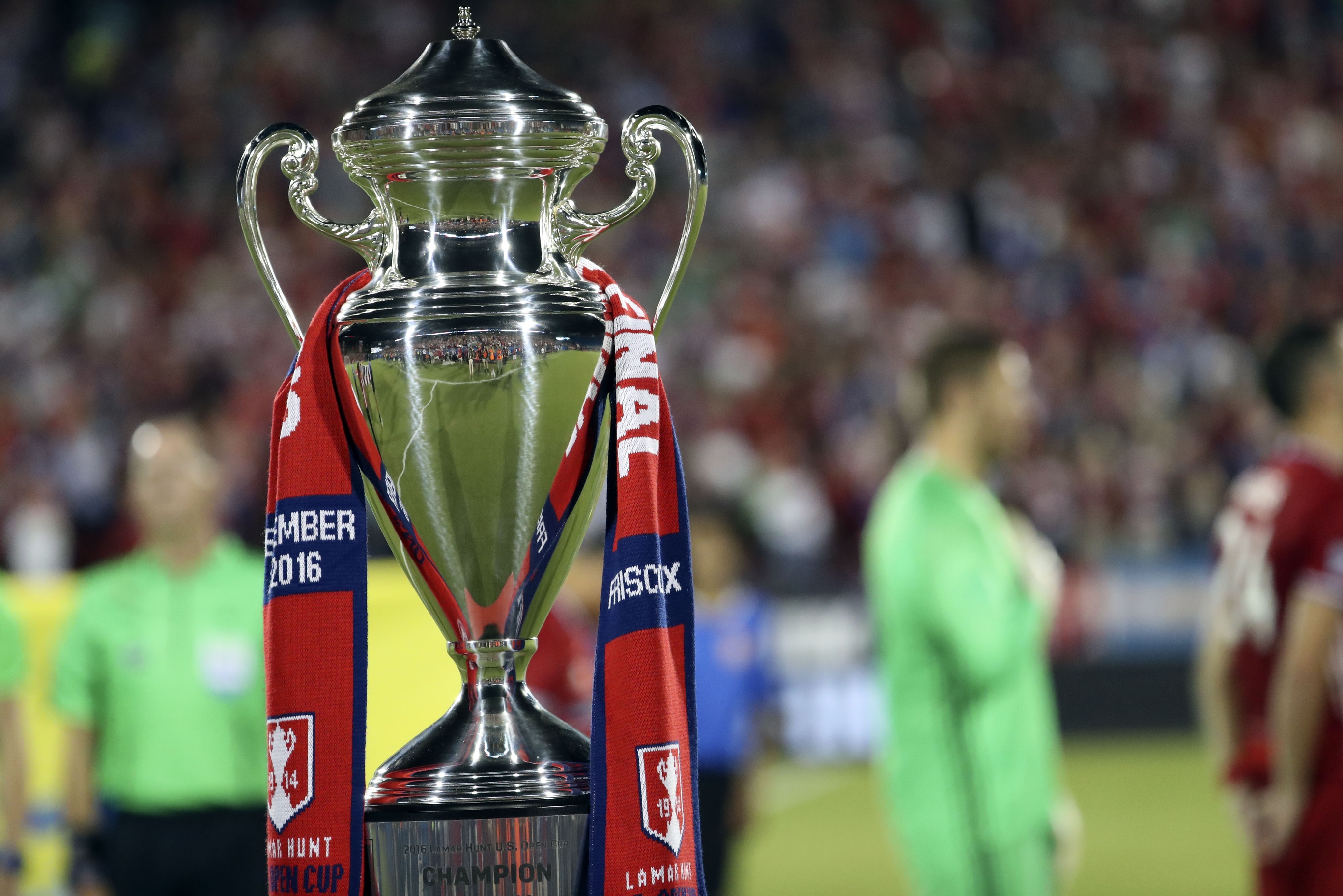 The U.S. Open Cup jumps to 72 teams once again in round two as the NASL and USL join the fray.
After half of the Open Division teams were eliminated by their counterparts in round one, another 36 will be sent packing while a mix of 36 Open and Division Two teams advance to round three. The NASL and USL, as the joint-Division Two representatives, started their match-ups against their lower-division opposition on Tuesday night and continue throughout the night on Wednesday.
The full slate of matches can be viewed online via U.S. Soccer and YouTube, as the smaller hopefuls aim to keep their domestic cup Cinderella dreams alive against professional opposition. History tells us that several will be successful in continuing their quests, with the only question remaining being who survives, as the Tampa Bay Rowdies did last night against the Jacksonville Armada U-23s, and who finds themselves on the receiving end of an upset.
Here's the full slate of Wednesday's matches (all times ET):
3:30 p.m. – Atlanta Silverbacks (NPSL) vs. Charleston Battery (USL)
7 p.m. – Richmond Kickers (USL) vs. Christos FC (MD)
7 p.m. – Rochester Rhinos (USL) vs. FC Motown (NJ)
7 p.m. – Boston City FC (MA) vs. GPS Omens (MA)
7 p.m. – Miami United FC (NPSL) vs. Jacksonville Armada (NASL)
7 p.m. – Carolina Dynamo (PDL) vs. North Carolina FC (NASL)
7 p.m. – Charlotte Eagles (PDL) vs. Charlotte Independence (USL)
7 p.m. – Tartan Devils Oak Avalon (PA) vs. Louisville City FC (USL)
7 p.m. – FC Cincinnati (USL) vs. AFC Cleveland (NPSL)
7 p.m. – Reading United AC (PDL) vs. New York Cosmos (NASL)
7:30 p.m. – Miami FC (NASL) vs. South Florida Surf (PDL)
7:30 p.m. – Michigan Bucks (PDL) vs. Indy Eleven (NASL)
7:30 p.m. – Ocean City Nor'Easters (PDL) vs. Harrisburg City Islanders (USL)
8 p.m. – Chicago FC United (PDL) vs. Pittsburgh Riverhounds (USL)
8 p.m. – FC Wichita (NPSL) vs. Saint Louis FC (USL)
8 p.m. – Dutch Lions FC (NPSL) vs. San Antonio FC (USL)
8 p.m. – Tulsa Roughnecks (USL) vs. Oklahoma City Energy U23 (PDL)
8 p.m. – OKC Energy FC (USL) vs. Moreno Valley Futbol Club (CA)
9 p.m. – Colorado Springs Switchbacks (USL) vs. FC Tuscon (PDL)
10 p.m. – Fresno Fuego (PDL) vs. Phoenix Rising FC (USL)
10 p.m. – FC Golden State Force (PDL) vs. Orange County SC (USL)
10:30 p.m. – LA Wolves FC (CA) vs. Chula Vista FC (CA)
10:30 p.m. – Sacramento Republic (USL) vs. Anahuac FC (NV)
10:30 p.m. – San Francisco Deltas (NASL) vs. Burlingame Dragons FC (PDL)
10:30 p.m. – OSA FC (NPSL) vs. Reno 1868 (USL)