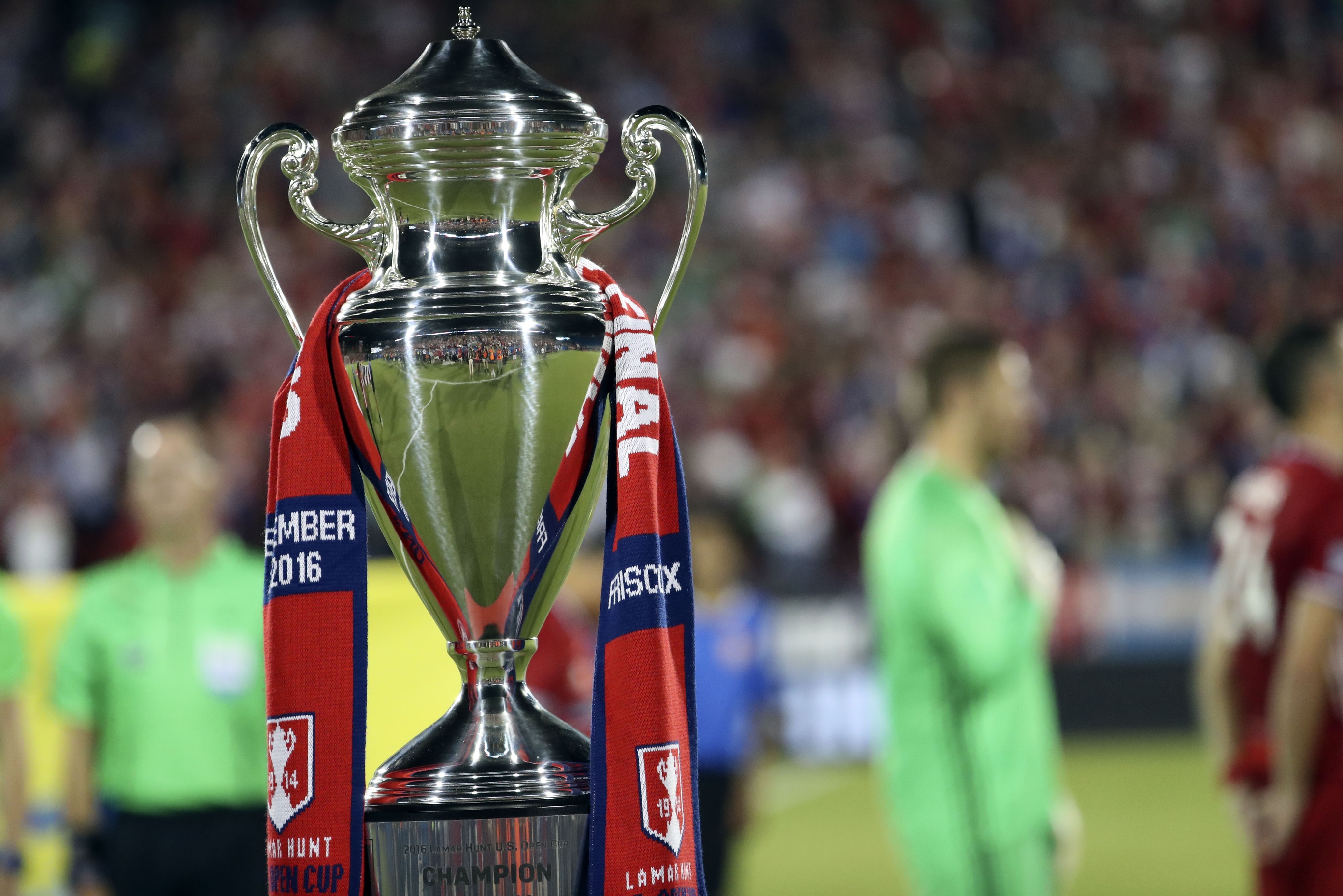 The third round of the U.S. Open Cup kicked off on Tuesday night with Saint Louis FC being the first team to qualify for the fourth round by beating the Michigan Bucks 2-1. An early brace by Sebastian Dalgaard was enough to see them through for a fourth round matchup with the Chicago Fire.
Wednesday's action will see three amateur teams seek a chance at the fourth round with two of them hosting their games. LA Wolves FC and Christos FC are the most notable of these teams as both look to continue a Cinderella run towards MLS competition
Let's take a look at the third round action:
GPS Omens (USASA) vs. Rochester Rhinos (USL), 7 p.m.
GPS Omens are one of three amateur sides remaining in the U.S. Open Cup. A victory over the USL's Rochester Rhinos would see the USASA side through to face New England Revolution.
Charleston Battery (USL) vs. Jacksonville Armada (NASL), 7 p.m.
After defeating the Atlanta Silverbacks in Round 2, the Charleston Battery take on the Jacksonville Armada. The Battery will look to avenge their extra time loss to the Armada in 2016.
Louisville City FC (USL) vs. FC Cincinnati (USL), 7 p.m.
On April 22, Louisville City FC and FC Cincinnati played to a 1-1 draw. They sit even in the USL standings on points. Both sides have made their MLS desires known, and a push through the U.S. Open Cup couldn't hurt.
Harrisburg City Islanders (USL) vs. Reading United AC (PDL), 7:30 p.m.
Reading United AC upset the New York Cosmos in Round 2. Will they continue to slay giants on their unlikely Open Cup run? Next up? The Harrisburg City Islanders of the USL.
Charlotte Independence (USL) vs. North Carolina FC (NASL), 7:30 p.m.
The Charlotte Independence and North Carolina FC have each won three of the last four matches in league play. The battle for North Carolina should sparkle with both teams in good form.
Tampa Bay Rowdies (USL) vs. Miami FC (NASL), 7:30 p.m.
The Tampa Bay Rowdies are enjoying a stellar debut season in the USL. After 12 games, they sit in second place. Miami FC leads the NASL table by two points. Following the Rowdies' move to the USL, the match served as the lone clash between what looked to be two rivals.
Chicago FC United (PDL) vs. Christos FC (Md.), 8 p.m.
One of the stories of the tournament so far, amateur side Christos FC are one game from a matchup with DC United. One more win will see them go deeper in the tournament than they ever have. Not too bad for a team that had to raise money just to cover their travel expenses to Chicago.
Tulsa Roughnecks FC (USL) vs. San Antonio FC (USL), 8 p.m.
The Roughnecks will have quite the challenge on their hands in the Western Conference-leading San Antonio FC. The Roughnecks have won five of their seven home matches this season so this shouldn't be a cakewalk for San Antonio.
Colorado Springs Switchbacks FC (USL) vs. OKC Energy FC (USL), 9 p.m.
Based on the standings, this should be an easy one for the Switchbacks but OKC Energy are hitting their stride. Winners of two straight, can the Energy continue their winning ways?
Phoenix Rising FC (USL) vs. San Francisco Deltas (NASL), 10:30
A USL vs. NASL clash takes the headlines in this one. Phoenix Rising has been alternating wins and losses in the league while the Delta's struggle to find consistency. Phoenix brings plenty of starpower, making them a dark horse for a deep run.
L.A. Wolves FC (Calif.) vs. Orange County SC (USL), 10:30 p.m.
The Eric Wynalda-led LA Wolves continue their journey in the tournament as the third and final amateur side remaining. Wynalda is no stranger to giant killings which should have the USL opposition on notice.
Sacramento Republic FC (USL) vs. Reno 1868 FC (USL), 10:30 p.m.
A few weeks ago, Sacramento Republic may have been the favorites in this one but that was before Reno's current blistering form. Antoine Hoppenot will look to continue his strong play as he has scored three goals in his last two games.