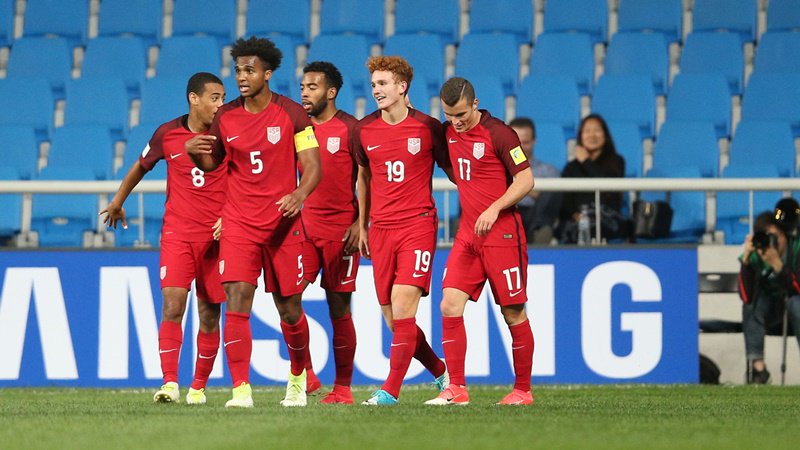 Following an up-and-down draw with Ecuador in their opener, the U.S. Under-20 Men's National Team took care of business on Thursday. It was a game that featured nervy moments, albeit much fewer than in Monday's draw, but it was also a game that demonstrated just how good the Americans can be when healthy.
The U.S isn't quite through to the knockout stage yet, but Thursday's win over Senegal put them on the precipice of a spot in the Round of 16. There's still work to be done but, all things considered, the U.S. is in a pretty good spot.
It was a game headlined by several standouts, including the team's youngest player, Josh Sargent. The forward scored the game's lone goal, firing the U.S. to a win with his third in two games. He wasn't the only standout, though, as several scattered throughout the team turned in impressive performances.
With that in mind, here's a look at several takeaways from Thursday's match:
SARGENT STARS
It's not exactly breaking news anymore. Josh Sargent is, in fact, very good. We knew it in April and we know it now. But, even with that in mind, it's impossible to understate just how good he's been.
Sargent scored yet another goal on Thursday, and it was a game-winner. It was a well taken finish, headlined by a spectacular turn and left-footed finish. Sargent has proven he can score in a variety of ways, and Thursday's finish was just another moment for the highlight reel.
Even so, it wasn't just the goal. It was the hold up play, which opened the door for his teammates. It was the work rate as he pressed throughout the 90 minutes he was on the field. It was the intelligence on when and where to push. Perhaps most importantly, it was the composure as the young forward wasn't drawn into Senegal's late-game agitation attempts.
His maturity is something special, just like his talent. Thursday was yet another of example of his scoring ability while also illustrating the 17-year-old forward offers much, much more than just finishes in front of net.
RETURN OF CARTER-VICKERS SPURS IMPROVED BACKLINE
In Monday's World Cup opener, the U.S. defense was disjointed, especially early on the U.S. backline lacked composure, allowing two early goals.
The return of one of the team's biggest stars certainly helped as Cameron Carter-Vickers served as one of several anchors in a dominant performance.
Carter-Vickers proved exactly the right fit for a team that needed him. He was strong and resolute throughout in leading the American backline. Paired with a familiar face in Erik Palmer-Brown, Carter-Vickers showed just how important he can be now that his health is in check.
It wasn't just the Tottenham product, though. Palmer-Brown didn't put a foot wrong all game and the two fullbacks, Aaron Herrera and Danny Acosta looked much improved. You can also add in Justen Glad, who stepped back onto the field for a late cameo.
It's the defense many envisioned when the roster was released and, now healthy, the unit looks to be in a very good place.
ADAMS THE DESTROYER
Gedion Zelalem's injury left a major hole in the midfield and, while Tyler Adams may not be the player filling that hole, he certainly stepped up as a leader on Thursday.
Adams was all over the place on Thursday. He was everywhere all at once. It's a common bit of praise for a box-to-box midfielder, but Adams earned every bit of it. Defensively, he was always in the right spot. On the attack, he was frequently involved. Somehow, Adams always seemed to be in the right place.
While his defensive efforts served as his primary contribution, his hockey assist on the game's lone goal was deserving of praise. His flick to Luca de la Torre was masterful, kicking the door open for Sargent to score the winner.
Late in the game, it was his leadership that shined through. With Senegal players hovering over a downed Sargent, Adams was the first to rush in, standing up for his younger teammate and setting a tone that the U.S. would not be bullied late.
He wasn't the only midfielder to star. De la Torre provided the assist on an otherwise quiet night while Derrick Jones was an absolute rock. Adams, though, was the best of the bunch, and the best U.S. player on the field on Thursday.
TALE OF TWO HALVES
For as good as the U.S. was on Thursday, there were still concerns, especially in a second half where Senegal was the aggressor. It's understandable. Senegal was pushing and the U.S. was clearly content to protect a lead.
Even so, there were negatives. Jonathan Klinsmann, fresh off a rocky performance, was once again a bit off. His distribution was never quite on point although he remained relatively untested outside of a few late chances. It wasn't fully confidence-inspiring, but not quite awful given the lack of Senegal shots on goal.
Overall, the U.S. was just slightly reactive through the second half which is, once again, understandable, but still not ideal nonetheless. There was very little created late and the U.S. struggled to maintain much of the ball through the game's final 25 minutes. It set up a nervy end, one that could have been made a hell of a lot nervier if Senegal kept their composure.
The U.S. needed a second goal, but never really looked like they'd get one. As the tournament wears on, they won't be able to simply sit on one-goal leads and they'll need to be a bit crisper if they hope to turn Thursday's win into momentum for a long run.