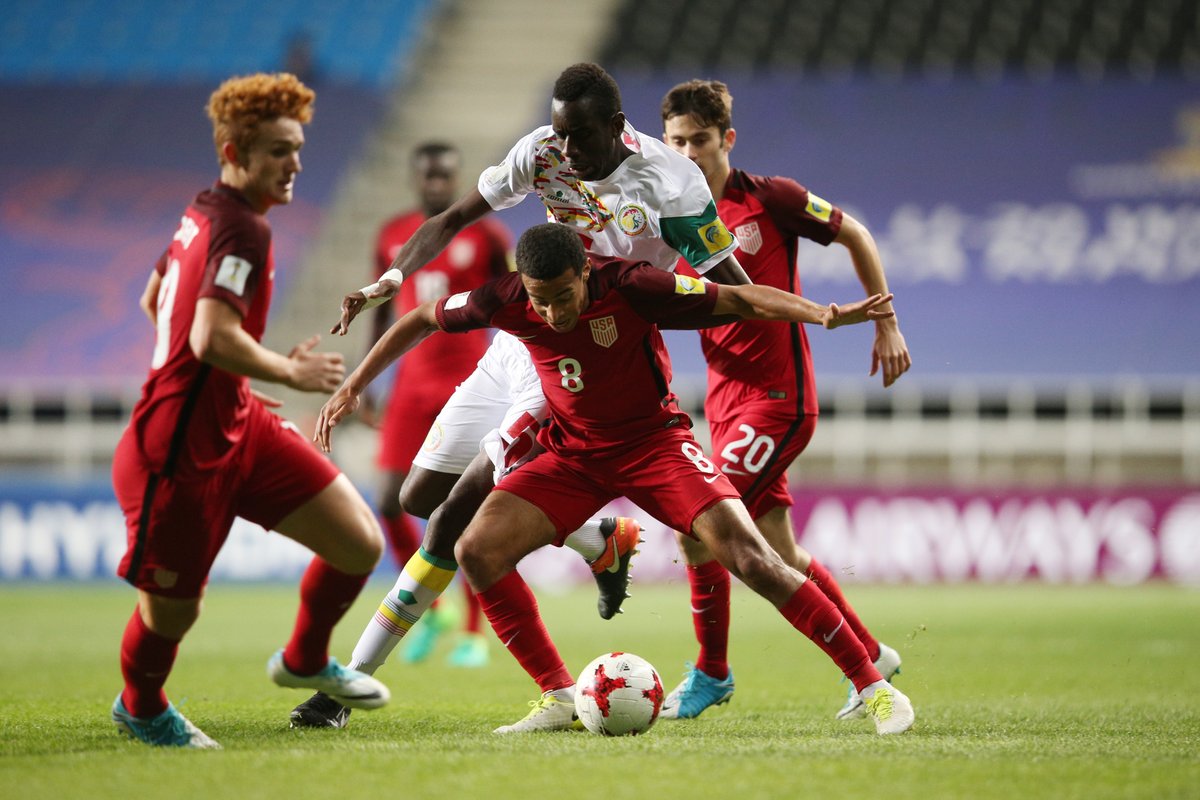 The U.S. Under-20 Men's National Team knows the stakes. Their fates are in their hands. A spot on the knockout stage awaits, but they'll have to go out and take it.
On Sunday, the U.S. returns to action for one final group stage game as the young Americans take on Saudi Arabia. Entering the match, the U.S. sits top of the group with four points, and a win on Sunday would send them through to the knockout stages on top of their group. It's far from a foregone conclusion, though. In two group stage games, Saudi Arabia fell to a tough Senegal team before stunning Ecuador to vault back into a position to advance.
The U.S., meanwhile, took care of that Senegal team, riding a strong defensive effort to a 1-0 win. Forward Josh Sargent struck again while a Cameron Carter-Vickers-led defense pushed the U.S. to three points and a lead atop the group.
Depending on the results before their match, the U.S. could know their fate even before taking the field on Sunday. Regardless, they also know that a win or a draw would be enough to go through. The focus isn't just on going through, though, but going through in the most favorable position possible.
"We hope it's a long tournament. That's what we're here for," head coach Tab Ramos said. "We have to play the next game and the only thing we think about is that next game. We know we control our own destiny. If we win the next game, we're first in the group, and that doesn't happen very often so we'll be happy to do that."
"I think we're just trying to improve," Carter-Vickers added. "We just keep trying to play how we played (on Thursday) and seeing how far we can go."
The return of Carter-Vickers was a welcome one. After missing the first match of the tournament due to injury, the Tottenham centerback reformed a partnership with Erik Palmer-Brown in the heart of the U.S. defense. The two swatted away each and every Senegal attack, all but shutting down a high-powered strikeforce that put three past Saudi Arabia in the opener.
It remains to be seen how Ramos handles his lineup. Sargent took a beating against a very physical Senegal team while the midfield battles were hard and tough throughout. Rotation is very much a possibility, even if the focus remains on securing a win at all costs.
The talent is there to rotate at least a bit. Jeremy Ebobisse, a player that was a starter throughout qualifying, could jump back into the lineup if Sargent is rested. Tommy Redding and Justen Glad could join the defense. The central midfield remains a bit of a question mark due to the loss of Gedion Zelalem, but Ramos has plenty of attacking weapons that could do a job out wide.
Ramos won't take Saudi Arabia lightly. After scoring four goals in the 2016 Asian Football Confederation U-19 Championship, Abdulrahman Alyami added two more against Ecuador and should be the primary threat against the American defense. Saudi Arabia goalkeeper Amin Albukhari has made a habit of saving penalty kicks, and he could face plenty of shots from the U.S. team in a match where the Americans will look to dominate possession.
"I think, individually, they have some very good players,"  midfielder Tyler Adams said. "Technically, all over the field, they're good with the ball and we know they're going to bunker in behind most likely and it's going to make it tough on us."
"They're a really good team. They move the ball and they can play, but we also can play too," fullback Danny Acosta added. "We're going to come out strong to get a win."
There are plenty of scenarios to look at. Going through top of the group will see the U.S. take on the second place team from Group E, which could be either Vietnam, France or New Zealand. A second place finish? That brings on rival Mexico for a must-watch Round of 16 encounter.
The U.S. is trying not to think that far ahead, though. There's work to be done, and it starts with another positive effort on Sunday.
"We're treating every game like we have been treating the last two games," Acosta said. "Each game for us here in the World Cup is a final, and we're going to make sure we take care of business."