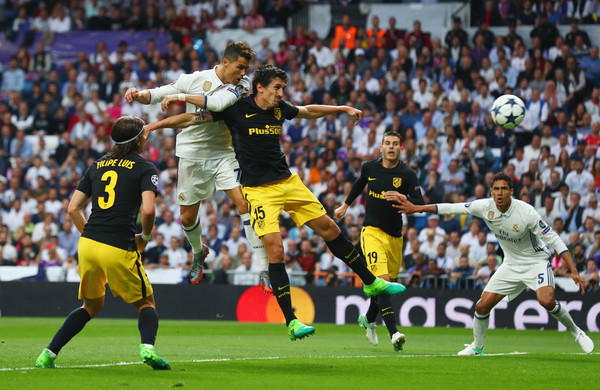 Following an exciting weekend in Europe's domestic action, four sides resume their fight this week for a place in the UEFA Champions League final.
In the first leg at the Santiago Bernabeu, Cristiano Ronaldo propelled defending champions, Real Madrid to a first leg win over Atletico Madrid. The goal now for Los Blancos will surely be to defend the numerous Atletico Madrid attackers, while also being solid in the backline.
Elsewhere, Juventus looks to book their first UCL finals appearance since a 3-1 defeat against Barcelona back in 2015. They will need to limit chances from a Monaco attack, who are looking for their first appearance since 2004. Both sides are keeping one eye on their domestic leads, but will give it all they got in Tuesday's showdown in Turin.
Here is a closer look at this week's Champions League action:
JUVENTUS VS. A.S. MONACO (TUESDAY, 2:45 p.m. FOX SPORTS 1. JUVENTUS LEADS 2-0 ON AGGREGATE)
Injuries of Note: Both sides saw zero injury concerns during their weekend matches, that should affect their line-ups on Tuesday. Paulo Dybala limped off for Juventus in Saturday's Turin Derby, but Massimiliano Allegri said it was just a "cramp". Monaco is still without wingback Benjamin Mendy, who looks to be done for the season.
Key to the Game: For Juventus, they need to consistently frustrate Monaco's high-flying attack. The experienced back-line against Monaco's pair of Kylian Mbappe and Radamel Falcao should be a dandy to watch. Monaco cannot afford to concede on the road, so, defensively, they need to limit Juventus' chances.
Players to Watch: Kylian Mbappe and Radamel Falcao have combined for 12 Champions League goals so far, but were held in check last week. Both players bring a different element to the Monaco line-up, and manager Leonardo Jardim will hope both players can unleash that element on Tuesday.
Quote: "Monaco are a side with great talent and we have absolutely not yet sealed our qualification. We need to win the second leg," Juventus manager Massimiliano Allegri said.
ATLETICO MADRID VS. REAL MADRID (WEDNESDAY, 2:45 P.M. FOX SPORTS 1. REAL LEADS 3-0 ON AGGREGATE)
Injuries of Note: Real Madrid will be without three usual starters as Dani Carvajal, Gareth Bale, and Pepe all miss Wednesday's tie. Carvajal was injured in last week's first leg after suffering a hamstring injury before halftime. Atletico has no injury concerns at this point.
Key to the Game: Atletico Madrid should be able to use the home atmosphere to their advantage, and will need to chase the game. After allowing three goals in the first leg, Diego Simeone will need to be left open at the back in order to try to score. Look for a more attacking side to be announced for kickoff.
Players to Watch: After a quiet match at the Bernabeu a week ago, Atletico will hope Antoine Griezmann can break free on Wednesday. The Frenchman has 25 goals in all competitions, but has not scored in his last four matches. 23-year-old Yannick Ferreira-Carrasco should run the show in midfield, and will need to show his creativity in Atletico's attacking plans.
Quote: "On Wednesday, we have a very difficult game, impossible for many, but not for us, nothing is impossible," said Atletico Madrid manager Diego Simeone. They are two difficult games, we were beaten the other day and the following days have been difficult. Now we need to be ready to play in a huge game."