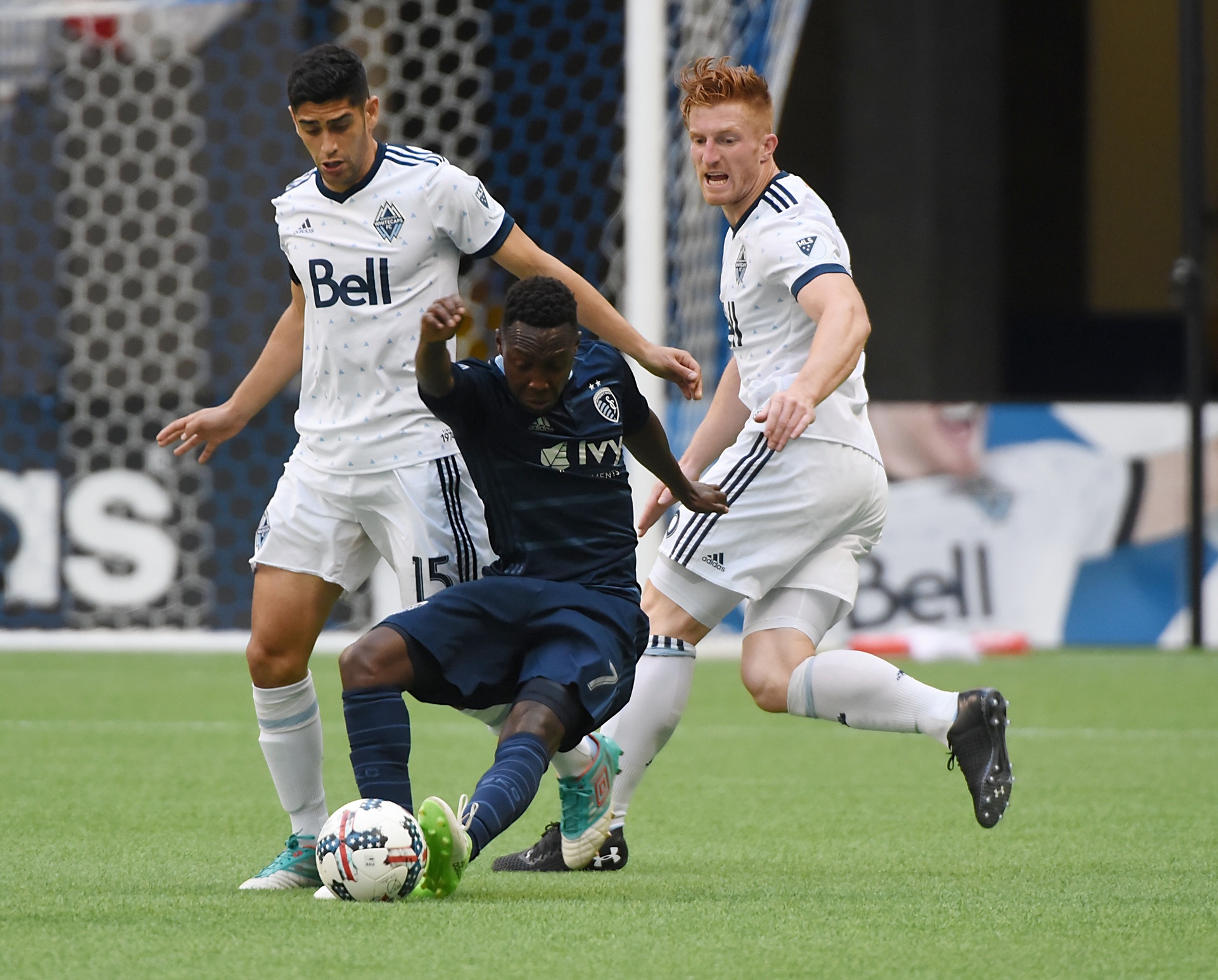 The Vancouver Whitecaps captured their fourth win in six games on Saturday as they look to climb into the Western Conference race.
Facing off with a fellow contender, the Whitecaps stepped up in a big way, defeating Sporting Kansas City, 2-0, at BC Place on Saturday.
The early game was dominated by Sporting KC, who saw most of the possession and the best chances of the half. The run of play started to shift as the half came to a close however, and was completed by Christian Techera wonder strike in the 40th minute.
The Whitecaps started the second half strong, peppering  goalkeeper Tim Melia for the first fifteen minutes of the half. Theyc ontinued to press, and in the 66th minute a nasty challenge by Roger Espinoza on Alphonso Davies gifted the Whitecaps  a free kick near the box. Christian Bolanos made no mistake as his ball met the head of Tim Parker who put it in the back of the net, marking Bolanos' second assist of the night.
The rest of the half saw much of the same as the Whitecaps recorded 13 shots in the game and added even more break-a-ways and missed opportunities.
Despite the scoreline, Melia played an immense role in Sporting KC staying in the match. Recording five saves, including a penalty stop, Melia showed why his side has conceded the second-fewest goals in the league.
The win sees the Whitecaps move to 3-1-1 at home. As for Sporting Kansas City, the loss saw them move to 1-3-3 on the road but retain their hold on first in the Western Conference with a game in hand.
The Whitecaps will next face the Montreal Impact in the Canadian Champsions on May 23 before facing D.C. United at home on May 27. Sporting KC looks to mend their road form as they visit the Colorado Rapids on May 27.
Man of the Match
Man of the match goes Christian Bolanos, who acted as an engine for the Whitecaps attack, moving the ball well and recording two assists on the night. The assists brought Bolanos' assist tally to four on the season, good for highest in the Whitecaps squad.
Moment of the Match
The 40th minute saw Whitecaps midfielder Christian Techera score a wonder goal, volleying a chested ball from Bolanos in the box. The goal was Techera's third of the campaign, making him the team's second highest goal scorer this season. The goal capped off a half that saw Sporting Kansas City hold the majority of the possession, sending the Whitecaps into the locker rooms at half time in high spirits.
Match to Forget
The Sporting KC attack was certainly off on Saturday. They were wasteful in the first half and largely ineffective in the second as they were shutout on the road.