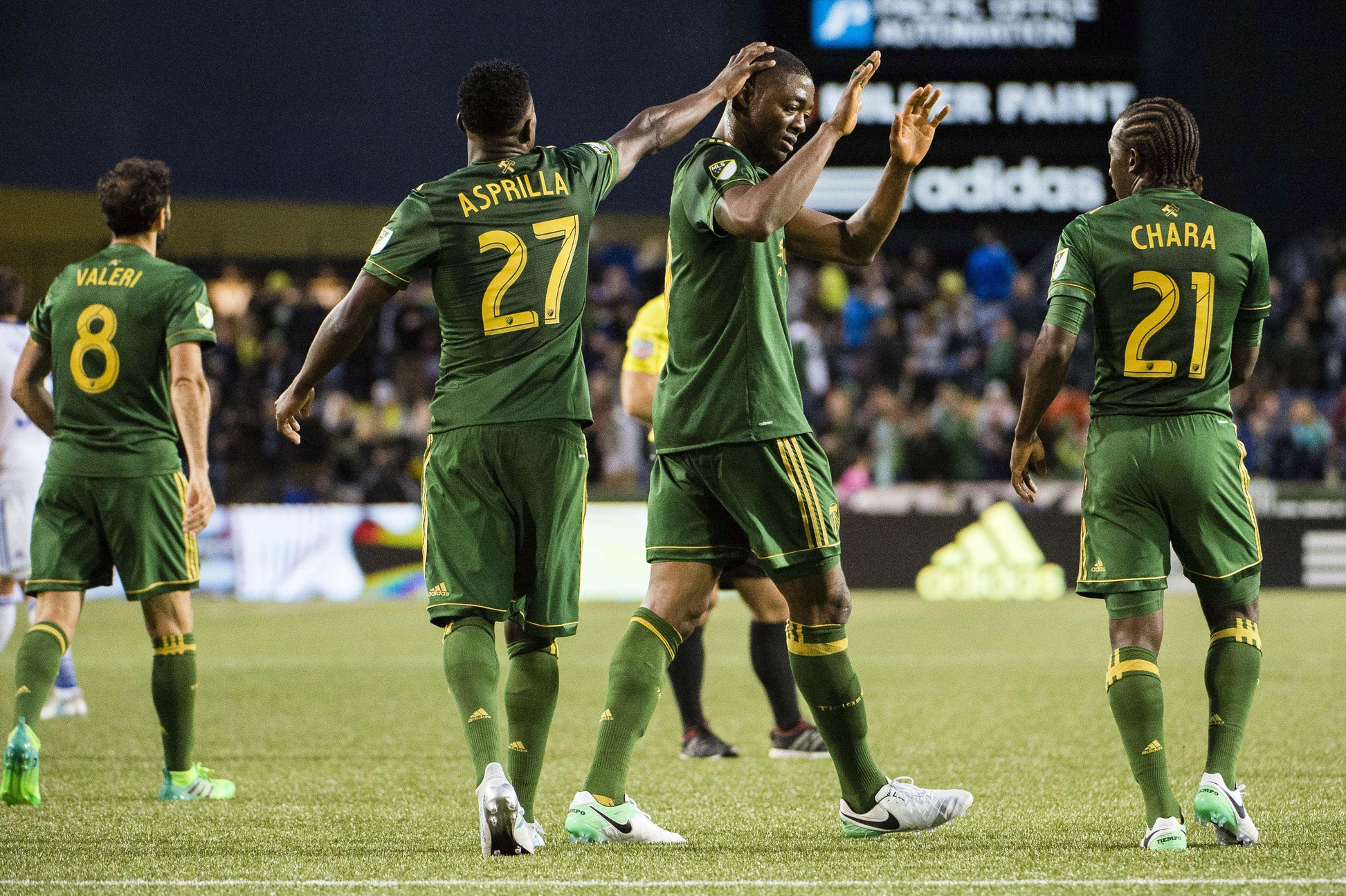 The Portland Timbers leaped up the table and over FC Dallas after defeating the Texas team, 2-0, thanks to a double from striker Fanendo Adi.
The Timbers dominated the first half, controlling possession and shots. FC Dallas looked like a team trying to find its rhythm to varying results.
FC Dallas found a golden opportunity on a turnover despite their early struggles.  Michael Barrios skipped behind the backline and crossed to Roland Lamah. Jake Gleason stopped the initial shot, but the ball pinged around the box. It took a goal line clearance from Zarek Valentin that kept the Timbers' clean sheet.
The Timbers opened scoring in the 32nd minute. Carlos Gruezo stripped the ball from Diego Valeri and attempted to spring a counter attack. Gruezo's pass attempt was intercepted by Amobi Okugo, who played forward into the path of Valeri. The Argentine slipped the ball through to Adi. The Timbers ace held off a challenge from Hernan Grana and slotted the ball home easily to take the lead.
The Timbers suffered setbacks at the end of the first half and the start of the second half. Liam Ridgewell and Roy Miller both left the match early due to injury. Okugo and Ben Zemanski did well to fill in, but Timbers fans will have to wait and see if the makeshift backline is up to the challenge.
The Timbers sealed the match with Adi's brace in the 72nd minute. Diego Chara expertly dummied Darion Asprilla's cross, allowing the ball to fall to Adi. The striker fooled Jesse Gonzalez into diving to stop the first time shot. With the goal fully exposed, Adi placed the ball into the net.
Man of the Match
Timbers strike Fanendo Adi put in the work on both sides of the ball. His two goals showcased his best quality as a striker: his calm approach. His second goal of the match was a master class in patience and just desserts for his performance throughout the match. Adi's five shots were the most of any player on the field.
Moment of the Match
Adi's second goal was a perfect example of the counter attack. Diego Chara started the attack and sawit through to the end nearly. Chara's audacity to dummy the ball in the box speaks to how the Timbers have developed as a unit, and Adi's first touch on the goal was simply sublime. Team goals are not often highlighted, but this one was special.
Match to Forget
Tesho Akindele and Maxi Urruti never looked up to the task for FC Dallas against the Timbers. Despite the talent on the Dallas's squad, they have started the season with a lot of inconsistency. A big part of their struggles comes from Mauro Diaz missing action, but two forwards that struggle to put in consisted performances could spell doom for Dallas come playoff time.