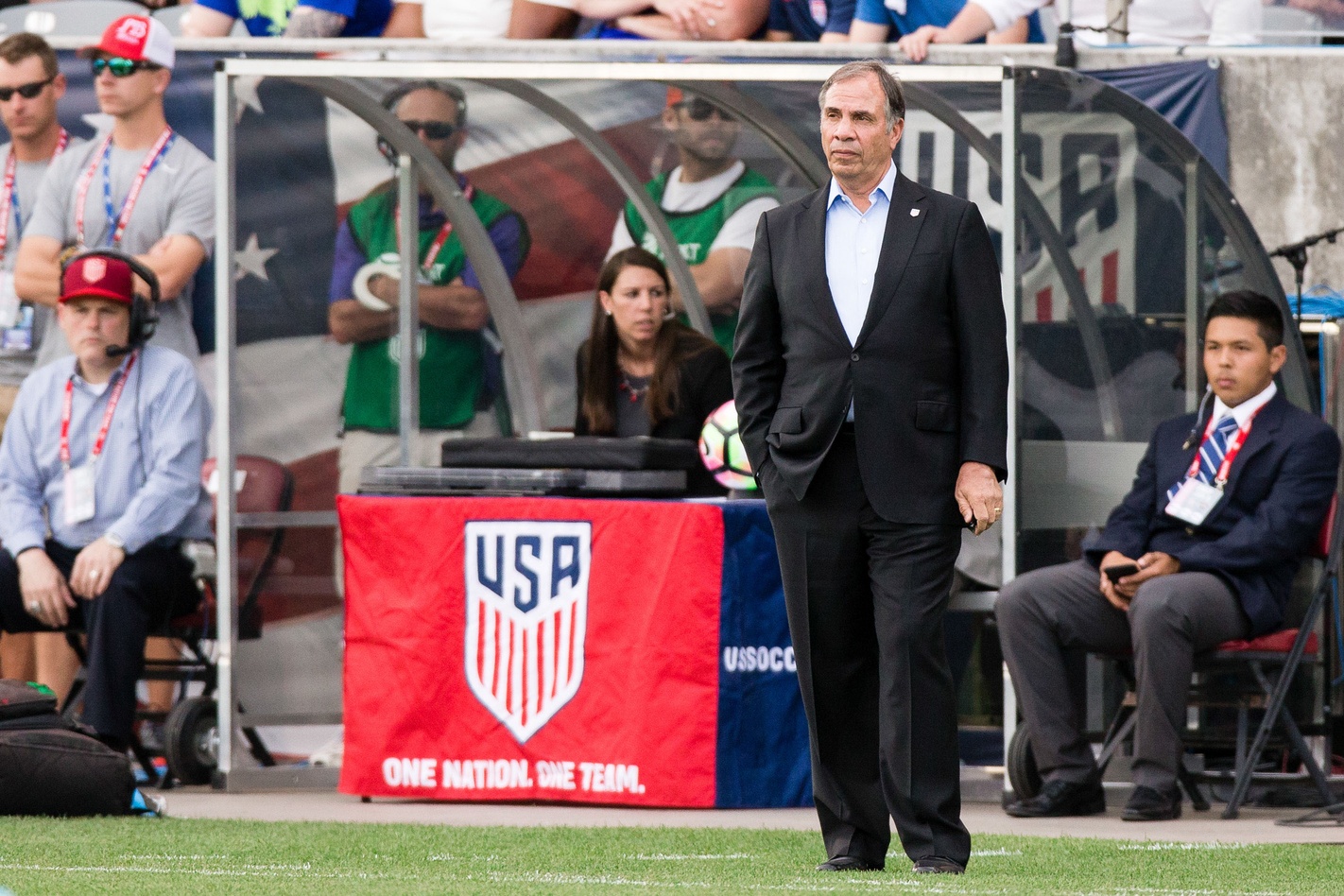 We're halfway through the 2017 calendar year, and it's already been a big one for the U.S. Men's National Team. The World Cup qualification campaign got back on track with four positive results under new head coach Bruce Arena. New players were brought into the fold and the process even began for a push to host the 2026 World Cup.
But, before the U.S. can look ahead to the 2026 tournament, or even the 2018 one for that matter, there's work to be done. It's going to be a busy summer, and head coach Bruce Arena is looking ahead.
Arena says the U.S., obviously, still has two primary goals. The first is to seal World Cup qualification, and the push for that goal became much, much clearer with a four-point June. A win over Trinidad & Tobago paired with a tie against Mexico pushed the U.S. into third place as qualifiers take a break until September.
The other? The Gold Cup, which is suddenly under a month away. Arena expects experimentation and several new faces but the USMNT head coach is also expecting the same thing he does from the first team: results.
"I think I said it would be a great year to do those two things, and that's a pretty tall order," Arena said. "I think we will have a good group of players coming in with a nice blend of some experienced players and some less experienced. They're going to have an opportunity to show what they're about, and I think that part is exciting.
"Anytime you're in the midst of World Cup qualifying and very close to not only qualifying, but being at a World Cup a year later, you have to have a competitive environment, and these players will push to positions themselves to be a big part of things moving forward."
Several players made that case in June. It was a month that featured plenty of preparation and, ultimately, plenty of success.
From sleeping in hyperbolic chambers to adjust to the attitude to Arena's tactical outdueling of Juan Carlos Osorio, the USMNT's two-week preparation paid off in a big way. Several players stepped up to the challenge, including Michael Bradley, who Arena says was "very good" for the group both on and off the field.
Still, the big winners of the recent camp were several young faces. Christian Pulisic shined against T&T, firing two goals to seal the points. Paul Arriola and Kellyn Acosta, meanwhile, stepped in to the lineup against Mexico, putting in strong defensive shifts while frustrating the El Tri attack.
"I think with Christian we saw the effects of the altitude," Arena said. "He played three full games for us when you include the Venezuela game, and he was really physically done near the 60-minute mark in Mexico and hung in there. That was good, but it also validated the fact that we did need to make changes when you see our fittest player struggling so much.
"I thought Paul Arriola did an excellent job on the right side of the field, and with a little bit more experience he'll be a little bit better in passing and having more composure. It's the same thing with Kellyn. His work rate was outstanding. He could be a little better passer of the ball, but I think the experience for him was outstanding as well."
While Pulisic's place with the team is little doubt these days, Arriola and Acosta's efforts certainly furthered their case. We're less than a year away from the World Cup, after all, and each and every performance matters for a pair of young players hoping to be on the 23-man roster next summer.
The same could be said for the entire 40-man group selected for the preliminary Gold Cup squad. Arena still has decisions to make before the roster is officially unveiled later this month, but the tournament provides several players with a first chance to impress on the international level.
Newly-recruited dual nationals like Jesse Gonzalez, Dom Dwyer and Kenny Saeif could get a chance to prove themselves with the USMNT for the first time. Up-and-comers liked Steve Birnbaum, Matt Miazga and Cristian Roldan could seize the opportunity if selected. Veterans like Gyasi Zardes, Matt Hedges and Greg Garza could show they should be pushing for time with the U.S.
Regardless, with less than 365 days until the World Cup, Arena has a lot to break down. The end goal is still to officially get to Russia, but the journey along the way will be an interesting one.
"There's a little bit more (breathing room), but there's not a whole lot," Arena said. "It's a pretty tight race at this point, and I don't think we have any interest in finishing fourth. Our goal is second or third place, because I think Mexico is far ahead and it's unlikely we can catch them. We can be second or third and I don't really care which way we end up, but we certainly don't want to be in fourth.
"Stepping away from this camp, we recognize the home game against Costa Rica on Sept. 1 is critically important to making sure we finish in the top three."