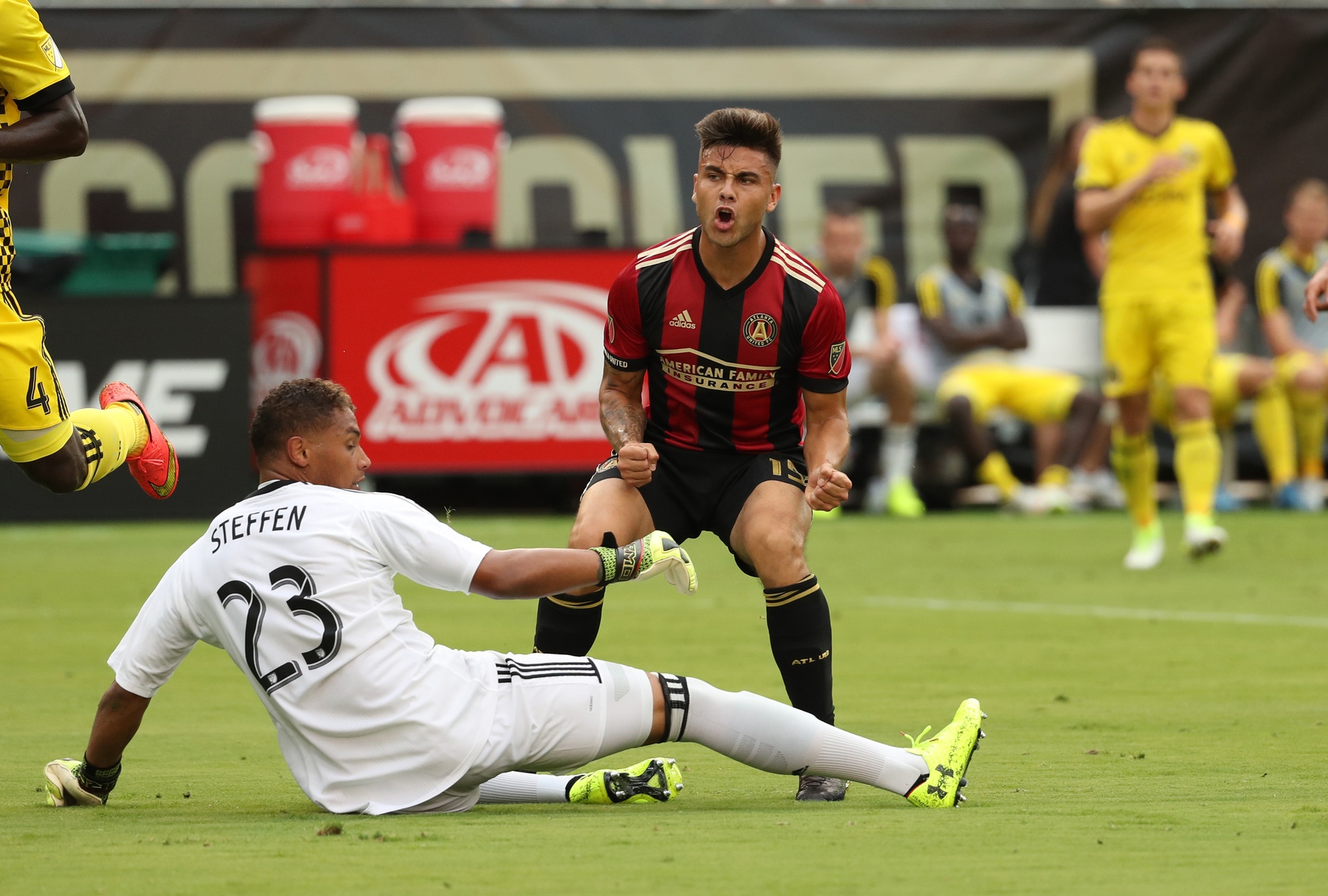 Atlanta United broke out of a slump on Saturday night, and they did so with the help of all three of their designated players.
Atlanta ended its two-game losing streak by beating the Columbus Crew in a dominant 3-1 win at Bobby Dodd Stadium on Saturday for its first win of June. 
The home side took the advantage 16 minutes in, through an error from Josh Williams. The Crew defender could not control the ball and Yamil Asad dispossessed him just yards from the penalty area. Asad then passed to Hector Villalba, who scored from close range.
Atlanta's lead did not last very long, with Columbus equalizing just ten minutes later. Ola Kamara's shot, instead of finding the goal, ended up at the feet of Federico Higuain, who easily finished from inside the penalty area.
The second half saw Atlanta take the lead yet again in the 66th minute on a move started by Leandro Gonzalez Pirez, who won the ball just outside his team's penalty area on a superb tackle. From there, he found Miguel Almiron near the halfway line, and the midfielder did the rest of the work himself and scored from the edge of the penalty area.
The win was sealed in the 88th minute, as Kevin Kratz won the ball on the edge of the box off some hard-working pressure and sent it toward Josef Martinez. Martinez then fired home his first strike since returning from injury from a tight angle on the left side of the box. 
The win was Atlanta's first since the end of May, while Columbus' losing streak now sits at three games. 
Man of the Match
Hector Villalba had a standout night for Atlanta, as he pestered the Columbus defense throughout his 72-minute shift. The performance also included the match's first goal, which came in addition to a few other shots from the forward on a night in which his team barely faltered.
Moment of the Match
Atlanta United's match winner featured a stellar run and finish from a wide position from Miguel Almiron, but Leandro Gonzalez Pirez's efforts also proved to be incredibly impressive. Winning the ball while the Columbus Crew were attacking, his pass to Almiron was of pin-point accuracy, making for an impressive moment.
Match to Forget
The night became sour fairly early for Josh Williams, whose sloppy footwork not far from goal allowed Atlanta to regain possession and score its first goal. The night didn't get much better for the Crew defense as the back four was put under immense pressure for 90 minutes.