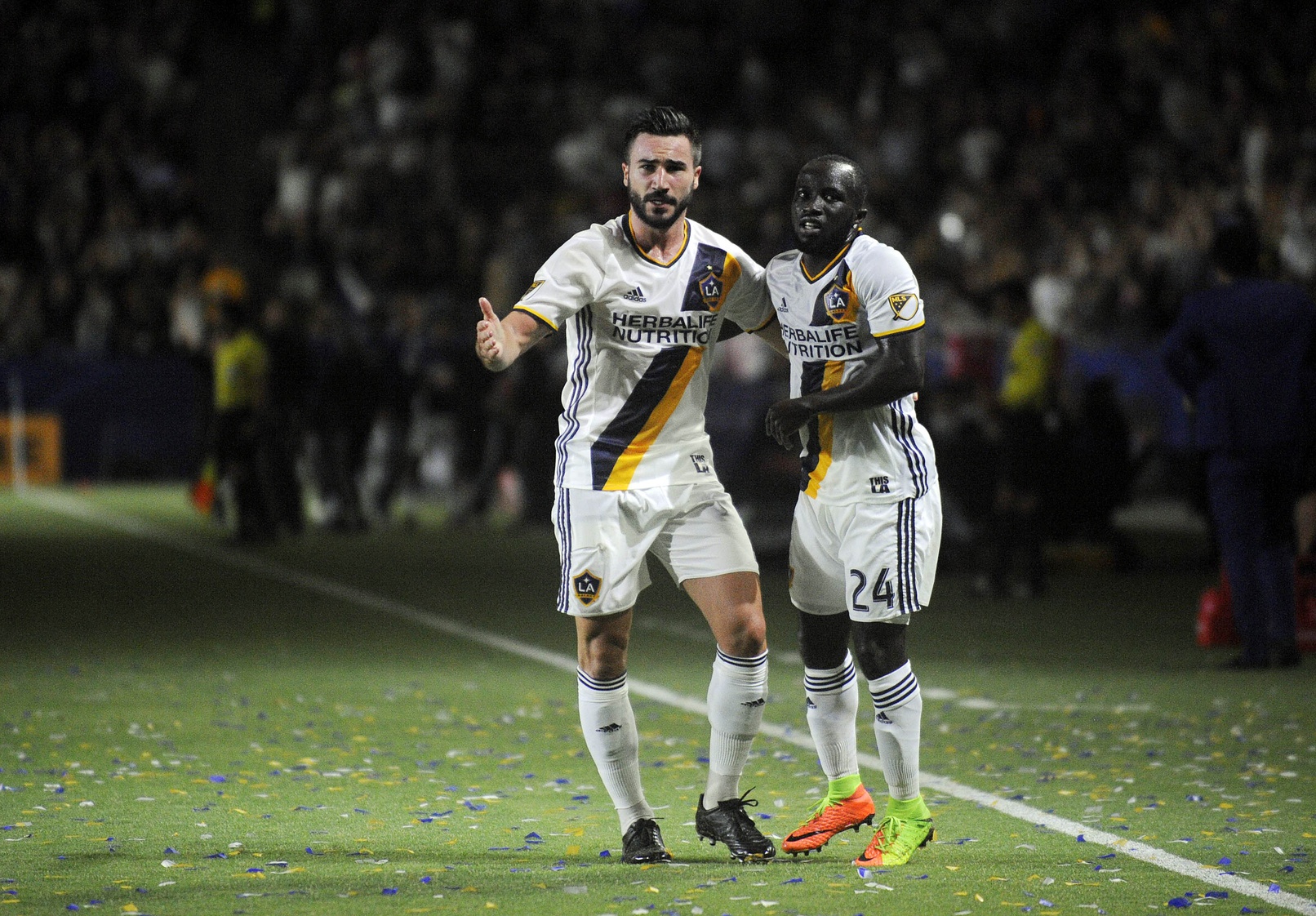 The seventh result of the LA Galaxy's seven-game unbeaten run was certainly a lucky one.
The Galaxy appeared set for another defeat, but a stoppage-time goal from Romain Alessandrini saved a point in the 2-2 tie with the Houston Dynamo.
Alessandrini's 94th-minute equalizer carried a ton of controversy, as he appeared to be clearly offside at the time Bradford Jamieson IV played his ball in from the right swing.
The officiating mistake drew plenty of criticism from the Dynamo, who were in line for their first road victory of the season before it was stolen from them.
The Dynamo took hold of the game for the first time in the 22nd minute, as Mauro Manotas took advantage of rebound to tap the ball past Clement Diop. The Galaxy goalkeeper stopped DaMarcus Beasley's blast from outside the box, but spilled the ball right to the boot of Manotas.
The beat-up Galaxy, who now have a 1-4-2 home record, were able to muster an equalizer in the 35th minute, when Emmanuel Boateng latched on to a Romain Alessandrini pass and rounded Tyler Deric before slotting into an open net. The move started with a long clearance from Dave Romney that landed with Alessandrini at midfield.
There wasn't much to write home about from the second half until Elis surged down the right side of the field in the 74th minute and beat Diop from the right part of the penalty area.
An equalizer almost struck the back of the net for the Galaxy in the 85th minute, but substitute Ariel Lassiter struck the top of his crossbar from close range.
Then the moment everyone around the league will be talking about for days occurred. Alessandrini's shoulder was clearly in an offside position as he connected with Jamieson's cross, but to the dismay of the Dynamo, the officials called the goal good.
Houston will take its anger from the draw into Friday's Texas derby against FC Dallas, while the Galaxy head to Colorado for a Wednesday clash with the Rapids.
Man of the Match
As illegal as his goal was, Alessandrini still contributed to both of the Galaxy's goals in a game they needed to pull points out of to improve their home mark.
Moment of the Match
The missed call by the officials will be one of the main talking points of the weekend. Alessandrini even appeared hesitant to celebrate thinking he was offside, but the equalizer was not called off and the Galaxy stole a point.
Match to Forget
Clearly the officials had a match to forget, but so did the Galaxy starting forwards. If Jack McInerney and Gyasi Zardes actually showed up from the start, the Galaxy might not have needed the officials to bail them out from more home humiliation.