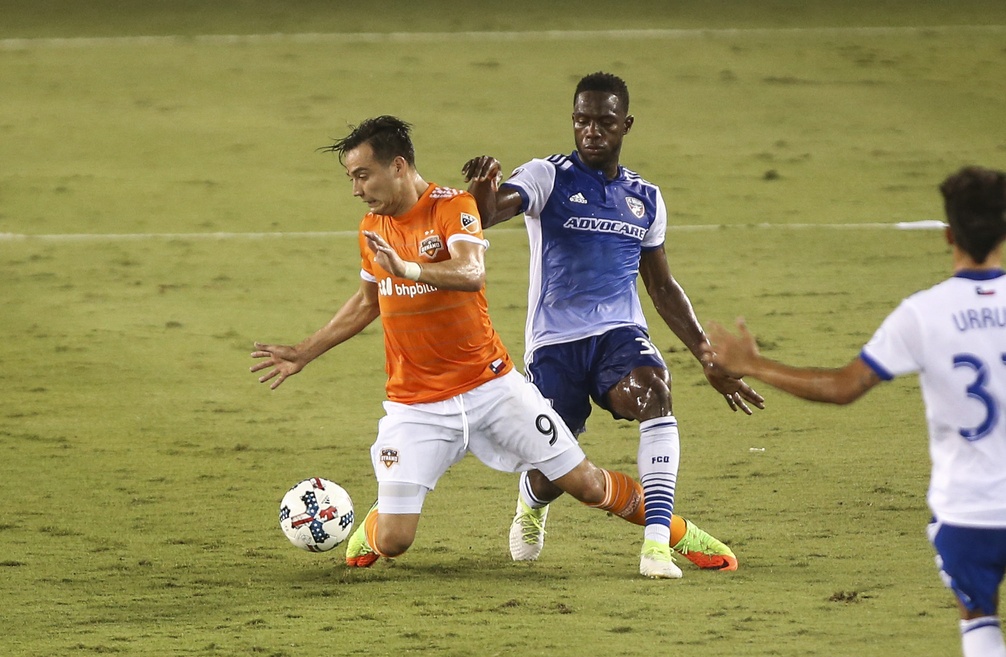 FC Dallas and the Houston Dynamo still haven't separated themselves from each other in the Texas derby and the Western Conference standings.
The bitter rivals played to a 1-1 draw at BBVA Compass Stadium on Friday night to kick off Rivalry Week.
Erick "Cubo" Torres opened the scoring for the Dynamo in the 19th minute and Maxi Urruti provided the visitors with an equalizer in the 58th minute.
FC Dallas started on the front foot with plenty of scoring opportunities, but Oscar Pareja's men could not capitalize for the opening strike.
It was Torres who put the first crooked number on the scoreboard in the 19th minute, as he took advantage of some poor defending by Matt Hedges to gain space and send his 11th goal of the season past Jesse Gonzalez.
Houston should've gone ahead by a pair of tallies in the 55th minute, but Juan David Cabezas sent his open header off a set piece wide left of the net. The chance could have put the game away, but instead it left the door open for FC Dallas.
Urruti made sure the Dynamo would pay for the missed chance four minutes later, as he took a nice shot from the right side of the box and placed it past Tyler Deric. The strike was the ninth of the season for the FC Dallas forward, who has hit the nine-goal mark in three of the last four seasons.
Not too many chances were created in the final 30 minutes as the heat started to wear down on both sides.
With one regular-season match remaining in 2017, Houston and FC Dallas are deadlocked in the battle for El Capitan. They will meet on August 23 in Frisco with bragging rights on the line.
Both teams sit on 25 points in the Western Conference with two games left before the Gold Cup break. FC Dallas takes on Toronto next Saturday at home, while the Dynamo visit Colorado on the same night.
Man of the Match
Urruti was the most dynamic attacker on the field, and he provided FC Dallas with a valuable equalizer on one of his two shots on goal.
Moment of the Match
Cabezas' miss in the 55th minute opened the door for Urruti to strike for an equalizer a few minutes later. Urruti's goal helped FC Dallas force Houston into a rare home draw.
Match to Forget
Mauro Diaz didn't do much in his return to the FC Dallas starting lineup. The Argentinian got 67 minutes under his belt, but he still looks like he's a few games away from reaching full form.