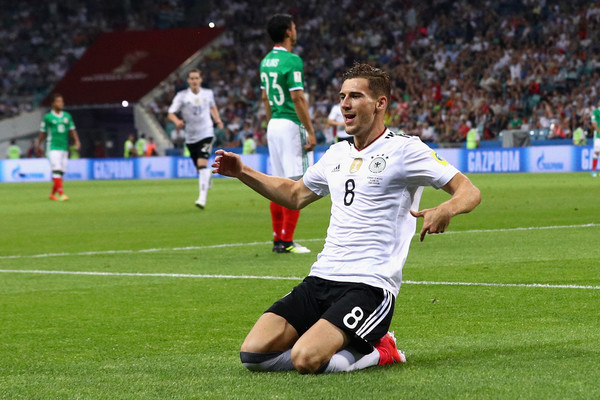 It only took 10 minutes for Germany to outclass Mexico for a spot in the Confederations Cup final.
Joachim Low's men continued their impressive unbeaten form in Russia by dominating Mexico, 4-1, at Fisht Olympic Stadium to advance to Sunday's final against South American reigning champions, Chile.
Despite possession nor chances being on their side, Germany's efficiency in capitalizing chances inside the box was the story of the game from start to finish.
Leon Goretzka made a strong statement in only his eighth appearance for Germany, recording two goals in two minutes. Starting things off six minutes into the match after Mexico's poor giveaway in the heart of the field. An efficient counter led by Benjamin Heinrichs, polished by Goretzka's first-time strike for outside the 18-yard-box. Two minutes later, Goretzka would strike again as a result of El Tri's faulty defending.
Mexico's opportunity to get revenge  against Chile was closed shut in the 59th minute, RB Leipzig's Timo Werner was only forced to tap in the ball from 8 yards out following Germany's impeccable one-two's inside Ochoa's box.
It was Marco Fabian's rifling strike from distance in the 89th minute that put an end to Marc-Andre ter Stegen's picture perfect night, and gifted El Tri the goal they had dearly been looking for, but it was far too late. Juan Carlos Osorio's men did deliver a handful of chances in the second half, but none able to topple Germany's dominating presence on both ends of the field.
Already down 3-1 with a minute left and with Mexican fans still celebrating Marco Fabian's wonder strike, Amin Younes gently snuck one past Guillermo Ochoa, reflecting Germany's dominance up until the final whistle.
El Tri now has no other choice than to set their sights on exiting the tournament as third best but first, will have to get past Portugal, while Germany faces Chile in a much anticipated final on Sunday.