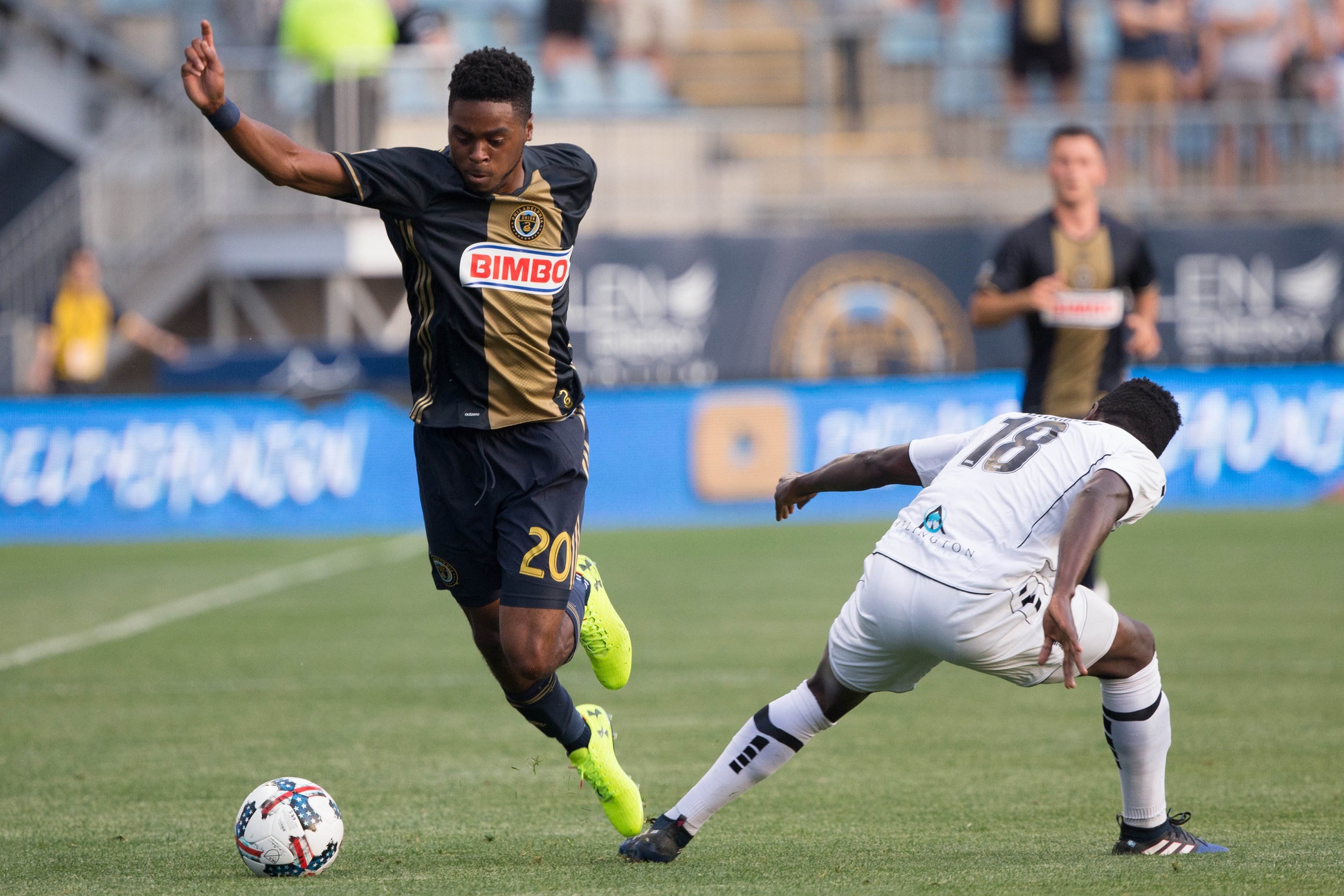 When Fabian Herbers went down with an injury on May 20, the Philadelphia Union needed another winger to step into the void on the depth chart.
Marcus Epps has taken full advantage of the opportunity in the last few weeks in training during the international break. The rookie from South Florida rewarded the Union on Wednesday with a goal in his standout performance during their 3-1 U.S. Open Cup win over the Harrisburg City Islanders.
Epps finished off the result in the 47th minute with a clever finish around City Islanders goalkeeper Sean Lewis to clear the Union from any second-half danger after a poor end to the first half.
"Haris (Medunjanin) played the ball in well," Epps said. "There was space in behind and I tried to cover it down and get to it as quick as I can and hit the open space."
"What gets Earnie (Stewart) excited, what gets me excited is when (hard work) comes off in the game: When you see a Marcus Epps get in behind, when we work on it for two weeks, that's kind of our high, for lack of a better word," Union manager Jim Curtin said.
Epps has been competing for time with the plethora of wingers on the Union roster, and with a few of them suffering from little injuries heading into the game, he got the opportunity he's been waiting for, one that's come thanks to help from veterans like Chris Pontius and Fafa Picault.
"It's been tough, but it's been a great experience," Epps said. "There's a lot of great guys in the wing position and I've had a wonderful time learning from them and working hard trying hard to learn what I can and do what I can. It's been a good experience and I'm happy to get a break tonight.
"It's great to get the 70 minutes that I played," Epps said. "It was great to go out there with the guys who do it every weekend and learn from them and the coaching staff and learn from a full-on game with the Union as well."
The performances from Epps and other fringe players in the Union squad was exactly what Curtin wanted at the start of a busy stretch that continues on Sunday at home against the New York Red Bulls in league play.
Jay Simpson showed well in his first start since April 1. The Englishman played up top in the 4-2-3-1 with normal starting forward CJ Sapong out on the wing.
"There was a lot of motivated guys on the field, is the best way to put it, and they played very well," Curtin said. "They're going make some decisions in the future very hard. We've assembled now a very deep roster."
"Everyone wants to play so it was great to get some minutes," Simpson said. "I think we played well together, I think we created quite a few chances, we linked up well together and obviously we got the result at the end of the day."
Center backs Joshua Yaro and Jack Elliott worked well in their first start together as a pairing, while Derrick Jones turned in a solid shift in his first game back from the FIFA U20 World Cup.
Now the Union have to build on the Open Cup result and bank that into league victories during a three-game homestand that begins on Sunday. With a healthy squad and replacements at the ready off the bench, there's no reason to think the Union can't sweep through the next three league contests.