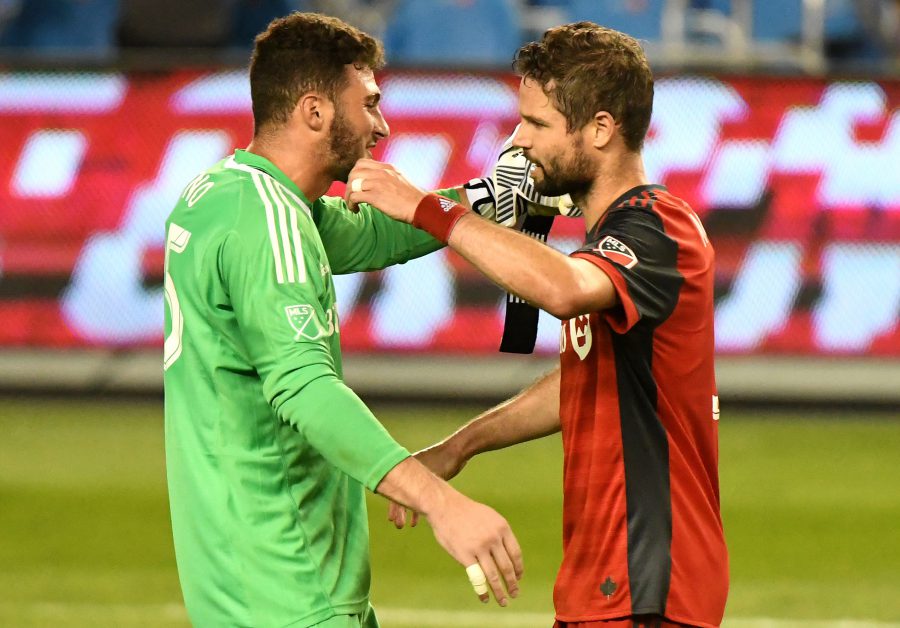 TORONTO — Sebastian Giovinco. Jozy Altidore. Michael Bradley. Victor Vazquez.
All four players have been standout performers thus far for Toronto FC in 2017, and for good reason. Giovinco will always be the star man after he was named MLS MVP in 2015. Altidore has scored seven goals in 14 matches. Bradley is the captain and the team's ironman. Vazquez is the provider and is tied for the league lead with nine assists.
However, some of TFC's most consistent players have played on the backline. Nick Hagglund was arguably the club's best defender until he got hurt. Chris Mavinga continues to improve with every passing game, and Toronto has two solid full-backs in Steven Beitashour and Justin Morrow.
Then there is Drew Moor. The veteran defender missed seven matches due to an irregular heartbeat, but when he's been fit and available, Moor has been frequently solid in the center of the three-man defense.
The 33-year-old scored the opening goal in Friday night's 2-0 victory over the New England Revolution. It was Moor's first tally since Aug. 20. He also played 90 minutes in two matches in a 48-hour span.
Few teams have to cope with two games in as many days, but Moor claims that the depth in quality is why TFC can deal with the short turnaround.
"It's just such a deep team," said Moor. "It's a team that has set some lofty goals for ourselves. We have a bunch of guys that want to grind and want to battle. In MLS, you can't just have good players or you can't just be a good team. You have to dig deep. You have to get nasty sometimes. Everybody in this locker room digs deep."
TFC's backline conceded 12 attempts to the Revolution, though only three shots hit the target. One of those strikes from Teal Bunbury forced an incredible save out of Alex Bono. Regardless, the Reds held on for a record seventh straight home victory in MLS play, and recorded an eight clean sheet in 2017.
Moor has played the full 90 minutes in five of those clean sheets. He received plaudits for his early tally, but Moor is a player who will lead by example and seldom slip up.
"Having a guy at the back with leadership capability who understands the system, who is communicating to everybody around him, it's important to have that," Toronto head coach Greg Vanney said in his post-game press conference. "[Drew is] a guy who every day in training or every game he's one of the first ones to put his name on the list of being ready to train. It's impossible to get him to take a day off.
"He is a pleasure to coach because he will do anything you want him to do."
Moor is not a ball-playing centerback, nor is he a particularly pacy defender. He does not have to be, because he's usually in the right position to make a tackle and cut off the opposing attack. It's not pretty, but it's clearly effective. It worked for the Colorado Rapids in 2010 when they won MLS Cup.
He will likely continue to coast through the remainder of the season without much fanfare, but that is why Moor was highly coveted by TFC before ultimately signing for the club prior to the 2016 campaign.
Toronto conceded north of 50 goals in 2014 and 2015. It was clearly the team's Achilles' heel. Since Moor arrived, TFC allowed 39 goals in 2016 and has only surrendered 15 through 17 games this season. Defending is no longer a lingering issue for Vanney's side, thanks in large part to his unsung hero.