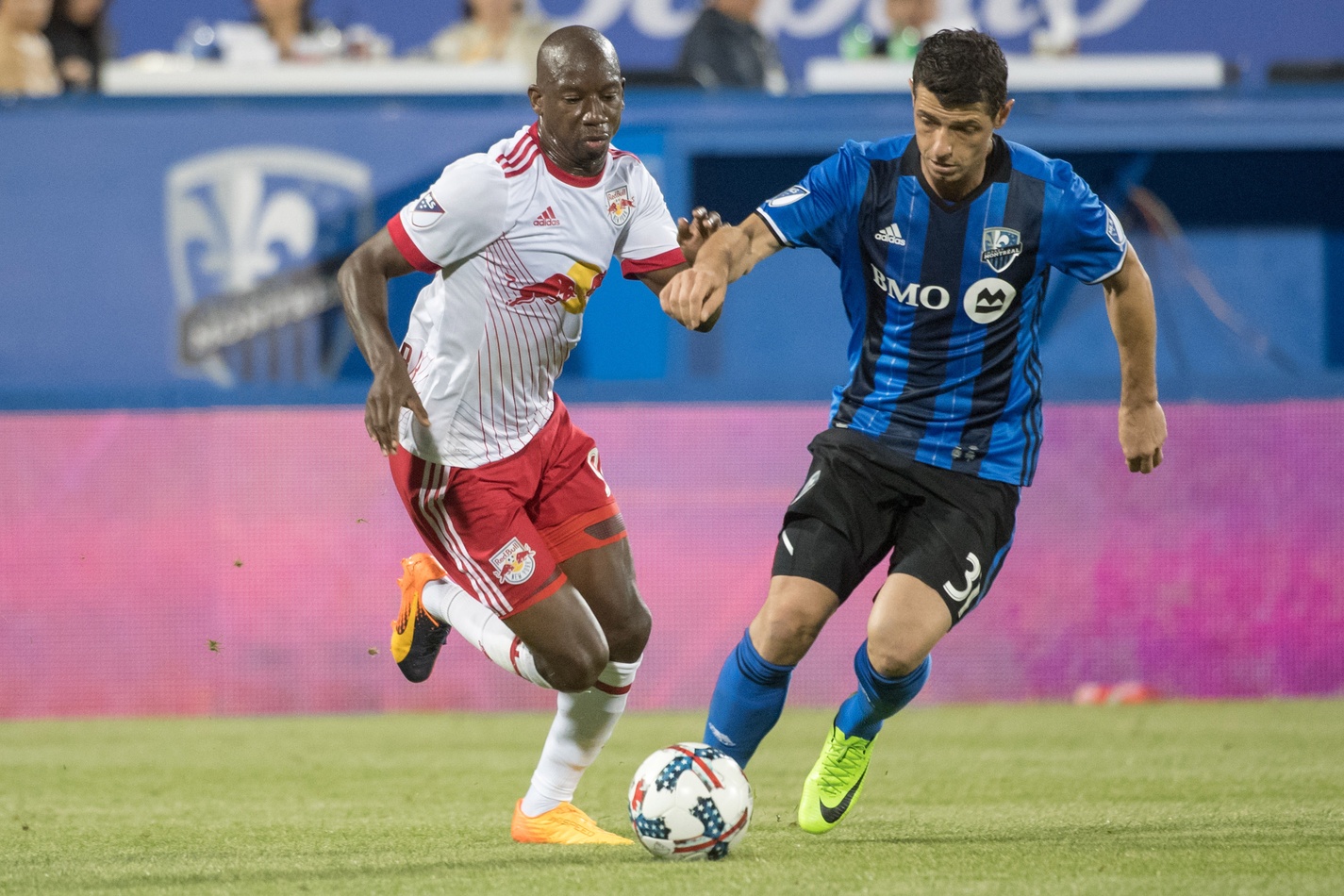 Before Montreal Impact fans could even celebrate their 1-0 win over the New York Red Bulls Saturday night, they all had Patrice Bernier's health on their minds.
In a play with Sacha Kljestan, the Impact captain ended up pushed off the field and fell heavily inside his team's dugout. Bernier was then stretchered off by the emergency crew.
"He hurt his back," said head coach Mauro Biello after the game. "He's sitting up in his stall, it looked like he was more winded and scared. I spoke to him before coming up here and he seems fine, maybe just a bruise hopefully."
"I didn't want to hit my head on the edge of the bench so I tried to protect myself but then I landed straight on my back," said Bernier. "There was a lot of pain for a few minutes but there was more shock than pain so at the end of the day I got back to the locker room and settled down and things are okay."
Bernier said that he might wake up in morning with a few bruises but ultimately will be okay. The nature of the injury might have something to do with the position of the dugouts, which are very close to the field.
"Maybe we'll have to push the field a few meters towards the inside," said Bernier about potentially doing something about the situation at Stade Saputo.
Had he not gone through this injury in stoppage time, Bernier would have played the full 90 minutes for the Impact. Even at 37 years old, the Canadian international, on his way to the national team for a friendly at Stade Saputo, is still a central piece of Biello's system.
"We play well, we recover. Yeah we have some old legs but we have experienced guys that are clever on the field that are able to battle through," said Bernier. "This is the game but I love playing so that's what motivates me. I just have to take care of my body properly."
Another integral part of what make many MLS teams great is the partnership between their Designated Players. The Impact seem to have this going for themselves as Ignacio Piatti and Blerim Dzemaili have already had great moments together in little time.
Saturday's game-winning goal came by way of a one-two play between the Argentinean and the Swiss and teammates are starting to realize what that brings to the team.
"You can see Dzemaili and Piatti, they try to gel. They look for each other all the time which is something really positive," Dominic Oduro told SBI Soccer. "They try as much as possible to work on their movement. We're able to have two DPs who are really good, who are quality. They play at a high level and they show it on the field. For us to be part of that I think it's amazing.
"The question is can we learn from them, day in day out not just one day. It's something that hopefully we can feed off and get it right."
For Dzemaili, his partnership with Piatti is important but he enjoys seeing the whole team gel and working together to win. The team is now at three straight home home wins in all competitions and got a second clean sheet this season.
"We search each other because we can do a lot of passing together. We know each other already after three or four weeks," said Dzemaili about Piatti. "But I think the whole team knows each other and that's a big sign. I think that we need to keep on going like this, winning games and that gives confidence. That gives the team more power and strength."
For Biello, seeing immediate results with his newest acquisition is great but he expects that time will make things even better.
"He's a quality player and he's only getting started," said Biello said of Dzemaili. "I think that there's a lot of good things coming once he understand a little bit more the league and his teammates. He's going to be someone that helps this team tremendously."